"No matter her materials, Clark 'braids' and 'twists' associations, creating works with a distinctly emotional tensile strength."
~ Leah Ollman, Art critic, L.A. Times
Born in 1957 into a family of professionals and creatives, it was natural that Sonya Clark would be both. Descending from industrious parents of Caribbean descent, in "Artist Sonya Clark '89 uses Hair to Communicate Black History" by Katherine Jamieson for Amherst Magazine, Clark recalls her initial encounter in creating.
In the article, she recounts, "… her first memory of making art is decorating a freshly painted wall in her parents' Washington, D.C. home at 4 years old. Outraged screams from her mother ended her illicit scribbling, but she talked her way out of certain punishment by explaining the logic behind her misbehavior: she was enjoying the pull of pencil against flat paint, the physical experience of creation … 'I learned that if you can bring someone to the experience of art, you might be able to change her perspective.'"
This childhood incident would be fortuitous in laying, personally and professionally, the foundation for Sonya Clark. A bright student, she excelled at Sidwell Friends School, from which she graduated in 1985. Clark also earned a Bachelor of Arts in psychology from Amherst College in 1989.
While at Amherst, she was greatly inspired by Rowland Abiodun, who is the John C. Newton Professor of Art, the History of Art and Black Studies. Initially, she had no intention to select becoming a professional artist as an option for a career. However, Abiodun and his work, especially surrounding Yoruba culture, piqued her interest. This was most significant, as she connected West African roots to her own ancestral ties.
It is at this point, Sonya Clark began to focus on material culture and objects, which she felt, as per the Jamieson article, "are either mirrors or sponges; they reflect or absorb something about us." Her attraction was natural, according to "Artist Spotlight: 5 Fast Facts – Sonya Clark" of the National Museum of Women in the Arts website. On it, it revealed that Clark's "fascination with hair began at an early age, when neighborhood teenagers plaited her locks. She often uses human hair in her textile works because it's a material loaded with meaning. Hair can serve as a portrait of an individual, a record of one's ancestry, and an arena through which society negotiates race."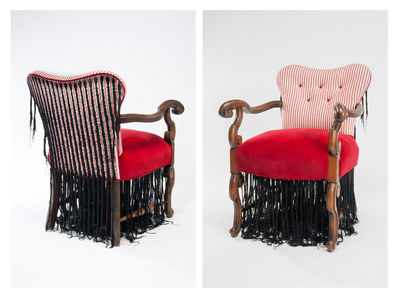 After graduating, her parents gifted her a trip to Côte d'Ivoire to further her research. In this region, she studied its art, history and material culture, including textiles and masks.
Following, Sonya Clark entered the Art Institute of Chicago, from which she earned a Bachelor of Fine Arts degree. She was awarded a Master of Fine Arts degree from Cranbrook Academy of Art. In 2011, Sonya Clark was honored by Cranbrook Academy when she received their inaugural Distinguished Mid-Career Alumni Award. In 2015, one of her undergraduate alma maters, Amherst College, recognized her incredible accomplishments and gifted her an honorary doctorate in 2015.
In creating her unique pieces of art, Sonya Clark is one of the most avant-garde pioneers to utilize material culture to address historic and contemporary issues of race, class, gender and politics. Everything from combs, cotton, beads and notably, human hair are found in her works. In the "5 Fast Facts" stub, it reports how Clark "addresses race-based valuations of hair in works like NAP (2011). By reclaiming and embracing a word that traditionally held negative connotations, she calls into question assumptions that silky, straight, smooth hair is the only 'good' hair out there."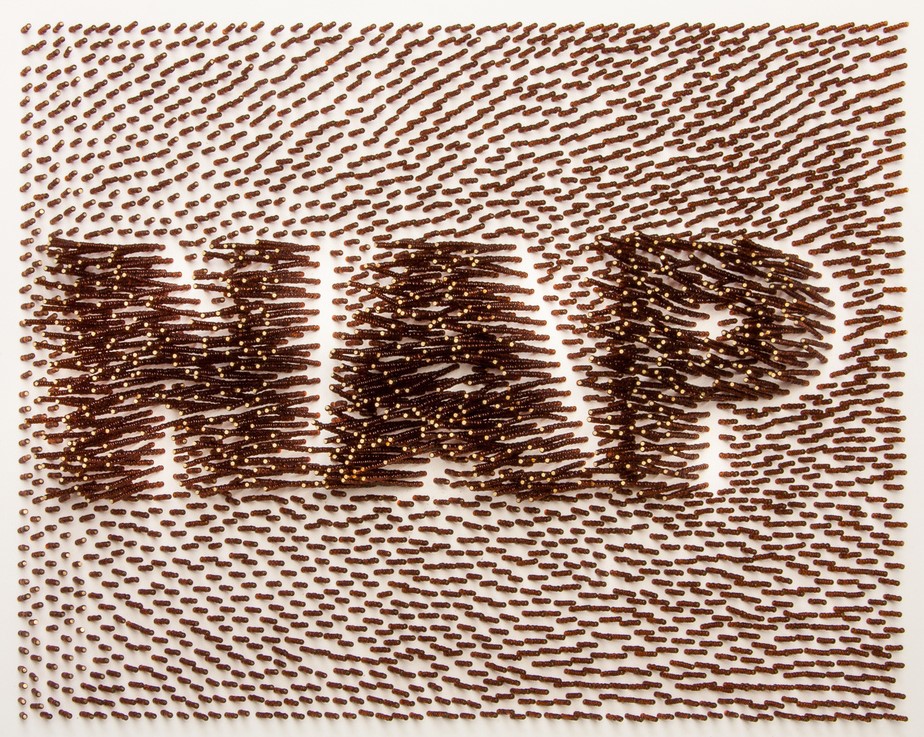 Lowery Stokes Sims, the Curator Emerita at the Museum of Arts and Design, expounded on Sonya Clark's incredible and powerful art. The former executive director and president of The Studio Museum in Harlem, Stokes Sims affirmed in Fiberarts, "Clark alerts us to the complexities of tonsorial politics … where straightened hair, 'natural' hair, Afros and dreads in different eras expressed how Blacks situated themselves in society and navigated strategies of assimilation, entitlement and enfranchisement."
Because Clark views hair as quintessential to identity, her works extend far beyond appreciation of beauty. Hair is a type of currency in which a person uses to negotiate social constructs but more so, what those constructs represent beyond the physical; it informs selfhood, heritage, culture, and even individuality. Referencing hairdressers as her heroes, she also reveres these professionals as textile artists of the highest caliber. Constructing, creating and designing with this precious medium in various works, exhibitions featuring her art include Follicular: The Hair Stories of Sonya Clark and The Hair Project.
Also emotive is Sonya Clark's interrogation and investigation with flags. Having incorporated and intertwined West African, American and African-American themes, in 1995, she designed and weaved Kente Flag Project for her thesis. Since 2009, she has worked with the Confederate Battle Flag, deconstructing it, thread by thread. Called Unraveling, she has invited guests of her showings to assist in taking the controversial flag apart. By this deconstruction, she is inviting the audience members to examine, reflect and remove, consciously and subconsciously, the toxic themes and acts associated with this treasonous flag, especially those prompted under the racist administration of Donald Trump.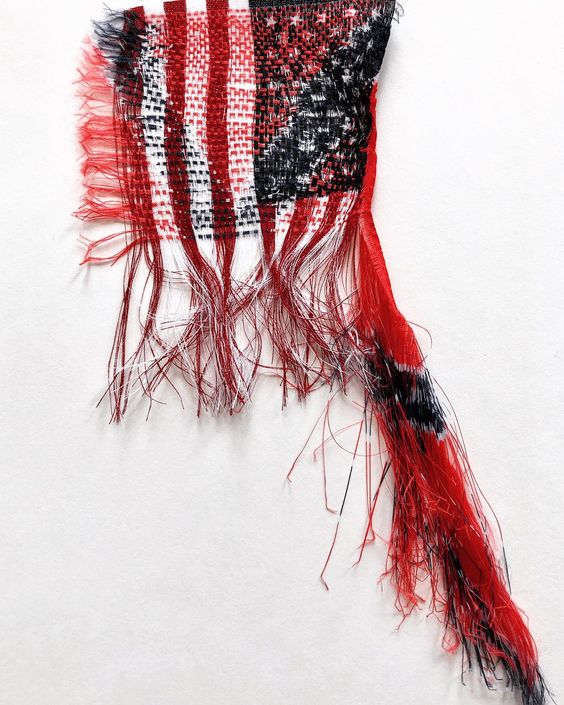 Clark has also weaved a white linen dish cloth that is a reproduction of the informal flag that a Confederate soldier used in surrender to Union forces at Appomattox Court House in 1865. Entitled Monumental Cloth (sutured), this piece symbolizes the end of the Civil War and a pivotal era in American history. The artist hopes that this cloth would become better known and promoted than the battle flag and that symbols of White domestic terrorism will give way to those of peace and collaboration.
While creating her unique pieces of art, Sonya Clark has held various esteemed positions at academic institutions of higher learning. She has served as a Baldwin-Bascom Professor of Creative Arts at the University of Wisconsin-Madison; there, she received tenure with distinction as well as an H.I. Romnes Award. A Commonwealth Professor and Distinguished Research Fellow in the School of the Arts at Virginia Commonwealth University (VCU), she served as chair of the Craft/Material Studies Department for eleven years, beginning in 2006. In 2016, Clark was presented the Distinguished Scholars Award from VCU.
The work of Sonya Clark has been exhibited in more than 350 museums and galleries internationally, including Africa, the Americas, Australia and Europe. She has received critical acclaim by numerous publications such as Art in America, Huffington Post, The Los Angeles Times, Mother Jones, The New York Times, Sculpture, Time and Vogue Italia. She has held residencies in diverse settings throughout the world. Several of these are BAU Camago Residency in Cassis, France; the Civitella Ranieri Residence in Umbria, Italy; the Red Gate Residency in Beijing, China; the Yaddo Residency in Saratoga Springs, New York; and the Smithsonian Artist Research Fellowship in Washington, D.C.
The recipient of a slew of honors, Sonya Clark has received an 1858 Prize, an Art Prize Grand Jurors Award and a Pollock Krasner Award. She served as a United States Artists Fellowship. She has also been a board member of the American Craft Council in Minneapolis, Minnesota, the Haystack Mountain School of Crafts in Deer Isle, Maine and the Textile Museum in Washington, D.C.
Exhibitions
2008: Sonya Clark: Loose Strands, Tight Knots, Walters Art Museum, June 28 – September 2, 2008
2015: Loving After Lifetimes of All This, The Center for Craft, Creativity & Design, January 30 – May 23, 2015
2017: Oaths and Epithets: Works by Sonya Clark, Contemporary Craft, April 12 – August 19, 2017
2019: Monumental Cloth: the flag we should know, March 29 – August 4, 2019
"I was born in Washington, DC to a psychiatrist from Trinidad and a nurse from Jamaica. I gained an appreciation for craft and the value of the handmade primarily from my maternal grandmother who was a professional tailor. Many of my family members taught me the value of a well-told story and so it is that I value the stories held in objects."
~ Sonya Clark