"Shirley Horn is known for her ability to get inside a lyric, transforming it into a deeply emotional and personal expression of jazz"
~ Margot Stage, producer, NPR Jazz Profiles
On May 1, 1934, Shirley Valerie Horn was born in Washington, D.C. Her parents created a musical household: her father, an accounting clerk, and her mother, a homemaker, often sang love songs around their home. In a Jazz Times interview, "Shirley Horn: Around the Horn with Shirley", with journalist Lara Pellegrinelli, Shirley fondly recalled her and her two younger brothers' childhood, gushing, "I came from a loving family. My mother and father loved each other and I saw a lot of love. All my life I've just felt like I was in my family's arms."
Horn first became fascinated with playing the piano when she was almost four years old. Her grandmother, who played the piano and organ at church, had a piano in her parlor. Although the room was cold, designated strictly for company and enclosed by French doors, Horn continued to enter the private space and play. Her grandmother encouraged her mother to find a musi teacher for Shirley. Horn recalled that she couldn't even read or write but had started taking piano lessons with a teacher, Mr. Fletcher.
By the time she was eleven years old, her uncle, who was a wealthy and successful physician in D.C., started the Junior School of Music at Howard University because there were no teachers to further train Horn. She attended school during the day and afterwards, these music classes at Howard University, a historically Black university, until she graduated high school. At the Junior School of Music, Horn learned, under the tutelage of professors such as Dr. Frances Hughes, how to master playing the classical music of legends including Chopin, Rachmaninov and Debussy.
Upon graduating, Shirley Horn had received scholarship offers to Xavier University and The Julliard School. Although financial costs were taken into consideration, the ultimate deciding factors for her parents not approving her matriculation to either institution of higher learning were lack of personal support for a single, young lady and the distance was too far. Horn, instead, entered Howard University to study classical piano. However, by the time she turned twenty-years old, she transitioned to playing jazz music and started her own trio. Having grown up listening to the music of Count Basie, Duke Ellington, Ella Fitzgerald, Billie Holiday and Dinah Washington, the greatest influences on her decision to transition from playing classical music were Erroll Garner, Ahmad Jamal and Oscar Peterson.
Being very shy, Horn's first experience singing in a club is a story of legend. One evening near Christmas, Horn was playing classical music pieces at the Merryland Supper Club. A frequent gentleman patron brought in a teddy bear almost the size of Horn. In the interview with Pellegrinelli, Horn said he sent a note to her and "He said, 'If you sing "Melancholy Baby," this teddy bear is yours.' Child, I sang two choruses."
Horn went on to sing and play in bars and nightclubs throughout Washington, D.C., including the U Street area, which, prior to the riot of 1968, was known for its hip jazz scene. In 1959, Horn, as a pianist and singer, performed on the recording, Cat on a Hot Fiddle by jazz violinist Stuff Smith. Smith was a friend of Horn's father and both men knew each other from St. Louis, where they hailed. Performing on the Verve recording, even accompanying Smith on "Somebody Loves Me", the label did not put her name on the production. The label's lack of crediting Horn on the original release for her own work was credited to John Eaton. Thankfully, on the re-release of The Complete Verve Stuff Smith Sessions by Mosaic, she is properly credited. Regarding the label's purposeful neglect of her, Horn stated in her Jazz Times interview, "I don't know if I want to hear that again or not because that brings back terrible memories for me," she says, remembering the disappointment and frustration. "I'd been taken advantage of."
Following her work with Smith, Stere-O-Craft, a small, independent record label in New York City brought Horn in to record her first album, Embers and Ashes, which was released in 1960. Her premiere album caught the attention of many, including jazz legend, Miles Davis, who called Horn to ask her to open for him at the Village Vanguard in Greenwich Village of New York City. Horn thought a friend of hers was playing a prank on her, even when she arrived in Manhattan. The reasons for her doubts on the authenticity of Davis seeking her to perform at his sets at the famed jazz nightspot was twofold: Davis was an extremely highly-respected but immensely highly-selective musical genius; and he rarely praised other musical artists, especially singers.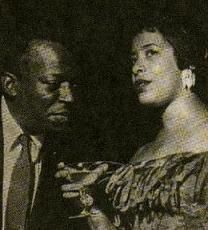 In her interview, Horn recounts a part of her relationship with Davis, stating, "I don't know. A lot of singers wanted him," is her rationalization. "He didn't talk nicely about singers at all, you know. He liked to listen to me just sing a song. It's something about the way I use space. He'd sit for a long time. Part of me was gone when he died; he was so dear. We loved each other. We loved the person in the music. And he left me! Jive turkey. Did you know he was going to record some more songs with me?"
To prove to Horn that he knew material from her Embers and Ashes, Davis had his children sing tracks from the album. There was, though, an enormous hurdle to overcome, as Max Gordon, the owner of the Village Vanguard, did not know of Horn. He refused Davis' selection for her to perform in his famed club, to which Davis issued an ultimatum to Gordon: if Horn did not play, he would not play. Gordon acquiesced and they famously performed together at the Vanguard. Three decades later, Davis appeared on her album, You Won't Forget Me. She paid tribute to her late mentor and dear friend with her LP, I Remember Miles, for which she won a Grammy Award for "Best Jazz Vocal Performance" for 1998.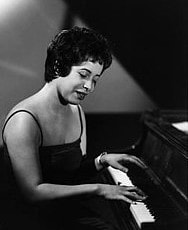 Davis' approval and promotion opened doors previously closed to her and she would record five albums, including Shirley Horn with Horns and Travelin' Light during the 1960s. During this time, she worked with music giants such as bassist John Levy, pianist Jimmy Jones and producer Quincy Jones, who was the head of A & R at the Mercury label at the time. She also performed in clubs in the United States and in Europe. Horn even sang on the soundtrack of For Love of Ivy, which starred Sidney Poitier, who greatly admired her music.
However, times were changing in the 1960s and with the promotion of rock-n-roll, Horn, like her colleagues in jazz, were pressured by its creation to change her musical style to be more pop. Additionally, Horn, as per her contract with the Mercury label, was signed as a "stand-up singer", i.e. vocalist only. This rendered her unable to play piano on her own tracks. Horn emphasized the incredible difficulty that she suffered performing in such a manner, lamenting in an interview with the Baltimore Sun, "They wanted to groom me as a stand-up singer … And I thought, 'This ain't right. I play piano. I felt so uncomfortable, standing in this little booth singing off the lyric sheets there in front of me … Those records were not me."
In the Jazz Times interview, she further supported how this "vocalist-only" clause was a detrimental impediment, emphasizing, "After a concert, Carmen [McRae] might sit down and do one song by herself on piano. Sarah [Vaughan] was a bad pianist. Dinah [Washington] was the baddest; Sarah was next. They had a knowledge of the piano, you know. But the record companies, they wanted somebody to stand up and sing. I heard somewhere they were pushing Nat [Cole] to do that. And that's what Mercury wanted with me. Stand up! Piano playing is secondary. Piano player's just one of the band. I didn't – I couldn't handle anyone playing for me. Because they don't hear what's up here and you have no way of knowing what's going on up here with me," she points out, her index finger thumping her temple. "I'm my best accompanist. I always know where I'm going."
Having married Sheppard Deering, a mechanic with Metro, in 1955, and becoming a mother to their daughter, Rainy, Shirley Horn left the music industry and focused on her family life in Washington, D.C. From the late 1960s to mid-1980s, Horn was semi-retired, but she would occasionally return to performing, primarily with bassist Charles Ables and drummer Steve Williams, in venues inside Washington, D.C. From 1978 to 1984, Shirley Horn recorded with drummer Billy Hart and bassist Buster Williams for SteepleChase Records in Copenhagen, Denmark. The trio recorded four albums: A Lazy Afternoon, All Night Long, Violets for Your Furs and The Garden of the Blues. She also performed in several international jazz festivals, including the North Sea Jazz Festival in The Hague, Netherlands.
By the late 1980s, Verve, the label who had initially neglected to name her as a musician on her first professional recording debut of Stuff Smith's Cat on a Hot Fiddle, began to woo her. The jazz label would release fifteen albums of Horn's material, the first being I Thought About You, a live recording of Horn, Ables and Williams at the Vine St. Bar and Grill in Hollywood, California. This album was her first major label release in twenty years. Leonard Feather, a jazz critic with the Los Angeles Times, exclaimed about her return and release, "Shirley Horn need no longer be called a cult artist or a legend … without question, she is the singer of the year, and arguably the pianist."
Other albums on the Verve label include the aforementioned You Won't Forget Me, featuring Miles Davis, harmonicist Toots Thielemans and trumpeter Wynton Marsalis, who also plays on Here's to Life. Horn was able to fulfill a dream of hers by working with arranger & composer, Johnny Mandel, when she recorded Here's to Life, which spent more than four months at the Number 1 spot of "Jazz" chart on Billboard! Horn also had 2 other LPs, I Love You, Paris and Light Out of Darkness: A Tribute to Ray Charles, that attained the top rank on Billboard.
Holding true to her roots, Shirley Horn recorded an album, The Main Ingredient, in her house in Washington, D.C. The recording involved her bandmates, Ables and Williams; Joe Henderson on tenor saxophone, Roy Hargrove on the flugelhorn, Buck Hill on soprano saxophone, Steve Novosel on double bass, Billy Hart on drums and Elvin Jones, also on drums. What is really heartwarming about this recording is how, in the first track, "Blues for Sarge", she opens with calling out these artists and suggesting they have a "jam session" in her home. She talks about frying chicken and preparing mustard greens for them to eat. Inside the material of liner notes for the CD, Horn included her recipe for a beer chili that listeners could follow and enjoy, while pretending to be a part of their incredible session.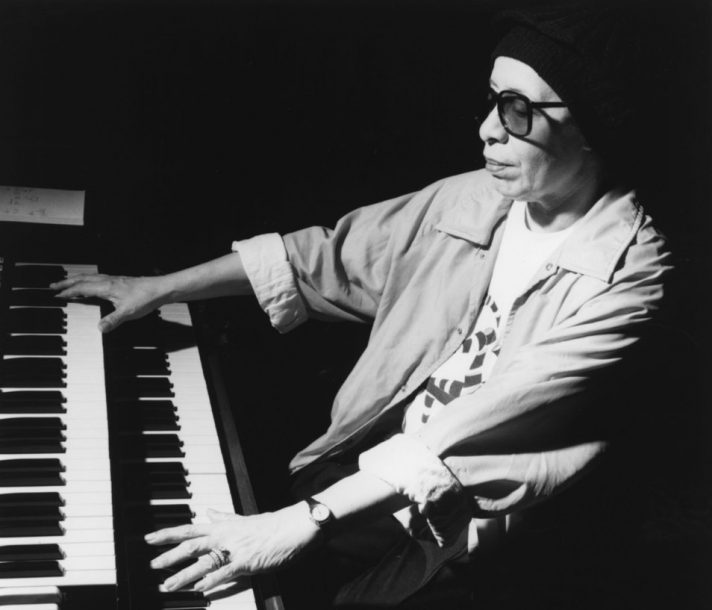 The recipient of numerous awards and accolades, Horn was nominated nine times for a Grammy Award, inducted into the Lionel Hampton Jazz Hall of Fame and awarded an honorary Doctor of Music degree by Berklee College of Music in 2002. She performed at Lincoln Center in New York City and at the While House for several presidents of the United States. Horn was recognized by Congress as well as the American Society of Composer, Authors and Publishers for the creations and innovations she gifted to the genre of jazz and to American culture. She worked with many other greats in jazz, including Antonio Carlos Jobim, Dizzy Gillespie, Charlie Haden, Carmen McRae and Joe Williams.
In 2001, Horn had her right foot amputated due to complications of diabetes; this drastically impacted her being able to perform. In The Washington Post article, "Shirley Horn (1934-2005): Mesmerizing Jazz Singer and Pianist", writer Adam Bernstein discussed Horn's accommodation and her final public performance: "… she would sometimes remove the shoe from her prosthetic foot and manipulate the piano's sustain pedal with the force of her hip. In her final public appearance … she climbed from her wheelchair to the piano and performed what had become her signature song, "Here's to Life."
On October 20, 2005, Shirley Horn, a survivor of breast cancer, passed away from complications caused by diabetes; she was seventy-one years old. Since her passing, videos of her concerts have been released. Notoriously private, Horn always made the focus of her artistry her music and not herself, family or private life. In an "All Things Considered: Savoring Shirley Horn's Timeless Sound" segment by Felix Contreras of NPR, she requested, "Remember me with love and remember my music. Try to remember all those pictures I've tried to paint. That would please me."
Shirley Horn was an incredible musician whose vocal talents are only equaled by her mastery of the piano. She created her own style and followed it, even when others could not, or, would not appreciate her value and validity. She constantly refined what accomplishment and success were to her, taking the time, space and opportunity to perfect her abilities and allowing others to catch up to her.
"I want you to feel what I feel. I want you to see the picture I'm trying to paint. I want you to be beside me. Be inside me. That's the way I feel."
~ Shirley Horn