"Patricia Roberts Harris is one of those quiet warriors whose life stands as a testament to excellence, tenacity, and commitment to change."
~ National Museum of African American History & Culture
On May 31, 1924, a baby girl was born to Bert Fitzgerald Roberts and Hildren Brodie (née Johnson) in Mattoon, Illinois; she was named Patricia. After her parents separated when she was six years old, Patricia was primarily reared by her mother and grandmother.
A bright girl, she excelled in learning in the public-school system of Illinois, even earning academic scholarship offers from five different universities, including Howard University, a historically Black institution of higher learning in Washington, D.C. She selected to matriculate Howard, where she served as the Vice-Chairman of the institution's chapter of the National Association for the Advancement of Colored People (NAACP). Her political activism with the organization included her involvement in one of the earliest lunch counter sit-ins in America. Her induction into Phi Beta Kappa was natural, as her intellectual growth and accomplishments led her to graduate summa cum laude in 1945.
The following year, Roberts returned home to Illinois and pursued graduate studies in industrial relations at the University of Chicago. During this time, she acted as a program director for the Young Women's Christian Association in Chicago. In 1949, she moved back to the nation's capital, completing more graduate courses at American University while working as an assistant director of the American Council on Human Rights. Also at this time, Roberts served as the first National Executive Director of Delta Sigma Theta, a national Black sorority of which she was a member.
While working at the Council, where she remained until 1953, she met William Beasley Harris. Harris, a prominent attorney in Washington, D.C. and member of the faculty at the School of Law at Howard University, wooed her. After a whirlwind three-month courtship, they were married on September 1, 1955.
At this time, she saw little opportunities for career advancement in education due to issues of racial discrimination and segregation. Her husband encouraged her to seek a degree in law to effect positive change. Patricia agreed and entered George Washington University National Law Center, presently known as George Washington University Law School. In 1960, Patricia Roberts Harris graduated at the top of her class of ninety-four students!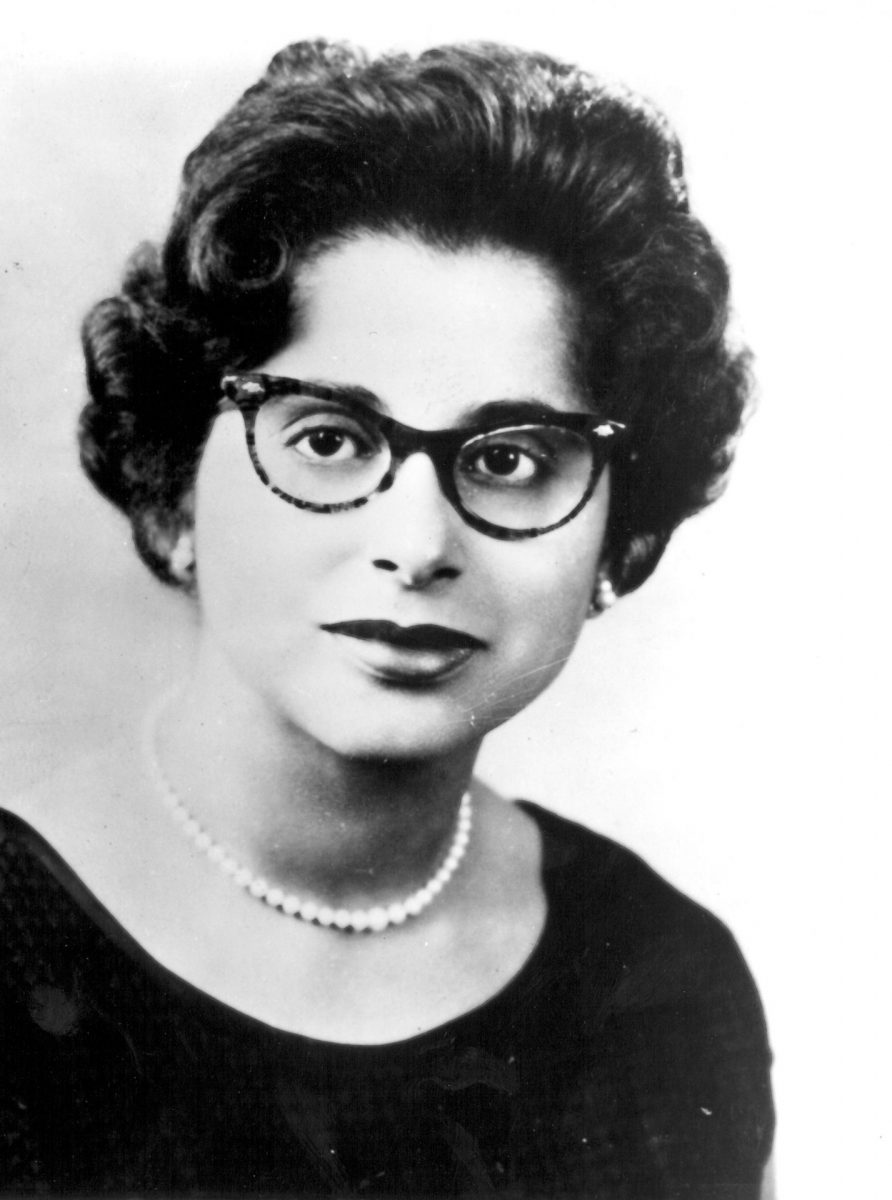 After being admitted to the bar of the District of Columbia, Roberts Harris worked appeals and research section of the criminal division in the U.S. Department of Justice. There is where she met and became friends with Bobby Kennedy, the new U.S. Attorney General. She worked there only for one year, as she became the Associate Dean of Students and a lecturer in law at her alma mater, Howard University. From 1962 to 1965, Roberts Harris worked with the National Capital Area Civil Liberties Union.
Always involved in advancing civil rights, she became more active with the Democratic Party. Her professional and personal commitment to the further development of society greatly impressed the new attorney general, who introduced her to his brother, President John F. Kennedy. Equally admiring of her, in 1963, President Kennedy chose Roberts Harris to co-chair, along with Mildred McAfee Norton, the National Women's Committee for Civil Rights, a collective of more than 100 women's groups in the United States. Because of her extensive work, she retired from her administrative post at Howard University but remained on the faculty.
Building upon her political involvement, in 1964, she was elected as a delegate from the District of Columbia to the Democratic National Convention. Working within the presidential campaign of Lyndon B. Johnson, she seconded his nomination at the party's national event. After winning the office, President Johnson appointed her as Ambassador to Luxembourg in October 1965. In accepting this position, Patricia Roberts Harris became the first African-American woman to be chosen as an envoy for the United States. Though proud and honored, she also felt that this historic occasion was bittersweet because of the many Blacks who were accomplished but never given the same opportunity to lead.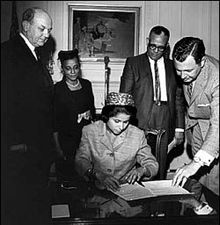 During this time, she also served as an alternate delegate to the 21st and 22nd General Assemblies of the United Nations. Her service in this capacity made her the first African-American to serve as a delegate to the UN.
Patricia Roberts Harris served as a U.S. Ambassador until 1967. After her diplomatic tenure ended, she resumed her career at the School of Law at Howard University, where she became the dean. This promotion in 1969 made Patricia Roberts Harris the first African-American dean of a law school in the United States, another first in history!
When she and James E. Cheek, president of Howard University, disagreed on the stance regarding student protest, Roberts Harris resigned as the dean of the law school a month later. She then joined Fried, Frank, Harris, Shriver & Jacobson, one of the most prestigious law firms in the nation's capital, where she worked as a corporate attorney. Her decision to work in this capacity was because she believed that corporate responsibility could positively influence social change. Bolstering her belief, Roberts Harris served on the boards of several companies, including Chase Manhattan Bank and IBM.
Remaining active in politics, she was chosen as the permanent chairperson of the Credentials Committee for the 1972 Democratic National Convention. The following year, she was a member-at-large of the National Democratic Committee. When the Democrats won the presidency in 1976, President Jimmy Carter selected Patricia Roberts Harris to act as Secretary of Housing and Urban Development (HUD). Her selection for this appointment was controversial, primarily because of her being an African-American woman. Concerns ranging from lack of experience to being a member of the "establishment" who would be uncommitted to and uninvolved with those most in need were expressed.
When she was questioned by Senator William Proxmire (D-WI) about these issues, she passionately replied in her now-famous response as cited in "Patricia Roberts Harris Dies of Cancer" of the Los Angeles Times. In the article, Roberts Harris affirmed, "Senator, I am one of them. You do not seem to understand who I am. I am a Black woman, the daughter of a Pullman (railroad) car waiter. I am a Black woman who even eight years ago could not buy a house in (some) parts of the District of Columbia … I didn't start out as a member of a prestigious law firm, but as a woman who needed a scholarship to go to school. If you think I have forgotten that, you are wrong." Also in her testimony response was her sincere intent and determination, in which she expressed, "If my life has any meaning at all, it is that those who start as outcasts … may end up being part of the system. And I hope that it will mean one other thing, Senator; that by being part of the system, one does not forget what it meant to be outside it. Because I assure you … that while there may be others who forget what it meant to be excluded from the dining rooms of this very building, I shall never forget it."
With her confirmation as a cabinet Secretary, Patricia Roberts Harris became the first African-American woman to serve as a member of a Presidential cabinet! In this role, she became #13 in the Presidential line of succession.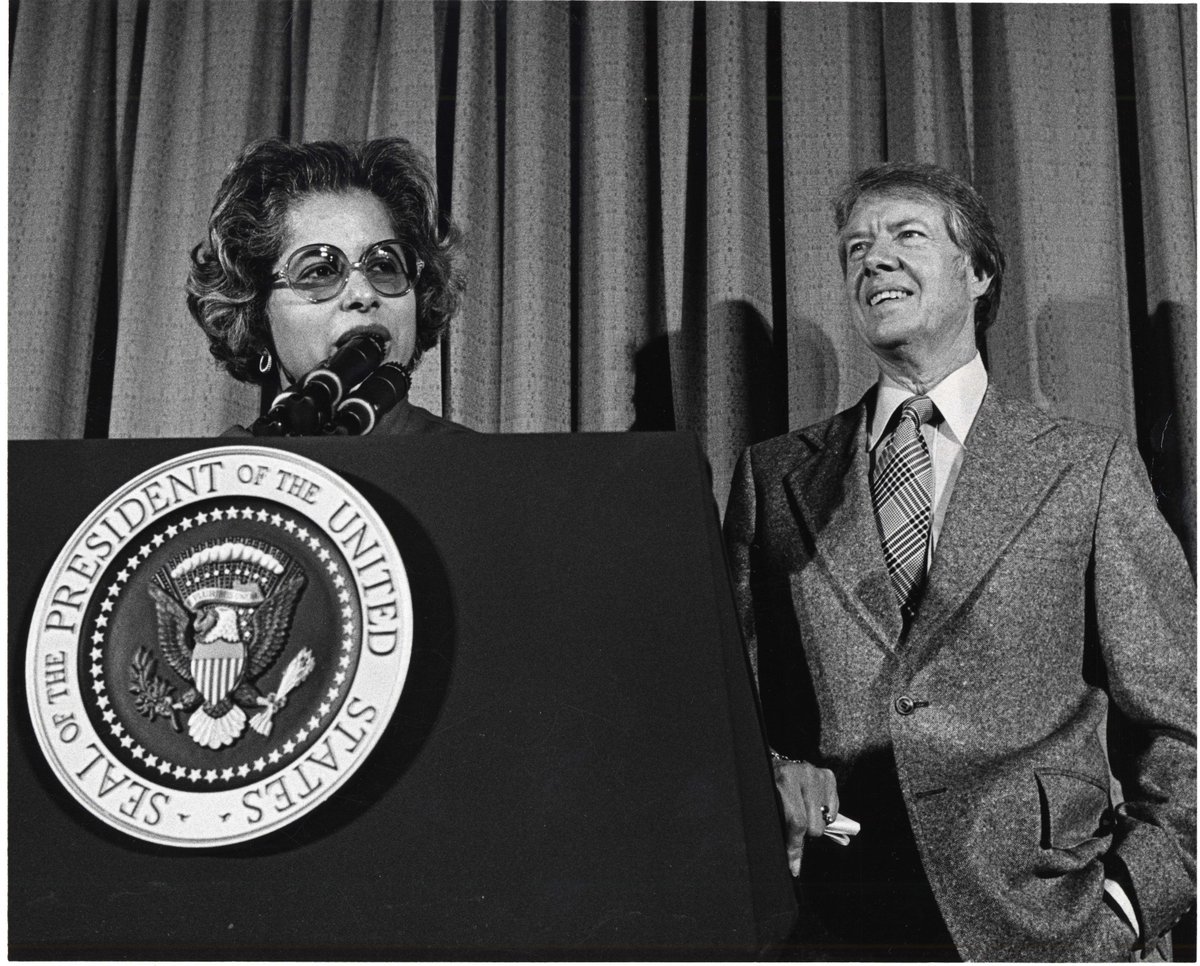 She was highly effective in this role, which she acted in from January 1977 to August 1979. The authors of the biography on Patricia Roberts Harris at Enyclopedia.com confirmed her efficacy in their submission. In it, they wrote, "A fighter characterized by some as self-righteous, brittle, and excessively partisan, Harris breathed new life into a disorganized and demoralized agency of 16,000 workers. Not only did she demand excellence from those under her, but she lobbied hard and successfully for additional funding from Congress."
As a result, the number of subsidized housing starts quadrupled under her tenure. Even more important, she helped reshape the focus of the department. A staunch supporter of housing rehabilitation, Harris funneled millions of dollars into upgrading deteriorating neighborhoods rather than wiping them out through slum clearance. For example, she pushed a Neighborhood Strategy Program that subsidized the renovation of apartments in deteriorated areas. In addition, she expanded the Urban Homesteading Plan and initiated Urban Development Action Grants to lure businesses into blighted areas. Although she ultimately wanted to replace public housing by some type of voucher system so as to provide the poor with more choice for housing, she poured millions of dollars into renovating deteriorating projects throughout the nation."
Her performance and accomplishments were so successful that President Carter named Patricia Roberts Harris as the first Secretary of the newly re-organized Department of Health, Education and Welfare (HEW), the largest agency of the Cabinet. At this Department, she is best remembered for protecting social programs from being drastically cut or even disbanded. When a new federal education department was created separate from HEW in 1980, Patricia Roberts Harris became the first Secretary of Health and Human Services.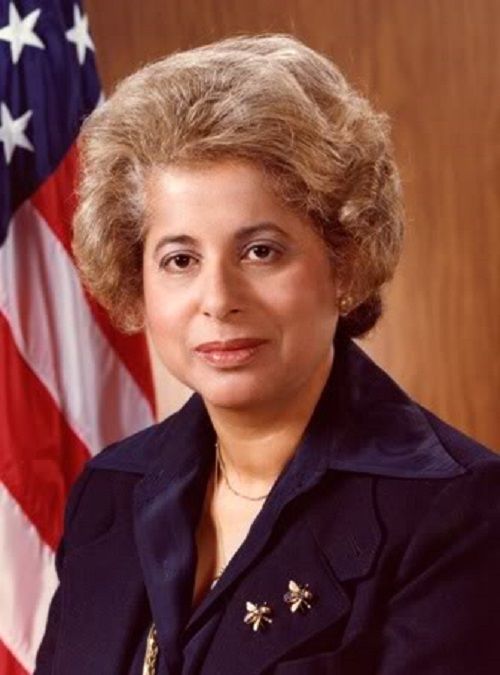 After leaving office in 1980 when Ronald Reagan was elected as president, she remained active in politics, even running, unsuccessfully, for the mayor of Washington D.C. in 1982. In his reflection on her life upon her passing, journalist Gerald M. Boyd emphasized in the New York Times that the highly accomplished and extensive political career of Patricia Roberts Harris was highlighted with a "series of increasingly prominent positions", resulting from her "hard work with shrewd political sense." In discussing her mayoral loss to incumbent Marion S. Berry in the Democratic primary, Boyd shared, "Political observers indicated that Harris failed to gain the support of lower-income Blacks during the race and was often portrayed as a candidate for middle-class Blacks and Whites. 'I looked at the nation's capital and saw that it was not living up to its potential …Seventy percent of us here are Black. This is seen as a Black town. But it's not working well.'"
In 1983, she then returned to law, accepting a full professorship at George Washington University Law Center, another one of her alma maters.
On March 23, 1985, Patricia Roberts Harris passed away from a long and private battle against breast cancer; she was 60 years old. Her husband, William, who had served as an administrative law judge at the Federal Power Commission, passed away five months prior. She was interred at the Rock Creek Cemetery in Washington, D.C.
Among the numerous accolades and honors, Patricia Roberts Harris was inducted into the National Women's Hall of Fame in 2003. In 2000, she was honored by the U. S. Postal Service with a commemorative stamp. Featuring an image of her during the late 1970s, she was the 23rd person celebrated in their acclaimed Black Heritage Series.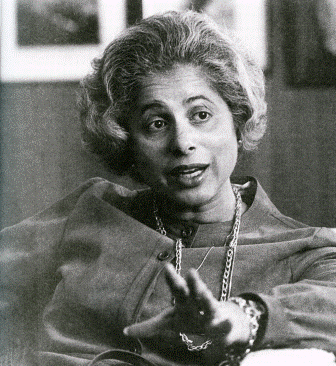 In their promotional material, the USPS wrote, "The United States has boasted many high achievers but Patricia Roberts Harris was truly a pioneer. She was the first African-American woman to be an ambassador, a presidential cabinet member, a member of a major corporation's board of directors, a chair of a national political party committee, and a member of the United Nations. She was also the first woman to be a law school dean. One of Harris' most important 'firsts' came at the 1964 Democratic National Convention. Asked to give the seconding address for Lyndon Johnson, Harris became the first African-American woman to have a role in a presidential nomination. In this address, she spoke of issues most dear to her: making the American Dream available to disadvantaged people throughout the nation and ensuring that justice, prosperity and peace reign nationally and internationally."
"I feel deeply proud and grateful this President chose me to knock down this barrier, but also a little sad about being the 'first Negro woman' because it implies we were not considered before."
~ Patricia Roberts Harris
For greater enlightenment...