Located at 1311 Kapiolani Boulevard, Suite 203 in Honolulu, Hawaii, the mission of the forthcoming Obama Hawaiian Africana Museum (OHAM), as per its website, is "to preserve, perpetuate & promote the contributions about Africana early settlers, descendants, & contemporary African-Americans to educate young and old residents including visitors." Established as a nonprofit in 1997, its parent entity was the African American Diversity Cultural Center Hawaii (AACCDH).
In 2018, the organization's Board of Directors agreed to convert its name to the "Obama Hawaiian Africana Museum" in tribute to Barack H. Obama, the first African American president of the United States. This honor is most appropriate, as the birthplace of America's 44th Executive in Chief is Honolulu.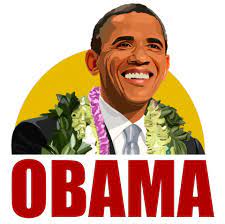 Accordingly, the vision of the future museum is to commemorate "… President Barack Obama and his early childhood to empower preK-12 to prepare students in school for future leadership roles in the community." Its partners and supporters include government officials such as past governor, Neil Abercrombie and Senator Daniel Inouye; institutions including the National Park Service and USS Arizona Memorial, the Pearl Harbor Aviation Museum, the Honolulu Museum of Art, Hawaii Medical College, the Hawaii Judiciary History Center and the Hawaii Department of Education; businesses such as the American Savings Bank; and organizations such as Delta Sigma Theta.
The reason for the development of the African American Diversity Cultural Center in Hawaii was because, prior to 1997, there was no institution that was centered upon the historical and contemporary contributions of persons of African descent to Hawaii. This glaring omission is egregious, considering Africana people have been in Hawaii for more than two centuries!
Hence, the AADCCH was created. Its purpose, according to its profile at KaimukiHawaii.com, is "to share the collections by displaying and exhibiting artifacts, photographs and oral history to tell the story of African Americans past and present history in all its permutations: family life, civic contributions, inventions, medicine, architecture, politics, religion, law and arts that will educate the people in Hawaii about the cultural heritage of Black people in this country."
Their history ranges from the mid-18th century to the World War II Pacific Theater to President Obama. In the KaimukiHawaii.com article, aspects of Blacks' early history in this state of islands is detailed, sharing, "During the late 1700s and early 1800s, Hawaii was sparsely populated. Many people of African ancestry came to Hawaii aboard merchant and whaling ships. The earliest settlers arrived in the Hawaiian Islands around 1769. Maritime labor during the 17th and 18th centuries was predominantly Black. Conditions on ships were harsh and the pay low, it was better than being a slave. These men came from Cape Verde Islands off the coast of West Africa, the Caribbean and the mainland United States. Throughout the age of sail, Black hands maneuvered White sails traversing the ocean waterways. The Atlantic Ocean ships brought Blacks to the slave blocks, the Pacific Ocean brought them to freedom. Many Black men used the oceans as their underground railroads. In Hawai'i, Blacks were free to go ashore without harassment, dozens of them jump ship and made Hawai'i their home. They were welcome by the Hawaiian people." This information and so much more about the Black people and Africa Diaspora culture in Hawaii is essential for true understanding, respect and celebration.
In order to meet its goals, the OHAM has various forms of outreach. Its community programs, centered upon African American culture, are focused upon African American literature, HIV/AIDS awareness, jazz, literacy and school cultural enrichment.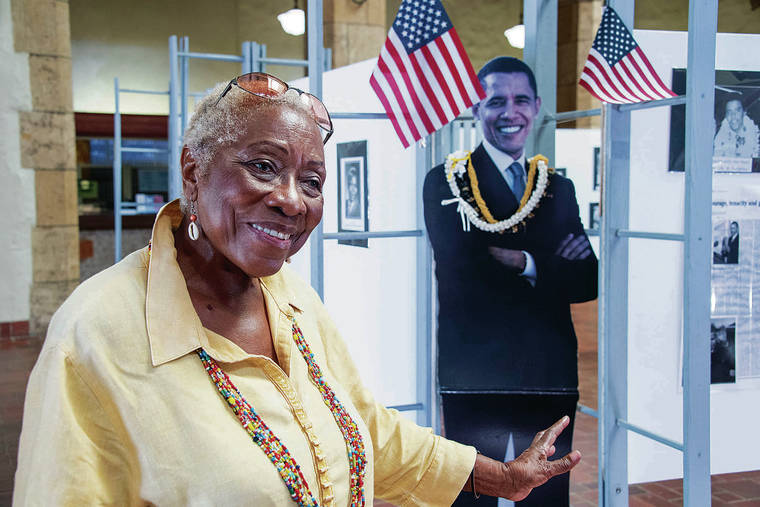 It has been involved with the Annual Kwanzaa Celebration, Annual Obama Birthday Walk and the Annual Martin Luther King Parade and Rally. The connection between Rev. Dr. King, Jr. and President Obama is natural. This sentiment is celebrated by Mrs. Deloris Guttman, the Director of the Obama Hawaiian Africana Museum. In the museum's website article, "Obama Museum Participates in the Annual MLK Parade and Rally", she championed, "We use Dr. King's holiday as a platform to educate the community about 44th U.S. President Obama's childhood and his legacy to empower young people (future generation) to prepare them for leadership roles. President Obama serves as a role model not only for Hawaii's youth but the world."
The Obama Hawaiian African Museum has designated four key areas of content that will be highlighted when their permanent museum is developed. These areas are local youth empowerment, World War II memorialization, construction of historical markers and acquirement of the childhood home of President Barack H. Obama. In 2020, the nonprofit organization held its "Give Big Hawaii" fundraiser. The following are details in supporting these four initiatives:
"GOAL 1: Empower Local Youth Through Education
What you're supporting:
The Hawaiian Africana Youth Enrichment Program (HAYEP): an in-school participatory learning program designed to stimulate youth emotions, imagination, and intellectual capacities, empowering them in understanding "culture" within the context of enhancing adolescent critical thinking skills. HAYEP engages students' artistic abilities, strengthens their social values, promotes self-esteem, self-efficacy, self-worth, and empowers their own cultural identity. The program serves at-risk low income students (Pacific Islanders, Native Hawaiians, Hawaiian Africana, Filipinos & other ethnic groups) in school who are performing at low academic levels. Additionally, HAYEP curricula complements the social studies and language arts curriculum.
Hawaiian Africana Youth Enrichment Program: Interfacing Hawaiian history with American History through WWII and Pearl Harbor in social studies classroom teachers in four schools on Oahu. The in-school program began in 1998 with Cultural Heritage Enrichment School Assembly Programs to engage students in learning about people of Africana descent using skits, dance and drumming.
GOAL 2: Memorialize Pearl Harbor & Pacific WWII History
What you're supporting:
In 2019, the Pearl Harbor Quonset Hut, where African American military men lived in segregated housing during WWII, was nominated to the National Register for Historic Places. The Quonset Hut is the only structure remaining out of 100 from Manana Barracks during WWII at Pearl Harbor. This artifact is a footprint that has significant historical value for preservation and restoration to share American Hawaiian history with future generations. The Obama Hawaiian Africana Museum Board of Directors is seeking Federal funding to restore the structure upon approval of a MOU (memorandum of understanding). The process is pending.
At the West Loch Disaster at Pearl Harbor on May 21, 1944, during WWII, more than 600 soldiers from Schofield Barracks were killed and hundreds of others were wounded. African American men from the 29th Chemical Decontamination Unit were unloading by hand (human assembly line) mortar shells aboard LST 353 when suddenly an explosion sent fireballs in the sky and hot fragments showered down onto the clustered of LST vessels docked in Tare 2, igniting gasoline drums and munitions lined up on deck. One by one, the explosions ripped the fleet apart and burned for 24 hours. Two months later another incident took place at Port Chicago near San Francisco killing more than 300 men, mostly African American laborers. The museum seeks to ensure the lives lost are known through educational programs and physical memorials.
GOAL 3: Build Historical Markers

What you're supporting:
Creating monuments, plaques, walking audio tours and other ways for Hawaii residents and visitors to see the contributions of Africana people on the islands. People to be commemorated include:
Birthplace of the 44th U.S. President and 1st Black U.S. President, Barack Obama, born and raised in Hawaii.
Charles A. Cottrill, an attorney, the first tax collector (Internal Revenue Service) for the Territory of Hawai'i, arrived in Honolulu with his wife and son in 1911. He was appointed by President Taft and confirmed by Congress, a distinguished well-educated black man, Cottrill was interested in Republican politics and was welcomed by Hawaii's Big Five corporations. They invited him to join several prestigious clubs and organizations. His son attended Punahou School.
Carlotta Stewart Lai, the first African American woman educator, principal of a public school in the Hawaiian Islands.
Doris (Dorrie) Miller, An African American cook and hero on December 7, 1941 at Pearl Harbor
Anthony D. Allen, a business man and one of a dozen of Black settlers who chose the Hawaiian Islands as their home. He became one of Kamehameha the Great's advisors. He resided in the home of the royal priestess Hewahewa for a few months. In exchange for his generous services to the Royal Family, she gave him six-acres of land in Waikiki in 1810.
Betsey Stockton, who arrived in the Hawaiian Islands as the first woman of African descent in 1823. She established the first public school system for the makaainana (common people) in Lahainaluna, Maui.
Alice Augusta Ball, the first African American to graduate from the University of Hawai'i at Manoa
GOAL 4: Acquire and Preserve Obama Childhood Home for Museum Site
What you're supporting:
A permanent anchor (site) to store, display and preserve Africana archival historical collection in Hawaii, and the childhood home, of the 44th U.S. President."