Located feet away from the Ohio River in downtown Cincinnati, Ohio, the mission of the National Underground Railroad Freedom Center, according to its website, "is to reveal stories of freedom's heroes, from the era of the Underground Railroad to contemporary times challenging and inspiring everyone to take courageous steps of freedom today."
The mission of the center is founded in the historical accounts of the Underground Railroad, the covert and complex system created and utilized from the early to mid-1800s by enslaved African-Americans to escape slavery. This system, supported by allies and abolitionists, extended throughout the United States, notably along its east coast, to Canada and Nova Scotia.
Building upon this historical foundation to contemporary times, the purpose of the center is to present, interrogate and celebrate freedom and its components, including bravery, cooperation, determination, resistance, sacrifice and wisdom. Its purpose is manifest through exhibits, permanent and temporary; art pieces such as the incredible Rag Gon Non by the brilliant African-American textile artist, Aminah Robinson; educational and community outreach programs; films, including the documentary short, "Brothers of the Borderland", directed by award-winning director, Julie Dash, and interactive media; a library and a genealogical research center. It also has a wonderful gift shop that contains everything from books, bookmarks and jewelry to art, textiles and clothing to commemorate your experience.
As one of the recently-developed "museums of conscience", which includes the opening of the National Civil Rights Museum in Memphis, Tennessee in 1991 and the Museum of Tolerance in Los Angeles, California that opened in 1993, the National Underground Railroad Freedom Center opened after a decade of planning and development. Costing $110 million dollars, the massive, 158,000 square foot (15,000 m²) structure was a design collaboration of Boora Architects (design architect) of Portland, Oregon and Blackburn Architects (architect of record) of Indianapolis, Indiana. The center contains features such as copper panels, travertine stones imported from Tivoli, Italy and three pavilions built to honor the center's themes of "Courage, Cooperation and Perseverance". The design feature of seeming undulation within the museum's physical construction is representative of the fields and rivers crossed by those enslaved seeking freedoms.
Its location on the Ohio River is most appropriate, as this body of water historically separated a Southern, slave-holding state, Kentucky, from a Northern, free state, Ohio. Many enslaved persons of Africans descent sought refuge in Ohio, and in this instance, Cincinnati. Some became permanent citizens and others continued to travel on to Canada, a free country. Through an expansive wall of glass, visitors can look across the Ohio River and see Kentucky as well as the home of abolitionist, John Rankin, in Ripley, Ohio. Rankin, a Presbyterian minister and educator, was one of the active "conductors" on the Underground Railroad.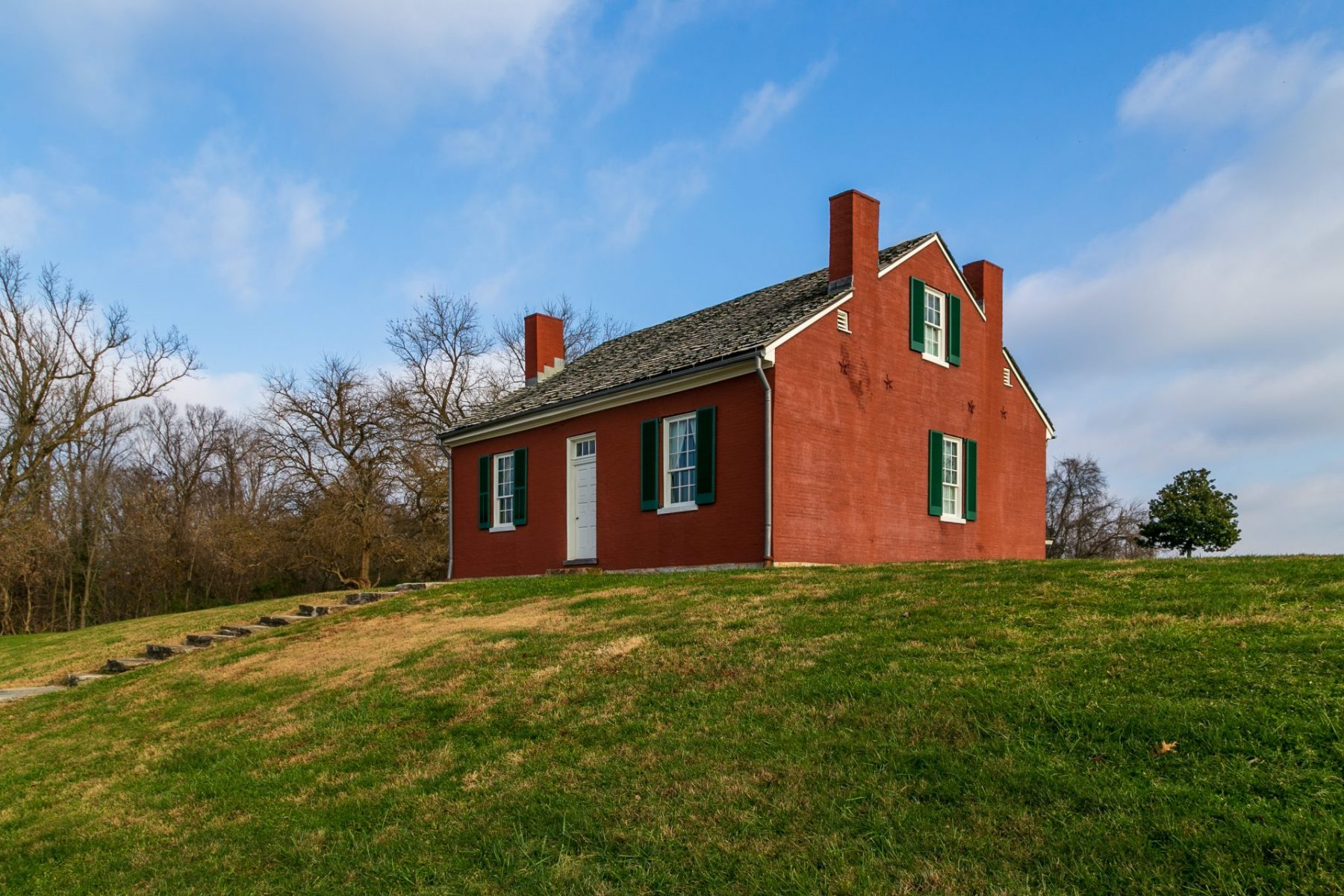 His home, one of the original "stops" to freedom, was under constant surveillance by slave catchers and was visited by fellow abolitionists, including writer Harriet Beecher Stowe. Harriet and her husband, Calvin Stowe, who was a professor at Lane Theological Seminary, were inspired by their talks with Rankin and his guidance of greater than two-thousand enslaved Blacks to freedom. His activism placed him and his family in grave danger and great personal risk; some slave owners had put a bounty on him.
Stowe was inspired by Rankin, particularly his February 1838 account detailing a young, enslaved Black woman, Eliza Harris, who had escaped across the frozen Ohio River to the town of Ripley with her child in her arms. She stayed at his house on her way further north to Canada. This account provided inspiration for Stowe in her writing of one of the most powerful scenes in American literature; the harrowing escape scene of Eliza and her baby over the icy Ohio River from slave catchers featured in Uncle Tom's Cabin.
Because of its mission and vision, the National Underground Railroad Freedom Center offers many features, such as exhibits and lectures. These features, as per their website, include:
Suite for Freedom (Sponsored by Fifth Third Foundation, Eleanora C.U. Alms Trust, Charles Moerlein Foundation, Ohio Valley Foundation, Jacob G. Schmidlapp Trusts) is a brief orientation film that introduces the Freedom Center Experience. Suite features a trilogy of distinct but interrelated animated shorts tied together by a musical suite. It is remarkable for the artistry of three world-class animators and musicians combined with inspiring words [that] creates a unique visual experience.
From Slavery to Freedom (Sponsored by The Oprah Winfrey Foundation) portrays three centuries of slavery from its introduction into the Americas to its abolition at the end of the American Civil War. The exhibit describes who the enslaved were, why they were brought here, how they lived, how they were treated, and also who their allies were – and how, ultimately, they became free! A 12-minute companion film provides a dramatic overview of this dramatic story.
ESCAPE! Freedom Seekers and the Underground Railroad (Sponsored by American Express Company, AT&T and Luxottica Retail) uses storytelling, role-playing and hands-on activities to present accounts of courage, perseverance and cooperation. Concentrating on the period between 1830 and 1865, this exhibit teaches about the brave and clever actions of men and women who resisted slavery. Especially noteworthy in this family-friendly exhibit are the colorful banners of abolitionists and conductors by renowned artist Jerry Pinkney.
The Slave Pen (Sponsored by The Otto M. Budig Family Foundation) built in the early 1800s, was recovered from a farm in Mason County, Kentucky, less than 60 miles from the Freedom Center. The structure was used as a holding pen by Kentucky slave trader, Capt. John W. Anderson, to temporarily keep enslaved people being moved farther south for sale. The slave pen played an integral role in the greater story of the internal slave trade in America.
Brothers of the Borderland (Sponsored by The Boeing Company) immerses guests in a thrilling flight to freedom, showcasing the courage and cooperation of John Parker and Rev. John Rankin as they aid a woman risking everything to flee slavery. The 25-minute film features a segment narrated by Oprah Winfrey that introduces the main historical figures John Parker and Rev. John Rankin, abolitionists in Ripley, OH. The film is shown in an "experiential" theater, complete with crickets chirping in the background. This exhibit may not be appropriate for very young children, but it is ideal for ages 8 and above.
The Struggle Continues (Sponsored by Coca Cola) examines the desire to fight for freedom around the world and reminds us that slavery in many forms and guises continues to exist in the world around us. I conic and abstract images on each of two long, facing walls, symbolize and evoke freedom and slavery throughout the world. The images are accompanied by audio that creates an intriguing yet reflective mood.
This exhibit explores six conditions or circumstances – which we call "unfreedoms" – that prevent people from achieving freedom and protect basic human rights. These unfreedoms are hunger, illiteracy, slavery, racism, tyranny and genocide. The exhibit may not be appropriate for young children.
Everyday Freedom Heroes (Sponsored by The Harold C. Schott Foundation) celebrates individuals from all walks of life whose extraordinary choices at key moments paralleled the courageous actions taken by participants on the Underground Railroad.
Invisible: Slavery Today (possible by generous underwriting gifts from the Skirball Foundation and Lois and Richard Rosenthal) is the world's first museum-quality, permanent exhibition on the subjects of modern-day slavery and human trafficking.
The overall design and feel of Invisible is that of a dingy warehouse in an unfamiliar city, filled with wood, metal and plastic containers – shipping cartons for human beings. Through a variety of techniques and media, including videos, sounds and touch-screen presentations, Invisible offers a comprehensive examination of slavery in the modern world through the life experiences of five individuals who were caught up in one of the five most common forms of exploitation: forced labor, bonded indenture, child slavery, sex trafficking and domestic servitude. The exhibition explores the causes of slavery, the economic forces that have contributed to its growth, and the response of government, the justice system and the general public to this scourge.
But Invisible is not just a grim walk through degradation and mistreatment. A major concluding section is devoted to anti-slavery activities underway around the world, especially by the Freedom Center's partners in the exhibition: Free the Slaves, Goodweave, International Justice Mission and Polaris Project. Visitors are also asked to make a personal commitment to be 21st Century Abolitionists in the cause of freedom."
Visitors to the National Underground Railroad Freedom Center will gain incredible insight to the diverse and vast human quest, including sacrifices and gains made, for freedom in the United States and throughout the world!