Built circa 1870 and located at 762 Martin Street in the Southwest Center City neighborhood of Philadelphia, Pennsylvania, this three-story, Italianate brick house was the home of African-American vocal great, civil rights activist and philanthropist, Marian Anderson, (February 27, 1897 – April 8, 1993). The home was extensively renovated around 1940 and these updates included creating a studio as well as converting her basement to an area to entertain guests. In 2011, the home was designated for placement on the National Register of Historic Places by the U.S. Department of the Interior; it has also been honored as a historical landmark by the State of Pennsylvania.
Visitors to the National Marian Anderson Museum will learn much about the life of Anderson. An amazing contralto, she utilized her fierce determination, bravery, strength and grace to transcend racial barriers. Anderson felt her love for God and her family were her foundation. This structure was purchased with funds gifted by Marian to her mother, Annie, in 1924. The house provided a base for the Anderson family and was the permanent residence of Marian during this period. While living here, she performed domestically and internationally and several accomplishments of hr illustrious career occurred. These included performing for monarchs in Europe, presidents at the White House and the masses on the steps of Lincoln Memorial.
In 1943, Marian Anderson married architect Orpheus Fisher and moved from the family home to Danbury, Connecticut, where the newlyweds had already bought 100 acres of land three years prior. The couple owned this land until their passing, he in 1986 and she in 1993. After her family members had passed, Anderson, still owning the home in Philadelphia where her loved ones had lived, sold it in 1990.
At the beginning of the twentieth century, the opportunities for African-Americans to enter and excel in diverse endeavors including in music, were severely limited. Very few, including Marian Anderson, were allowed entry into music schools and conservatories and they were barred from participating in and performing with orchestras, symphonies and opera companies simply because of racial discrimination. Because of this, African-American musical artists would find their greatest support in historical Black colleges and universities as well as African-American churches. If fortunate, they would also be able to be individually taught and mentored. Anderson found great support from Union Baptist Church, the church where her family were members, and she received training under African-American vocal teachers and singers, Mary Saunders-Patterson and Emma Azalia Hackley. She performed in churches all over, including at the National Baptist Convention in 1919, and earned great praises. She was so well-received that, on occasions, she performed in three venues in a single night!
A 1921 graduate of South Philadelphia High School, she was barred from entering the Philadelphia Music Academy, which was all-White. Anderson continued to pursue options to become a professional singer and would ultimately meet voice teacher, Giuseppe Boghetti, due to a meeting arranged by her high school principal. Upon moving Boghetti to tears with her rendition of "Deep River", he, with William King as her manager, arranged a recital for her to perform songs in English, German, Italian and Russian at The Town Hall in New York City in 1924. The hall was practically empty and she was given poor reviews for her singing. Anderson became very depressed and considered a different vocation. It was at this time, Annie Anderson bought the brick rowhouse in Philadelphia.
However, Anderson, encouraged by her family and those close to her, continued her singing. In 1925, she won a singing competition of the Philadelphia Philharmonic Society and a Lewisohn Stadium contest. In that contest, she was triumphant over three hundred contestants, earning the opportunity to perform in concert with the New York Philharmonic orchestra; this performance was a critical success. Her triumph garnered positive attention from many, including Frank La Forge, with whom she would continue her studies, and Arthur Judson, who would replace King as her manager. Anderson toured the United States, primarily on the East Coast and in the South, but racial discrimination still severely limited her career. In 1928, Anderson performed for the first time at Carnegie Hall and a music critic from the New York Times, according to the Marian Anderson Historical Society website, wrote, "A true mezzo-soprano, she encompassed both ranges with full power, expressive feeling, dynamic contrast and utmost delicacy."
In order to further grow professionally and personally, many African-Americans sought opportunities outside America. Following those Black artists before her, Marian Anderson would take advantages afforded her in Europe, where there was less racial discrimination. From 1927 to 1935, Anderson spent most of her time overseas. Through organizations such as the National Association of Negro Musicians and the Julius Rosenwald Fund, Anderson worked diligently to enhance her performance skills, including lieder singing. She learned to perfect singing in foreign languages, significantly Italian and German, in which many operas were written.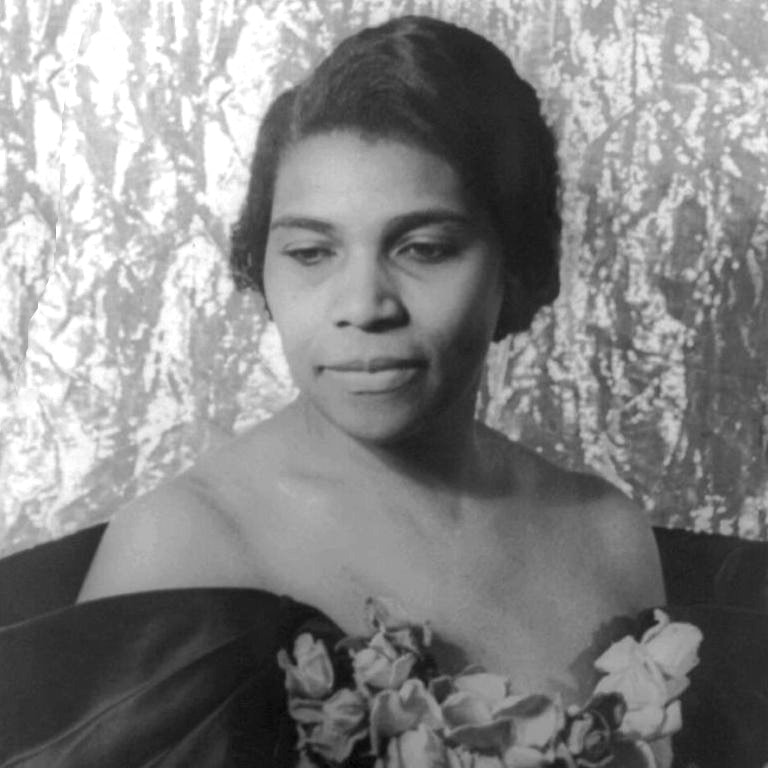 Working with promoters, Rule Rasmussen and Helmer Enwall, Anderson toured Europe in the 1930s. Her tour included Scandinavia, where she would perform, from September 1933 to April 1934, one hundred and forty-two concerts, including for King Gustav of Stockholm and King Christian of Copenhagen. She worked with Finnish pianist Kosti Vehanen, who would accompany and vocally train her, and composer Jean Sibelius, considered to be the greatest composer in the history of Finland. Sibelius was so impressed with Anderson that, for many years, he altered and composed songs for Anderson to perform. The song, "Solitude" from Belshazzar's Feast, a play of Hjalmar Fredrik Eugen Procopé, was re-arranged by Sibelius and in 1939, he dedicated it to Anderson.
In 1933, Marian Anderson opened in Wigmore Hall of London, England and her debut was received with rave reviews. The excitement for and respect for Anderson fanned throughout Europe. In 1934, acclaimed Russian impresario Sol Hurok replaced Judson as her manager for the rest of her career. She returned to the States to perform, for the second time, at The Town Hall in New York City; she was greatly received this time. As she traveled back and forth between the United States and Europe, she was offered opera roles to perform but she declined due to her having no professional experience in being an actress. She would, however, record opera arias, which were commercial successes. Anderson enjoyed immense popularity and countless fans, from listeners and critics to composers and conductors, including Arturo Toscanini, who exclaimed she had a voice, according to the Marian Anderson Papers held at the University of Pennsylvania, "… heard once in a hundred years."
Marian Anderson toured South America in 1937 and 1938 and in the late 1930s, performed approximately seventy recitals per year in the United States. During this time, she continued to reside at the home in Philadelphia as her base. In February 1936, Anderson performed for President Franklin D. and First Lady Eleanor Roosevelt in the Monroe Room at the White House. Her performance led to a genuine friendship between the two women that would endure for the rest of their lives.
Despite her stellar professional accolades and extensive international accomplishments, racial discrimination still stalled her musical career in the United States. Perhaps the most defining moment in Marian Anderson's professional life occurred in 1939. Hurok, as her manager, attempted to book Anderson to perform to an integrated audience at Constitution Hall in Washington, D.C. His attempt was through Howard University, a historically Black university also located in Washington.
The proprietors of Constitution Hall were the Daughters of American Revolution (DAR), an all-White, bigoted women's organization. They refused, solely on race, to allow Anderson to perform at the hall on the dates that Hurok requested, even though those same dates were available to performers who were White. Black patrons were also highly upset about the discriminatory treatment and unequal accommodations, including being forced to sit at the back of Constitution Hall.
Charles Edward Russell, a White co-founder of the National Association for the Advancement of Colored People (NAACP) and chair of the Inter-Racial Committee in Washington, D.C. formed the Marian Anderson Citizens Committee (MACC). The MAAC consisted of numerous activists; community and church leaders; and organizations such as the Brotherhood of Sleeping Car Porters, the Washington Industrial Council-CIO, American Federation of Labor, and the National Negro Congress. The MACC elected Charles Hamilton Houston, a Black attorney who was the dean of Howard University Law School and Litigation Director for the NAACP, as its chairman. The coalition picketed, petitioned and protested the DAR.
Accompanying the growing protests over the racial discrimination shown to Marian Anderson, resignations were given by thousands of DAR members, including First Lady Roosevelt. According to "Biography: Marian Anderson" in the American Experience series of PBS, she wrote in her resignation letter, " … I am in complete disagreement with the attitude taken in refusing Constitution Hall to a great artist … You had an opportunity to lead in an enlightened way and it seems to me that your organization has failed."
Guided by the First Lady, a meeting occurred between President Roosevelt; Walter White, the executive secretary of the NAACP, who was Black; and Hurok. They negotiated with Harold L. Ickes, Secretary of the Department of the Interior, to allow Marian Anderson to provide an open-air concert on the steps of the Lincoln Memorial. Accompanied by Vehanen, the concert was performed on Easter Sunday, April 9, and Marian Anderson opened her concert with a stirring performance of "My Country, 'Tis of Thee". The concert, crossing racial lines, attracted more than 75,000 people in attendance and millions of radio listeners!
Performing at the White House in June 1939 for the King and Queen of England, First Lady Roosevelt awarded Anderson with the Spingarn Medal of the 30th NAACP National Conference. The Spingarn is awarded annually to an African-American who has, according to the organization's website, " … made the highest achievement during the preceding year or years in any honorable field of endeavor." She also was given the Bok Award, which is gifted annually to an outstanding citizen of Philadelphia; she would use the award funds to start the Marian Anderson Scholarship.
Her accolades continued as her career thrived until her retirement. By 1941, Anderson was among the top ten highest paid concert artists in the United States and would perform over a thousand times in hospitals and on military bases during World War II and the Korean War. Anderson was able to accomplish much and milestones of her career, according to the Nation Parks Service website, include " … her return to Europe for a tour in 1949, her television premier on The Ed Sullivan Show in 1952, and her invitation to perform at the Metropolitan Opera in New York in 1955, becoming the first African-American artist to sing with the Met … she performed at Dwight D. Eisenhower's presidential inauguration and was a good-will ambassador of the United States Department of State on a tour in Asia." Anderson was also appointed by President Eisenhower as an alternate delegate of the General Assembly of the United Nations. In 1961, she sang at her second presidential inauguration, this one being for John F. Kennedy. In 1963, President Kennedy honored Anderson with the Presidential Medal of Freedom.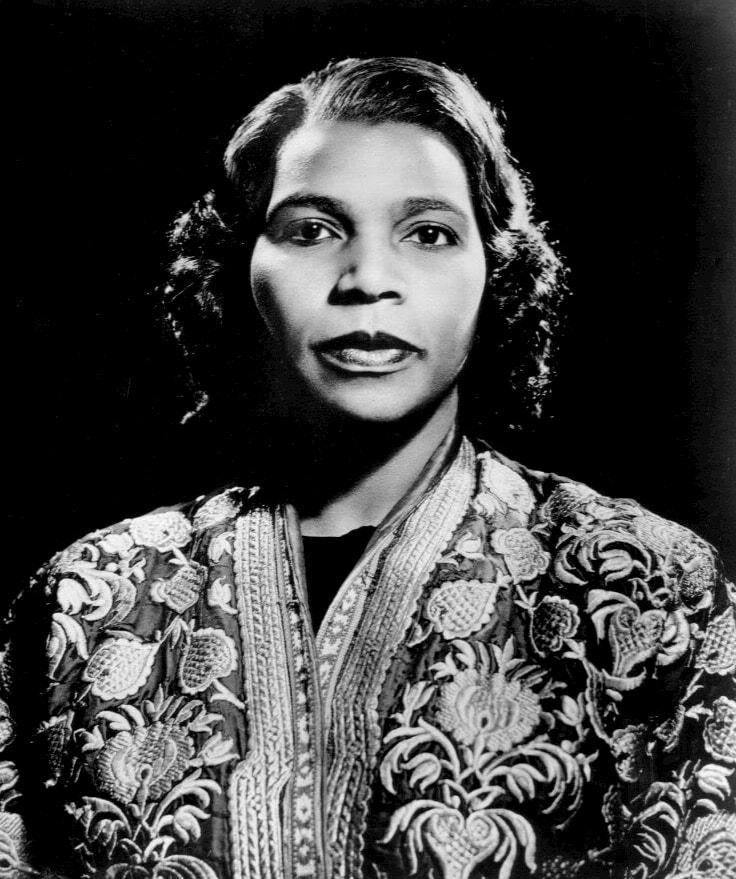 In 1965, Marian retired from performing and lived with her husband, Orpheus, on their land. Called "Marianna Farm", her husband developed several buildings on their property, including an acoustic rehearsal studio for Marian. Six years after the passing of her husband, Anderson moved to Portland, Oregon to live with her nephew, music conductor, James Anderson DePriest. He was the son of her sister, Ethel, and her husband, James. In early 1993, Anderson suffered a stroke, causing her to be confined to a wheelchair.
On April 8, at the age of ninety-six, she would pass away from congestive heart failure. A memorial service of Marian Anderson was held at Carnegie Hall, drawing more than two-thousand attendees who came to pay their respects.
The drive to best develop the gifts and skills she believed God gave her propelled Marian Anderson to transcend beyond the narrow space that some in society worked to confine her. An integral part of her development was her life in Philadelphia and the home at 762 Martin Street was pivotal.
Today, the house is maintained by The Marian Anderson Historical Society, which was founded by Blanche Burton-Lyles, a protégé of Anderson. The house, complete with hardwood floors and lace curtains still, contains books, photos and memorabilia of Anderson. It is home to continued musical excellence, as the society presents annual exhibits that explore various and unique aspects of Anderson's life. The society, in conjunction with the museum's mission, provides presentations, lectures, musical programs and private lessons.
There is also available the Marian Anderson Scholar Artist Program, which, as per the museum's website, "is a major fixture that supports young artists, classical & opera singers, instrumentalists, visual artists & more, ages 18-45 who are ambassadors of Marian Anderson's musical legacy. These artists perform regularly for a season of shows & events that the society sponsors, and perform around the world."
Public and private tours are available for a single person, small groups and large organizations. Additionally, tour group catering is also optional.