"As a creative educator, regenerative farmer, writer and activist, Leah Penniman is an exceptional leader for food justice. She is best known for her work at Soul Fire Farm … an organic family farm committed to 'the dismantling of oppressive structures that misguide our food system.'"
~ Tracy Frisch, journalist
Born to Reverend Dr. Adele Smith Penniman, Leah Penniman was reared in Ashburnham, Massachusetts. The oldest of three children, she is of Black Kreyol ethnicity. After her mother, who is Black, and her father, who is White, separated, she and her siblings were co-parented. With her father, they lived in rural Massachusetts; there, Leah connected strongly with nature.
Throughout her youth, Leah's environment had little cultural diversity. In "Farming While Black: How 1 Mother is Fighting to End Racism in the Food System" Food article by Emi Boscamp at Today website, Leah Penniman recalled her family often being the only one of color. In her reflection, she shared that they were often taunted and even bullied, which included violence and physical assault. Penniman provided insight to how she and her two siblings, Allen and Naima, found healing . Sharing Penniman's sentiment, Boscamp wrote, "'I would literally go and hold onto grandmother pine and cry my tears and feel a sense of belonging and restoration from my connection with the land.'"
She remaining connected with the land over the years. Leah Penniman first began to farm at The Food Project, located in Boston, when she was just sixteen years old. Her mother had moved there and it was during her time with the Haitian African-American pastor and activist that she gained the opportunity to farm. In "This Farmer Wants to Help Youth of Color Reconnect With the Land" by Sarah Henry for Civil Eats, Penniman recounted that The Food Project "did a great job integrating a 'hands-on the land' philosophy, while feeding people in need and developing social change leaders in the community."
Upon completing secondary school, she matriculated Clark University, a private institution of higher learning in Worcester, Massachusetts. From Clark, she earned a Bachelor of Arts in Environmental Science and International Development in 2002 and a Master of Arts in Science Education in 2003. She later worked as a professional educator at Darrow School, Tech Valley High School and University Park Campus School and was the founding director of the Harriet Tubman Democratic High School.
After graduating, Lean Penniman returned to the East coast, ultimately settling in New York. She identifies as multi-gender/genderqueer and her partner/husband, Jonah Vitale-Wolff, identifies as a Jewish, White man. Their union has been graced with a daughter, Neshima, and a son, Emet. The couple met at Clark University, from where they both completed undergraduate studies in 2002. In 2005, the family moved to Albany after she accepted a position teaching science at a secondary school.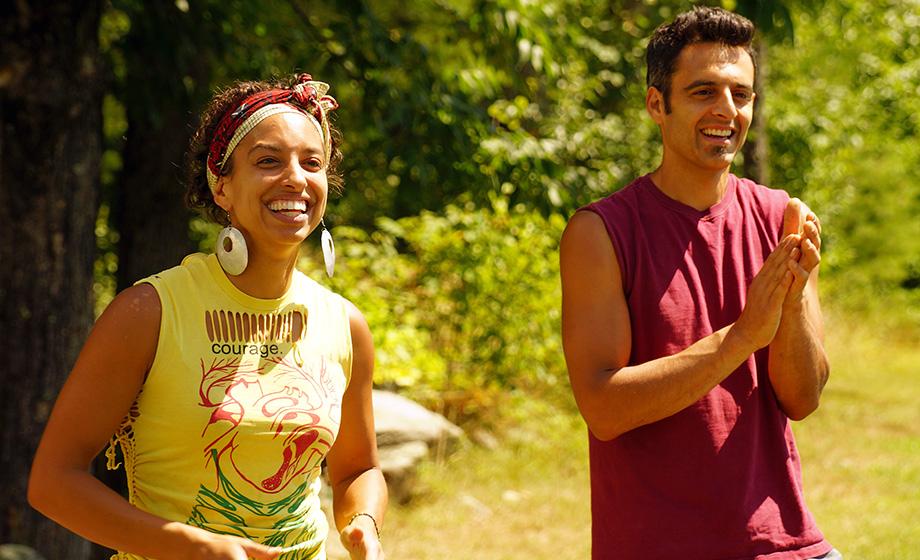 Living in the South End of Albany (2005-2010), the impact of a lack of access to nutritional food became more emphasized due to the couple's children. The only resources near to them were a corner store, a liquor store and the fast-food restaurant, McDonald's.
While it is easy to say that the young family lived in a food desert, Penniman identifies these areas as "food apartheid". Reminding that a desert is a natural occurrence, a "food apartheid" is created by man and primarily impacts persons of color. The latter all too often has devastating and generational effects upon persons of color.
In Boscamp's Today: Food article, Penniman emphasized, "It comes out of a legacy of redlining and housing discrimination, of divestment from communities of color, and has resulted in a situation today where if you're White, you're four times as likely to have a supermarket on your block than if you're Black … The system where if you're Black or Indigenous, you're more likely to have diabetes, heart disease, and other diet-related illnesses, not 'cause you don't know how to eat, but because there is a scarcity of affordable, culturally appropriate quality food that's accessible."
In "Soul Fire Farm: Working Toward Food Justice" by Jack Kittredge for The Natural Farmer, Penniman provided further insight to her good friend about their plight years earlier. She shared, "We were catalyzed a lot by living in the South End of Albany and running into a lot of roadblocks just trying to get good food. I grew up experiencing hunger, but I thought I was past that. I had a master's degree! There were no grocery stores, no farmers markets, no food delivery into the neighborhood, no community garden plots, we didn't have a car at the time. Finally we joined Denison CSA (Community Supported Agriculture) with an Albany drop off two miles away. I had Neshima in a stroller and Emet on my back. I'd pile the groceries in on top of Neshima and walk home that way. I had conversations with my neighbors about what it was like to live in a place with no food. That's what motivated us to theme the farm we wanted to start on food access."
Struggling with this community crisis, Penniman looked to her farming experience, which included organizations such as Many Hands Organic Farm and with other farmers in Ghana, Haiti and Mexico.
She and Vitale-Wolff, each having professional experience, advanced degrees and more than a decade experience of farming, decided to begin their own community garden. Using their savings, receiving donations from loved ones and borrowing from friends, the couple bought seventy-two acres of land in 2006. Initially, they were going to use their site as a crop-sharing system to serve those with a low income.
However, they soon added components dedicated to eradicating racism and injustice in the food system. This is an especially significant theme considering the decline in Black farmers within the past century. According to statistics Boscamp cited in her article regarding all farmers in the United States, in 1910, Black farmers peaked at 14%. They presently comprise less than 2%. Penniman explained, "This is not because Black folks don't want to farm … This is because of a whole legacy of discrimination, of institutional racism."
Also integral to Penniman's mission is Black and Brown people's reclamation of their inherent right to land and agency in the food system. She credits Black political activist Karen Washington for her increased enlightenment and inspiration. Having met Washington when she was twenty years old, Penniman recalled in the Today: Food article, that the food justice advocate advised, "I know that, right now, it seems like you're out of place. But remember that our ancestors have been farmers for millennia and that our ancestors built the agricultural system of this country on their backs. And we're not gonna let them take it from us."
The couple continued working full-time jobs while working to regenerate the quality of the land. They personally completed much of the work, including a home, and were able to live on their farm in 2010. In the Today: Food article, she proudly exclaimed, "Jonah took the timbers of the land of this region, together with the clay from the earth, and the waste straw from agricultural byproducts and crafted it into this beautiful home where love literally exudes from the walls."
In 2011, Leah Penniman and Jonah Vitale-Wolff opened Soul Fire Farm to the public. Named after the reggae track, "Soulfire", by Jamaican singer and producer Lee "Scratch" Perry, their institution is centered upon BIPOC (Black, Indigenous and People of Color). Like John Boyd, Jr., founder and president of the National Black Farmers Association, they understand the complicated history that farming and the land has had for Brown and, especially, Black people.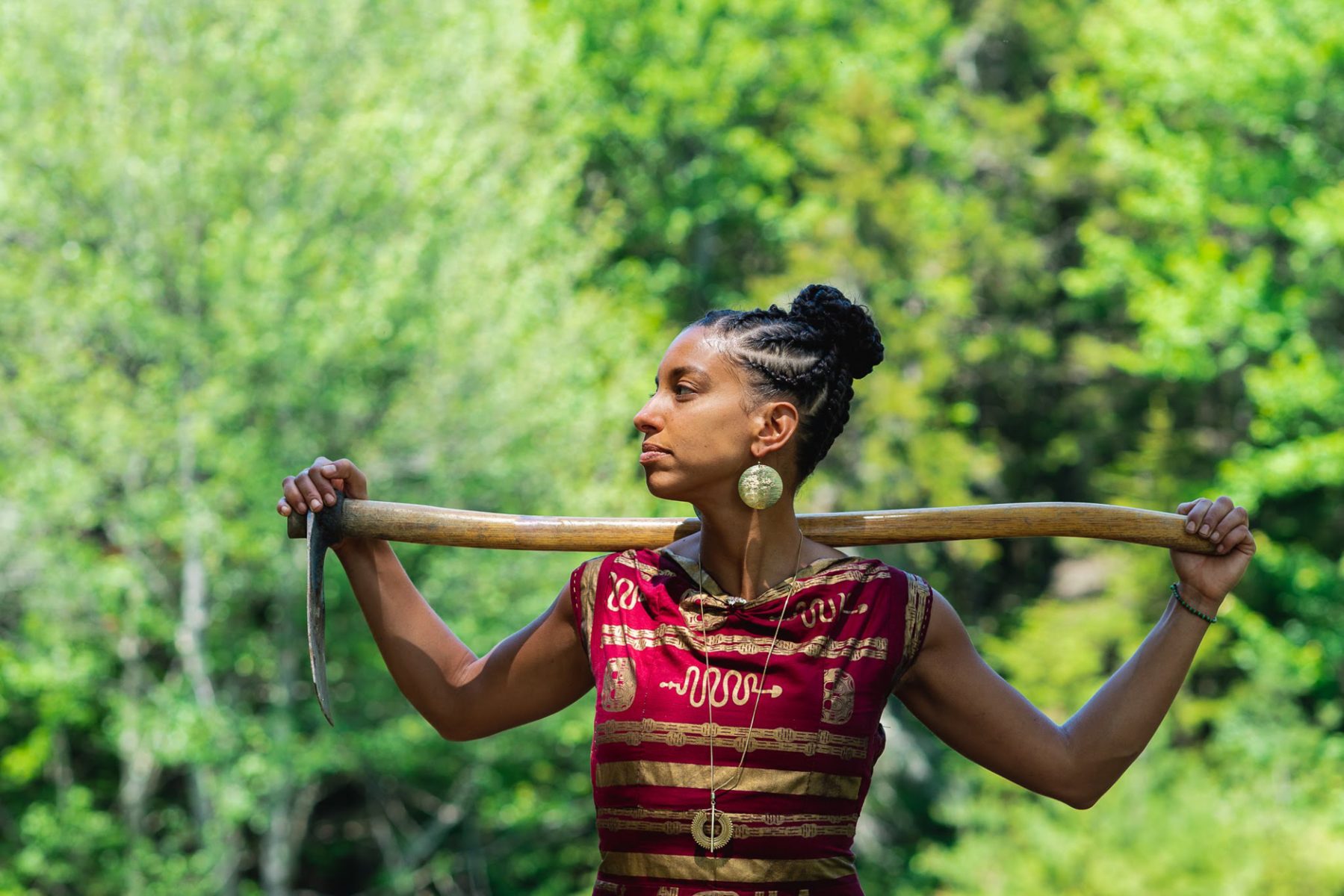 Farming is often associated with arduous labor in which they never receive fair pay and not given resources, including farm loans, crop allotments and crop insurance, allocated by federal government agencies. The crops and animals have often been destroyed. Land has been the scene of domestic terrorism, violence and murder. It has often been stolen from them through deceptive techniques such as heirs' property rulings. While many Americans do not have a will, according to "Their Family Bought Land One Generation After Slavery; The Reels Brothers Spent Eight Years in Jail for Refusing to Leave It" by Lizzie Presser at ProPublica, 76% of African Americans do not have a will; this percentage is more than twice the percentage of Anglo Americans.
Heirs' property is a legal term that first arose in the Low Country of South Carolina. It references land that is owned by two or more people whose common ancestor has died without leaving a will. As such, the land is to be divided among all heirs and if only one heir decides to sell it, it must be sold. All too often, a relative who has no ties to the land wants to sell it for their own profit. Heirs property, according to the U.S. Department of Agriculture is the leading cause of involuntary land loss among African Americans in the South.
In the ProPublica article, it is detailed, "Heirs' property is estimated to make up more than a third of Southern, Black-owned land – 3.5 million acres, worth more than $28 billion. These landowners are vulnerable to laws and loopholes that allow speculators and developers to acquire their property. Black families watch as their land is auctioned on courthouse steps or forced into a sale against their will. Between 1910 and 1997, African Americans lost about 90% of their farmland. This problem is a major contributor to America's racial wealth gap; the median wealth among Black families is about tenth that of White families. Now, as reparations have become a subject of national debate, the issue of Black land loss is receiving renewed attention. A group of economists and statisticians recently calculated that, since 1910, Black families have been stripped of hundreds of billions of dollars because of lost land. Nathan Rosenberg, a lawyer and a researcher in the group told me, 'If you want to understand wealth and inequality in this country, you have to understand Black land loss."
Leah Penniman is passionate about attaining justice, and programs at the Soul Fire Farm have been designed to produce activist farmers who collaborate on a local, national and global level. These programs include BIPOC FIRE (Black, Indigenous and People of Color Farming in Relationship to Earth) and Black Latinx Farmers Immersion. More than 10,000 people have completed Soul Fire Farm programs!

A Manye (Queen Mother) in Vodun, Leah Penniman is not just the co-founder of Soul Fire Farm but also serves as its co-director and program manager. She has received numerous honors, including the Fulbright Distinguished Award in Teaching, NYS Health Emerging Innovator Awards, the Omega Sustainability Leadership Award and the Presidential Award for Science Teaching.
The recipient of the Soros Racial Justice Fellowship, she has been recognized by various organizations and institutions such as the Fulbright Program and the Andrew Goodman Foundation, among others.
Her book, Farming While Black: Soul Fire Farm's Practical Guide to Liberation on the Land, was released in 2018. In 2019, the James Beard Foundation awarded Leah Penniman with their Leadership Award. In their announcement, the prestigious foundation declared that Penniman was being "Honored for her work facilitating powerful food sovereignty programs, including farmer training for Black and Brown people, a subsidized farm food distribution program for communities living under food apartheid, and domestic and international organizing toward equity in the food system."
"My hope is that we spread our love, our knowledge, our resources out through the network of Black and Brown farmers … so that, you know, 10, 20 years from now, people will be like, 'Wait, what's Soul Fire, again?' because there's literally right around the corner a Black- and Brown-led teaching farm and then the next state over there's five more, and so forth, so that it becomes so commonplace that we have to remind our children about a time when all the land was White-owned and a time when all the farmers were exploited because that's become such a distant memory."
~ Leah Penniman
For greater enlightenment...