"I just felt something about him, I don't know what it was. I like his sound, I thought there was something there I had to hear so I looked him up and did that album."
~ John Coltrane
Born on July 3, 1923, in Houma, Louisiana, John Maurice Hartman was reared in Chicago, Illinois. His close-knit family moved to "The Windy City" during The Great Migration when John, the youngest of six children, was an infant. As with many African-Americans who moved and settled in northern, industrialized cities from southern, rural areas, the Hartman family sought various opportunities to improve, in every aspect, their life. One such opportunity would be for Johnny and it was in music.
As with many African-Americans, Hartman began singing and playing the piano in the Baptist church at the early age of eight years old. During his matriculation at the esteemed DuSable High School, he sang and studied music under the tutelage of the highly-regarded Captain Walter Dyett. Dyett, the music director of DuSable High School from 1935 until 1962, rigorously trained and nurtured numerous African-American artists, including Hartman, Nat "King" Cole, Bo Diddley, Dorothy Donegan, Redd Foxx, Eddie Harris and Dinah Washington, who was the pianist for the church in which Hartman sang.
Between the secular and non-secular, Hartman refined his own personal style as a balladeer. Hartman spoke on his style when he declared, according to Gregg Akkerman in his biography, The Last Balladeer: The Johnny Hartman Story, "I was a cool singer even when I sang in church. That was just me, my style of singing."
Upon graduating from DuSable High School in 1940 at seventeen years old, Hartman was awarded a music scholarship to study voice at the Chicago Music College of Roosevelt University. According to author David Kastin in his review on Akkerman's book for Jazz Journalist Association, his university studies "… focused on correct vocal production, proper enunciation and pitch control, all of which would become hallmarks of his popular singing." In 1943, Hartman served as a U.S. Army private during World War II and his duties included his singing.
After completing his military tour, he returned to the South Side of Chicago. He resumed singing in nightclubs, recording with other artists, such as Marl Young, and on several independent recording labels. In 1946, he won a singing contest that allowed him to perform for one week at the El Grotto Supper Club with Earl "Fatha" Hines, the legendary bandleader and jazz pianist who transformed the American musical landscape. Hines was incredibly influential to so many jazz greats that pianist Horace Silver stated in Hines' obituary, "When you talk about greatness, you talk about … Earl Hines." Trumpeter and bandleader, Dizzy Gillespie said in the Al Fraser biography, To Be or Not … to Bop, " … The piano is the basis of modern harmony. This little guy came out of Chicago, Earl Hines. He changed the style of the piano … if it hadn't been for Earl Hines blazing the path for the next generation to come, it's no telling where or how they would be playing now. There were individual variations but the style of … the modern piano came from Earl Hines."
Obviously, the opportunity for Hartman to work with Hines was pivotal to Hartman, personally and professionally. Hartman's skills impressed Hines, motivating him to hire Hartman to perform with Hines' band for the next year. This experience led to greater positive exposure for Hartman. At the end of the 1947, Hines' orchestra disbanded, as Hines would join the new band, Louis Armstrong All-Stars. The break-up prompted Gillespie to invite Hartman, in 1948, to join his band for an eight-week tour in California. Although the performance styles of Hartman and Gillespie clashed, Hartman performed with Gillespie until the band broke up in 1949. Afterward, Hartman worked with Erroll Garner's trio for a couple months, prior to seeking his own solo career in 1950. He took an engagement in England that ultimately resulted in his staying there for two years. His activities included singing in clubs as well as a television show.
He later returned to the States and in 1955, his first solo album, Songs from the Heart, was released by Bethlehem Records. During the 1950s and early 1960s, Hartman struggled as a solo artist, despite recording consistently and even producing a series for RCA Victor. Hartman continued to work, singing in African-American night spots, crooning in prestigious supper clubs and even performing as a guest on television. Having a brief marriage that ended in a dissolution, he married Theodora ("Tedi") Boyd, a dancer and secretary. Together, they had two daughters.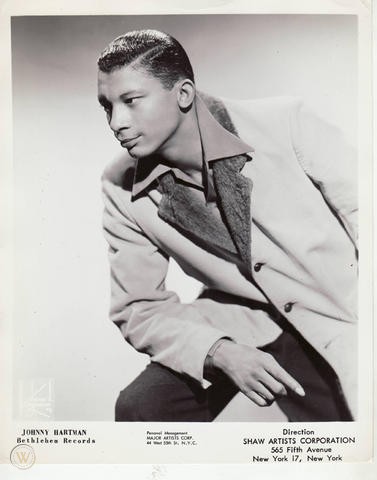 Yet, commercial success still continued to evade the balladeer. Reasons for his lack of success range from his style being out of touch for the contemporary crowd of jazz listeners; the advent of rock-n-roll music; and racism, as some White listeners did not want to hear the music of a Black man who could cause White women to swoon. Hartman spoke on this, as Akkerman would quote the singer, "I've seen times when I couldn't go into White clubs and sing my style of singing. You either buck danced or sang a real gutbucket blues, and then they would let you in. You get the feeling that you're never supposed to be serious or be in a man who could fall in love."
However, the March 7, 1963 recording collaboration with saxophonist John Coltrane would be life-altering and history-making. John Coltrane and Johnny Hartman was a groundbreaking LP that Kastin asserts, "… resides firmly in the realm of iconic; forever enveloping listeners in the sounds of romance." Recorded in a three-hour session, the album, contrary to urban legend, was not all completed in single takes. According to Hartman, "You are Too Beautiful", had to be re-recorded because drummer Elvin Jones dropped his sticks; however, archival material shows that there are complete alternate takes to each track. This material of raw tapes was analyzed by jazz archivist Barry Kernfeld who, according to Akkerman, considered the alternate takes as "absolutely riveting."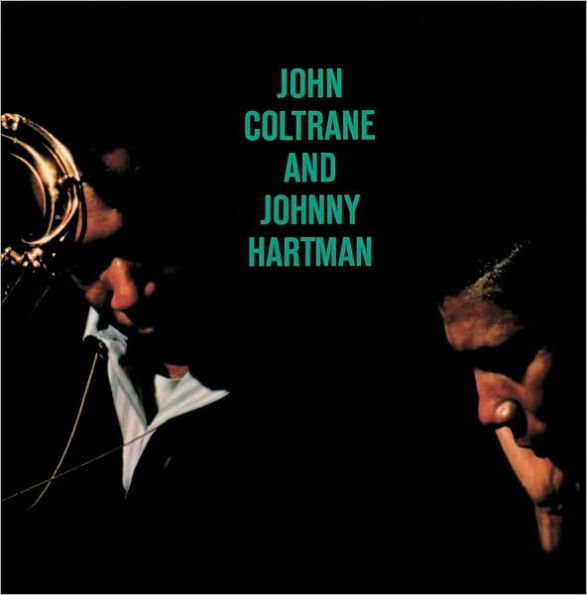 John Coltrane and Johnny Hartman contains only six tracks that are exquisitely performed: "They Say It's Wonderful", "Dedicated to You", "My One and Only Love", "Lush Life", "You are Too Beautiful" and "Autumn Serenade". The collaboration occurred at the suggestion of producer Bob Thiele, who felt they would complement each other immensely well. Hartman, who at the time was on tour in Japan, did not feel the same way. He did not see himself as a "jazz" singer whose performance style would mesh with Coltrane's. However, he went to Birdland nightclub on Broadway in New York City to hear Coltrane perform. After hearing him, Hartman met with Coltrane and Coltrane's pianist, Cedar Walton, after the club closed to discuss working together.
On the day of the recording at Van Gelder Studios in Englewood Cliffs, New Jersey, Hartman and Coltrane had already decided on a possible ten tracks to record. Listening to Nat King Cole's performance of "Lush Life" on the radio inspired Hartman to add the track to the pair's possible tracks. In a 1982 interview with John S. Simon with "Pop/Jazz" section of The New York Times, Hartman said about "Lush Life", his most requested song, "I think I've changed the way I sing it over the years," he declared. "The more you sing a song, you are apt to change it. It reflects the moods that you're in. I wasn't influenced by the way Nat Cole sang it. It took on a different meaning when I did it."
John Coltrane and Johnny Hartman was heralded an enormous music success by critics and listeners, causing the label, Impulse, to commit to four more recordings of Hartman. Johnny Hartman would be the only singer with whom John Coltrane would collaborate. While this labeled Hartman as a "jazz" singer, it also allowed him greater leverage in being a singer of more diverse styles, including classical, gospel and pop, backed by orchestras. By the 1970s, Hartman returned to his earlier platform of singing live, domestically and internationally, including in Australia, England and Japan. He even performed a tribute to Coltrane, who had passed away in 1967. In 1981, Hartman was nominated for a Grammy Award for "Best Male Jazz Vocalist" for his album, Once in Every Life. His last album of newly-recorded material, This One's for Tedi, celebrated his love for his wife.
Cultivating a musical career that spanned five decades, Hartman passed away from lung cancer on September 15, 1983; he was sixty years old. Referenced by Akkerman as "a gentleman, romantic, family man and constant contributor to the jazz scene", Johnny Hartman personified "the last balladeer of his kind". The inclusion of his songs in the Clint Eastwood-helmed film, Bridges of Madison County, introduced Hartman to a new audience of listeners. Jazz singer and songwriter, Kurt Elling created an album, Dedicated to You: Kurt Elling Sings the Music of Coltrane and Hartman in honor of the original Hartman and Coltrane collaboration. Kevin Mahogany recorded an LP, To Johnny Hartman … Live in Birdland, in salute to the quintessential balladeer.
In 1984, the New York City Council designated the traffic triangle, formed by Amsterdam Avenue, Hamilton Place and W. 143rd Street, in Hamilton Heights of the Manhattan borough as "Johnny Hartman Plaza". The history behind this land is that the City of New York acquired the parcel in 1876 because it was condemned. It was transferred to the New York City Department of Parks in 1912 and was named "Hamilton Square", in honor of Alexander Hamilton, a founding father of the United States. In the 1930s, Black Locust trees were planted in the square and the trees' beautiful and fragrant flowers still bloom. According to the New York City Department of Parks and Recreation website, "… community resident groups, and the Hamilton Heights West Harlem Community Preservation Organization continue to maintain and beautify Johnny Hartman Plaza."
"There's nothing you can do with a good song but sing it … phrasing is like talking. I think you should sing like you talk. If you do that, the song comes out right."
~ Johnny Hartman
For greater enlightenment...