"For the last ten years, Brantley's main character, FLYBOY, has appeared through various mediums and iterations, collaborations and merchandise … There has always been an element of mystery associated with the heroic Black wonder boy. However, with one statement from the artist, FLYBOY's enigmatic existence is revealed. 'I'm going to let you in on a secret … I am FLYBOY.'"
~ Danny Dunson, journalist, ArtX
Born in 1981 in the Bronzeville district of Chicago, Illinois, Hebru Brantley is an incredibly talented Afro-futurist. This district is celebrated for its significance as a center of African-American culture and successful entrepreneurship during the 20th century. Bronzeville, specifically, the South Side, would be pivotal in nurturing his creativity and, as the "Biography: Hebru Brantley" on the website of Artsy states, "expressing his active imagination and fantasies … (his) comic book-style compositions address his own experiences of African-American and urban life in America."
Highly influenced by the historic community's creative institutions, including the South Side Community Arts Center, and organizations, such as AfriCOBRA, Brantley became involved in graffiti as a youth. Citing artists like Jean-Michel Basquiat as inspirations in viewing his work as valid and valuable, he was active in "taggin'" trains, walls and other surfaces throughout Chicago during the 1990s. When reflecting on this time, in the biography on Artsy, he exclaimed, "We'd scratch-bomb trains, tag freight cars … do throw-ups across the city. It was all about getting your name up wherever you could."
Since those early days, Brantley has earned a Bachelor of Arts degree in Film from Clark Atlanta University. The art of Hebru Brantley has expanded beyond design and media illustration, as his themes expound on history, hope, memory, power and inspiration. Creating sculptures, murals and paintings from traditional media including acrylic, oil and watercolor paints and nontraditional means, such as tea, his works passionately represent the urban aesthetic and complexities of life.
Hebru Brantley's selection of vibrant hues and pop-art stylings couch and support his works' themes and personal intents for how art can impact thought, engage conversations and spark actions. Incorporating layers of African-American culture, hip-hop, anime and manga, he challenges viewers to investigate and interrogate contemporary issues.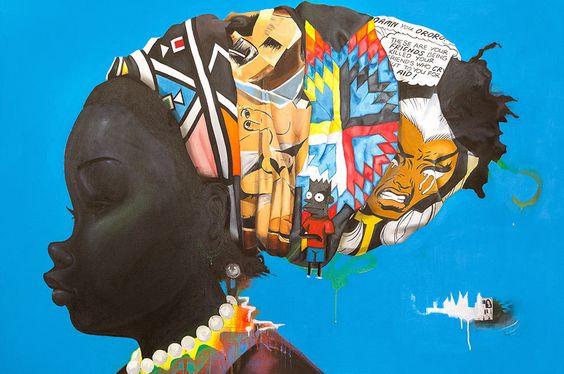 Perhaps one of the most obvious of these issues was the lack of Black representation in art, as both subject and creator. In "Chicago-born Artist Hebru Brantley is Back for a Massive New Installation in Pilsen" written by Annie Costabile for the Chicago Sun*Times, the artist discusses how he was moved to create his art due to his love for comics. In the article, he informs the journalist that, as an African-American child on the South Side of Chicago, he didn't see himself in his heroes or their creators. In his accounting, he affirms, "All of this is very personal to me … I do take into account the little me's. I say this all the time, but I never had a 'me' growing up. I didn't have a compass to direct me towards a person to say, 'Well, they did this thing; I can do this thing.'"
To counter this dearth, Brantley has created numerous works but perhaps his best known are the characters, "FLYBOY" and "LIL MAMA". Created more than ten years ago, these two first premiered on a wall inside Leaders 1354, a hip, urban wear boutique in Chicago. FLYBOY and LIL MAMA, who are a type of legacy of the Tuskegee Airmen, were developed to fill in what he felt was lacking. In the Chicago Sun*Times article, Costabile reports that with time, "these aviator goggle-wearing characters, who can fly, began to reflect what kids today would look like who embody the spirit and essence of African-American heroes."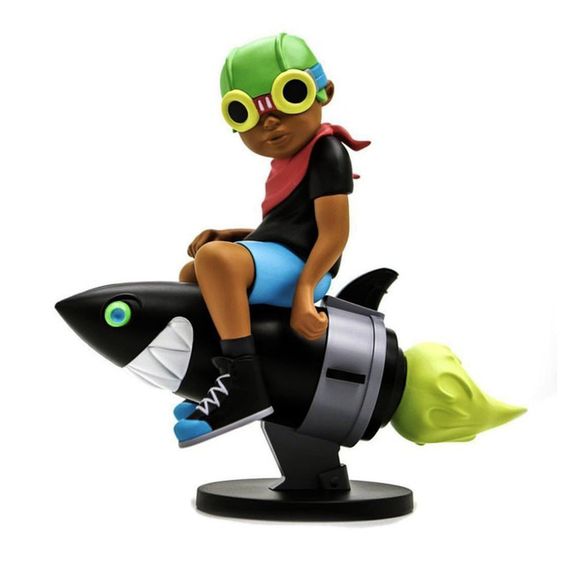 In 2019, FLYBOY and LIL MAMA were the subjects of his experiential fine art installation, NEVERMORE PARK, in the Pilsen neighborhood of Chicago. Though currently based in Los Angeles, California, Hebru Brantley purposely chose to present this mind-blowing exhibit in his home city for two reasons. One of these reasons was because he wanted to bring brighter light and greater love to a city that, he felt, has been overlooked in recent times. The primary reason was that Chicago was the birthplace of FLYBOY and LIL MAMA.
In "Inside Nevermore Park, Hebru Brantley's New Immersive Experience" written by Angel Idowu for WTTW, Brantley explains his decision in greater detail. In the article, he shares, "Everything is a place that's made up, is in our narrative, is a part of our story … It's the city of my birth, obviously it's where I come from. Growing up here, we didn't always get the cool stuff. It was important. This is where the ideas started, this is where my inspiration really came from. Growing up here, my experiences have informed all that goes into this world, all that goes into these paintings and theses creations. So it just made logical sense. And I knew Chicago would support it."
Contained within a 6,000 square-foot facility, NEVERMORE PARK, provided more than 23,000 guests with the opportunity to experience what is significant in Hebru Brantley's mind and heart. Entering the presentation in a traditional manner, visitors leave their reality to "enter", via a blown-out painting, the world of Nevermore Park.
In this phenomenally-detailed exhibition are 19 interactive experiences. There are numerous references of culture, ranging from pop art and Chicago history to African-American periodicals, including Jet and Ebony, that were created by Johnson Publishing of Chicago to a Pullman train car in which African-American men had been porters. There is even an "airplane" in which an authentic Tuskegee Airmen bomber jacket is casually draped. When asked about his hopes for those who visited NEVERMORE PARK, he smiled, responding, "The biggest hope (I have) is that they walk away, feeling inspired." In order to commemorate a visit to this temporary installation, limited-edition merchandise was created and available for purchase.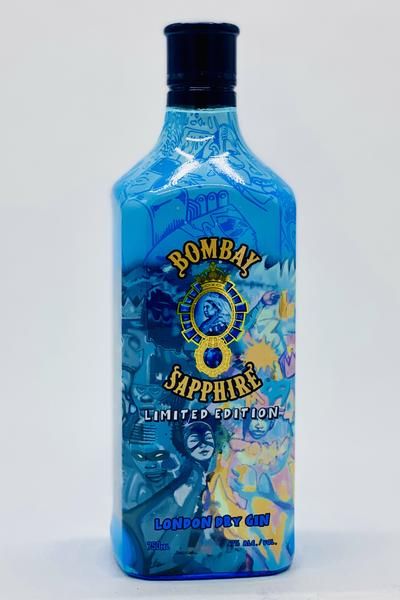 He has collaborated with various brands, including Adidas, Cadillac, Hennessy, Hublot, Lacoste, Nickelodeon and Red Bull. Brantley has also worked jointly with organizations, including the Chicago Children's Choir and the Chicago Transit Authority, of his home city. Counted among the collectors of his works are the Carters (JAY-Z and Beyoncé), Lenny Kravitz, George Lucas, Lebron James and Chicagoans, politician Rahm Emanuel and Chance the Rapper.
Emanuel, the 55th mayor of Chicago, served as the 23rd White House Chief of Staff under President Barack H. Obama, also a native of Chicago.
It was with the critically-acclaimed hip-hop artist that many in the mainstream public became familiar with Brantley. As heralded in "Artist Hebru Brantley Reimagines all 30 NBA Logos for Black History Month", journalist Paige Albiniak raved, "Brantley broke out nationally in 2016 after teaming up with Grammy-winning Best New Artist Chance the Rapper on the video for Chance's song, 'Angels" off his album, Coloring Book."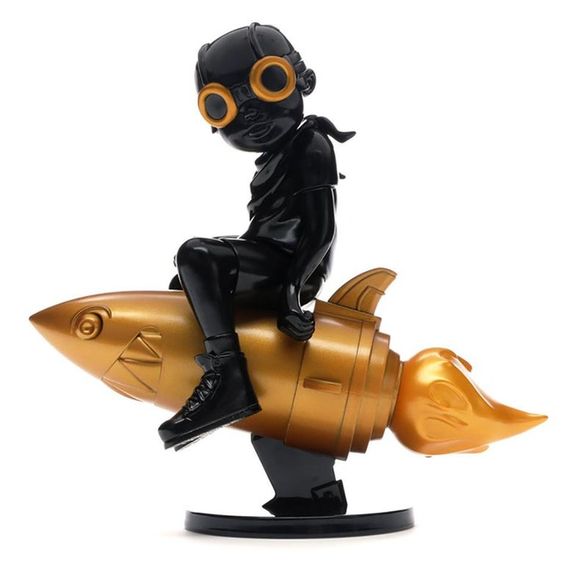 Currently, Hebru Brantley is still creating art and further developing content, including the adaptation of the FLYBOY Universe, through his media company, Angry Hero.
"Black, brown and otherwise have had interesting stories, tales and parts of their culture that have been constant … This has not been something that's just now here. We're in a space now where we're actually allowed to stand on the stage and tell those stories."
~ Hebru Brantley