The beauty and majesty of Africa are enchanting. In Nairobi, Kenya, visitors may experience this enchantment at Giraffe Manor, an exclusive hotel that has been attracting lodgers since the 1930s, approximately four decades after Europeans began to travel on holiday to the Motherland.
Located on twelve acres of private land within one hundred and forty acres of forest in the suburb of Langata, Giraffe Manor is an impressive sprawling estate. With its manicured landscaping, refined English décor and expansive courtyards, it is often compared to, as per the website of The Safari Collection, "… walking into the film, Out of Africa …". The film, which was based on the book of the same name, was authored by Karen Blixen. The only suite of the twelve sleeping rooms at this luxurious living space was named in tribute to her.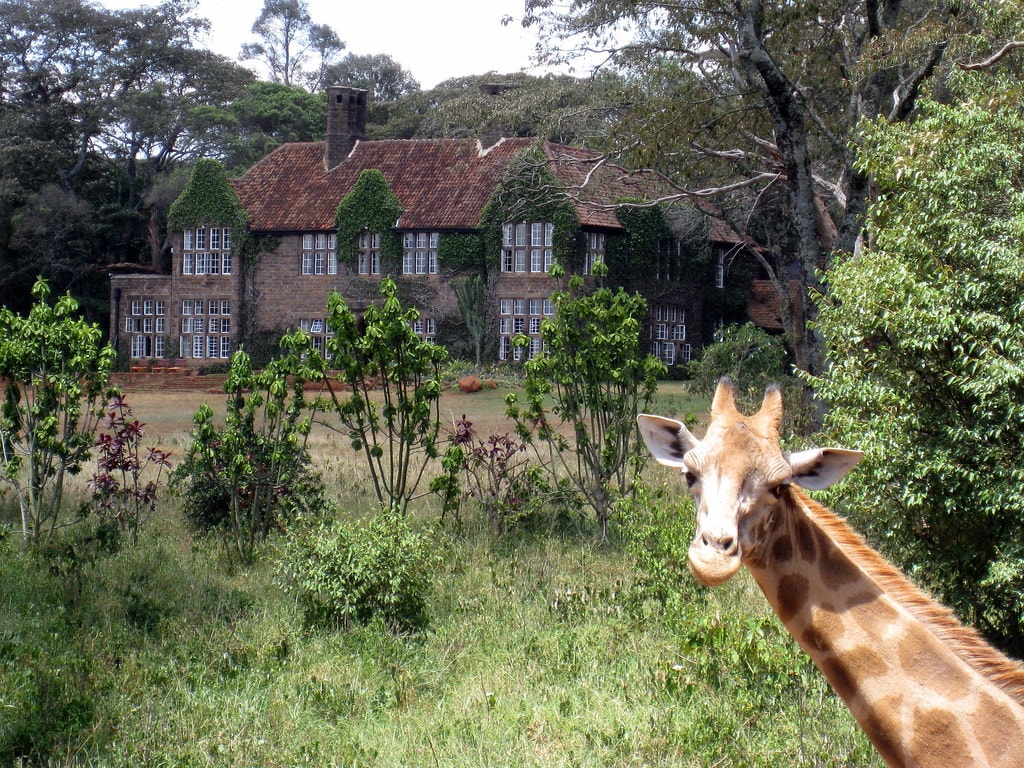 Blixen was among those who followed the first Europeans who "discovered" Africa at the end of the 1800s. In the scramble for control of Africa, European countries, lusting after the vast wealth and natural resources of Africa, began to send explorers into the interior of the "dark continent". The Royal Geographical Society of Britain sponsored numerous expeditions, including that of Dr. David Livingstone to locate the source of the Nile River and of Sir Henry Johnston to survey Mount Kilimanjaro.
Following the entry of explorers were cartographers, naturalists, military personnel, businessmen and politicians. The eastern part of Africa, which was comprised of Kenya, Uganda and Zanzibar, was primarily taken over and colonized between 1895-1915. In Safari Style, author Natasha Burns wrote of this colonization and the promotion of East Africa as an exotic place that "… promised mystery and excitement in an age when the naïve and elemental spirit of tribal existence was a recurring theme in art and literature, and a popular topic for debate at upper class soirees. Africa became the adventure background of wealthy and eccentric Europeans, who came to see for themselves the wild beauty, unbounded spaces and cultural exoticism of this last great colonial trophy."
Thankfully, more individuals, organizations and nations in contemporary times are, post-colonialism, working for greater equity and conservation in Africa. Giraffe Manor was created to meet this purpose. Built in 1932 by "The King of Macintosh Toffees", David Duncan of South Africa, the house of Jock and Betty Leslie-Melville became home to Daisy, an endangered Rothschild giraffe, in 1974. Jock is the son of David Leslie-Melville, Earl of Leven and Melville in Scotland, and was born in Kenya. Speaking Swahili before English, Jock was educated at Eton College and the Royal Military Academy Sandhurst, but returned to Kenya to work with Jomo Kenyatta and Uhuru, the independence movement of Kenya.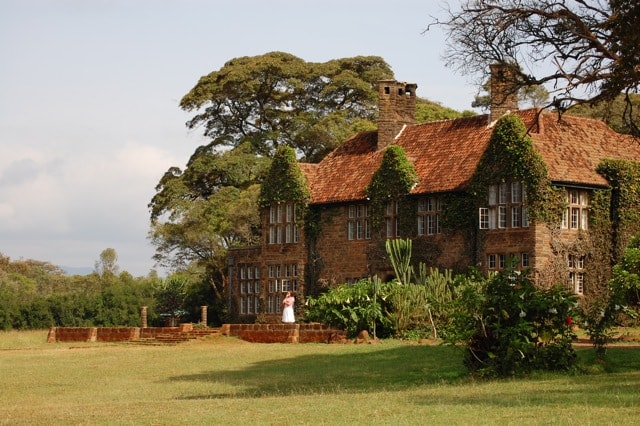 Jock met Betty, who hails from Baltimore, in Malindi, Kenya, and they reared her three children. In Safari Chic by Bibi Jordan, Betty fondly recalls how they founded the African Fund for Endangered Wildlife (AFEW) when " … a friend told us that he had the only 130 Rothschild giraffes in the world on his ranch and that they were being poached … we told him we'd adopt one, Daisy, and later adopted another, Marlon … when we brought Daisy home, her head protruding from the minivan sunroof, an African told us it was the first time he had ever seen a giraffe … because many Africans can't afford park fees, we set up a wildlife center here where African children are bused in for educational programs." Betty also authored a children's book, Daisy Rothschild, which was selected for a reading in the literacy program of First Lady Barbara Bush.
Giraffe Manor may be booked as a destination site or as part of a customized safari tour with The Safari Collection. The resort has many amenities guests may enjoy, such as relaxing in one of the twelve sumptuous sleeping rooms … there is even a room individually named in honor of Jock, Betty, Daisy and Marlon. They could also learn of the complex and rich history of Africa, as a whole, and Nairobi, specifically, at the Nairobi National Museum. Guests may also choose to view the gorgeous sunsets and sunrises behind the Ngong Hills; tour, whether guided or independent, the sanctuary grounds or the AFEW Giraffe Centre; and share a leisurely meal with the giraffes as company.
The descendants of Daisy still freely live at the manor, which is hosted by the grandchildren of Jock and Betty Leslie-Melville. The herd of Rothschild giraffes, as The Safari Collection website states, "… may visit morning and evening, sometime poking their long necks into the windows in the hope of a treat, before retreating to their forest sanctuary." Giraffe Manor, accompanied by the breathtaking view of Mt. Kilimanjaro one hundred and ten miles away, is truly a must-see place to visit. As Betty excitedly stated in Safari Chic, "It was just thrilling, seeing from the doorstep the tallest animals in the world standing in front of the tallest mountain in Africa!"