"Butler is elevating the status of her subjects by making portraits, and also elevating quilting – which is an African American craft tradition – by adding portraiture to it."
~ Glenn Adamson, craft scholar, curator and writer
Born in 1973 in Orange, New Jersey, Bisa Butler was reared in the suburb of South Orange. The daughter of educators, she is the youngest of four children. From an early age, her artistic talent was supported and celebrated. In an interview with Christina Nafziger for Create! Magazine, she shared that her mother "even let me draw my guardian angels on the wall of my room when I was three, so that I wouldn't be afraid to sleep in my own bed." When she was only four years old, she was awarded a blue ribbon for her art in the Plainfield Sidewalk art competition. The following year, her school ranked her as "Artist of the Month".
Continuing to create, she completed her secondary education at Columbia High School in 1991. Electing to matriculate Howard University, a historically Black institution of higher learning in Washington D.C., Bisa Butler graduated with her Bachelor of Arts degree in Fine Art.
At the prestigious Howard University, she was able to learn from exceptional artists such as Ernie Barnes, Elizabeth Catlett and Lois Mailou Jones. Heavily influenced by the works of mixed-media greats Romare Bearden and Faith Ringgold, she was mentored at the university by Jeff Donaldson, a co-founder of AfriCOBRA, the African Commune of Bad Relevant Artists. Discussing this celebrated collective of African-American artists, Howard and Donaldson in her biography at Claire Oliver.com, Butler shared that he "who along with other professors taught us to be proud of our African Heritage and to always present our people in a positive light. They taught us we had a responsibility to document and correct the misinformation that had been told about our people, and about Africa. We're to use our art as a tool to tell our side of the story to the masses and the mainstream."
Although her concentration at Howard University was centered upon painting, it was in a Fiber Art class during her graduate studies at Montclair State University in New Jersey where Butler found her passion … quilting.
At a young age, Bisa Butler learned sewing from the women in her family. Her mother, who hailed from Louisiana, taught French; like many African-American women since their first footsteps in America, she could create and construct. In her interview with Nafziger, the artist revealed, "I come from a family of people who sewed; my grandmother, mother and all six of her sisters knew how to sew. They were not quilters but were like many Baby Boomers, they sewed out of necessity and to enhance their homes and wardrobe. My mother's family was international and grew up between Morocco and New Jersey (my grandfather worked for the Foreign Service.) They saw Paris fashion magazines and designers and used their sewing machines to create cutting edge fashions in the 1960s. This influence caused me to be interested in fashion and sewing in college in the '90s, where I was an art major."
In a lovely recollection to Nafziger, the talented artist shared, "I remember before my 20th birthday I decided to sew a fitted ankle length sleeveless linen dress with a cowry shell choker style collar. I designed the dress myself and sewed it without a pattern while away at school. I was so proud of the dress I brought it to my grandmother's house to show it off and she was so dismayed. She tried to explain to me that it wasn't sewn properly, but I didn't want to hear it. That night while I was sleeping my grandmother got that dress out, completely deconstructed it and sewed it back correctly. When I woke up, I saw that my dress was remade and I was so surprised and touched. I realized how much she loved me and that that craftsmanship was so important. My grandmother had stayed up all night in order to make sure that my birthday dress was done right, and I never forgot that lesson."
Her father's heritage of Ghana would also greatly motivate her in creating. A university president for thirty-seven years, he, as a young man, immigrated to the United States on an academic scholarship. The diverse vibrant and detailed textiles of her father's home country emphasized love, connection and cultural pride.
The immense influences, including dedication, wisdom and creativity, of her parents and loved ones are apparent in developing a piece of artwork. Initially, her relatives were her subjects. Circa 2001, Bisa Butler's grandmother had fallen ill. Desiring to make something special for her, Butler crafted her first quilt. In tribute to her ailing grandmother, she incorporated the wedding portrait of her grandmother when she and Bisa's grandfather were young and newly married.
Another quilt she designed was in honor of her paternal grandfather she never knew. In Courtney Bierman's article, "Meet Two Artists from the First-Ever National African American Quilt Convention" at the University Daily Kansan, Bisa Butler shared that he had passed away from appendicitis in Ghana when her father was only eleven years old. In the Create! Magazine interview, the brilliant artist provided further insight, stating, "My very first quilted portrait was of my grandparents, and for many years after I created portraits of my family, friends, and famous African Americans. My mother was from New Orleans, and my father is from Ghana – his father died when he was a child and he didn't have any photos of him. I decided to find a vintage photo of an elderly Ghanaian man who may have looked like my grandfather and create a portrait based off of it. The photo I found was simply titled 'Man from Upper Volta region'. That sparked a curiosity in me to discover more unnamed African and African American people and create narratives about them based on what I could ascertain. Now my subjects are mostly entirely unknown to me and I feel like it is my duty to bring as many of these unnamed peoples photos to the forefront. Maybe their own relatives will recognize them, and maybe people will see these ordinary folks as deserving of a spotlight, too."
In selecting subjects, Bisa Butler knew she had to expand beyond photographs of her family. She sought fair use photos from the National Archives and was drawn to documentary photographs of unidentified Black people, primarily from 1880 until 1940. To Create! Magazine, Butler emphasized that many of these people did not "ever see their photos in their lifetimes. I want their images to be acknowledged and respected as they may or may not have been in their lifetimes; what I do know is that they deserve better than being tucked away in a huge database; unseen and unknown."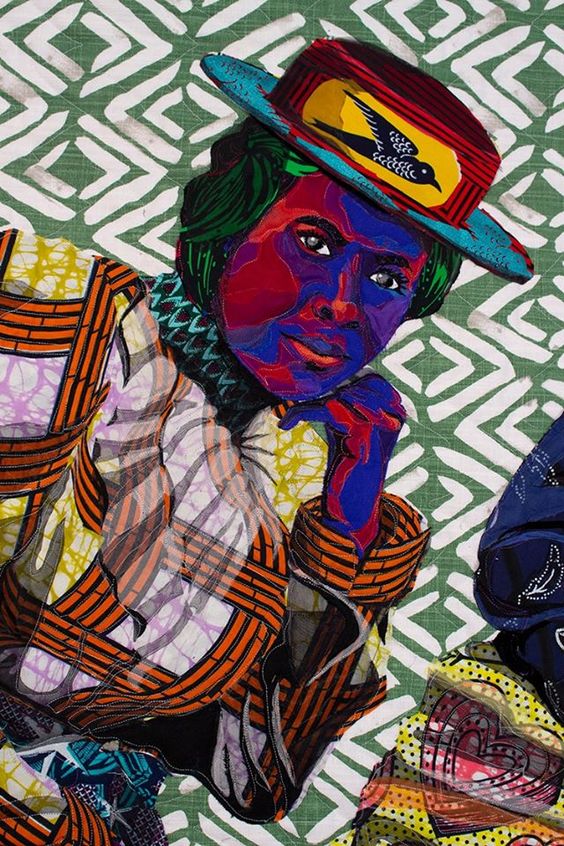 In honoring her subjects, she researches various factors, such as era and setting, in order for proper presentation. In "Artist Bisa Butler Stitches Together the African American Experience", her creation process was described by Liz Logan in Smithsonian Magazine. The writer detailed, "She enlarges a photograph to life size, and then sketches over it, isolating areas of light and dark. Then, she begins choosing fabrics, layering them and stitching them together with a sewing machine, a process called appliqué. At the end, the stitched portrait is layered on top of soft batting and a backing fabric. A repeated pattern of stitches is applied to all three layers to hold them together – thus completing the quilt. One quilt can take hundreds of hours to complete."
The use of Black-and-White images allow Bisa Butler great freedom to create. She uses clothes from Africa, including prints from South Africa, batiks from Nigeria and fabrics from Ghana, her father's home country. She also uses Kente cloth and other textiles from West Africa. These cloths adorn her subjects, proudly restoring their African heritage while further inserting them in American identity and memory.
While Butler includes traditional fabrics, such as cotton, denim and leather, in her art, her application of African textiles is exciting for another reason. The patterns in many of the fabrics Butler uses have meanings unique in their design. She enlightened Nafziger, sharing, "The manufacturers send their fabrics to be sold in the open-air markets in Africa where the local women name them based on what the patterns remind them of in their culture. For instance, a fabric that has images of a grade school primer on it is called 'ABCD' and men and woman wear it to symbolize that they are literate and value education. A fabric called 'Jumping Horse' is used to symbolize the phrase, 'I Run Faster Than My Enemies', or in other words, the wearer triumphs over adversaries. I use prints like these to reinforce the narrative I am trying to tell with my portraits. I also use silks, lace and velvet, which are traditional dressmakers fabrics because those are what my mother and grandmother used. I find that the types of fabrics help me communicate ideas; lace can make you think of something delicate, whereas denim can make you think of durability."
Butler also bathes the complexions of her African-American subjects with intense hues that seem like technicolor. She attributes this boldness and vibrancy to being inspired by those at AfriCOBRA. Originally known as "COBRA" (Coalition of Black Revolutionary Artists), it was founded in Chicago, Illinois in 1968 by Donaldson, Wadsworth Jarrell, Jae Jarrell, Barbara Jones-Hogu and Gerald Williams. The collective was famous for their use of "Kool-Aid" hues, especially when denoting the myriad of beautiful skin tones of Black people.
Pivotal to experiencing Bisa Butler's art is each piece's size. She purposely designs many of her art pieces to be "life size". In the Claire Oliver biography, the artist shared, "I want the viewer to see the subjects as I see them. I hope people view my work and see the expressions of joy, the vibrancy of colors, and the quiet dignity of my portraits. All of my pieces are done in life scale to invite the viewer to engage in a dialogue – most figures look the viewers directly in their eyes. I am inviting a reimagining and a contemporary dialogue about age old issues, still problematic in our culture, through the comforting, embracing medium of the quilt. I am expressing what I believe is the equal value of all humans."
Since completing her Master of Arts degree in Art Education in 2004, Bisa Butler has also taught art in secondary schools of the Newark Public Schools system. In the beginning of her professional artist career, she balanced being an educator while exhibiting in local venues. Since becoming more established, she has been able to make her work more accessible due to her connection with the Claire Oliver Gallery located in the Harlem community in the borough of Manhattan.
Inspired by her contemporaries, such as Amy Sherald and Kehinde Wiley, works of Bisa Butler are housed in esteemed institutions including the 21c Museum of Art in Louisville, Kentucky; the Art Institute of Chicago in Illinois; the Kemper Museum of Contemporary Art in Kansas City, Missouri; the Museum of Fine Arts in Boston, Massachusetts; and the Toledo Museum of Art in Ohio.
The art of Bisa Butler celebrates Blacks, both ordinary and those well known. Those subjects who are famous include entertainer, activist and Croix de guerre recipient Josephine Baker; activist, abolitionist, orator and statesman Frederick Douglass; writer and librettist Paul Laurence Dunbar; activist and entertainer Nina Simone; graffiti legend Jean-Michel Basquiat; and Jackie Robinson, the first African-American to play professional baseball when he broke the color barrier in 1947.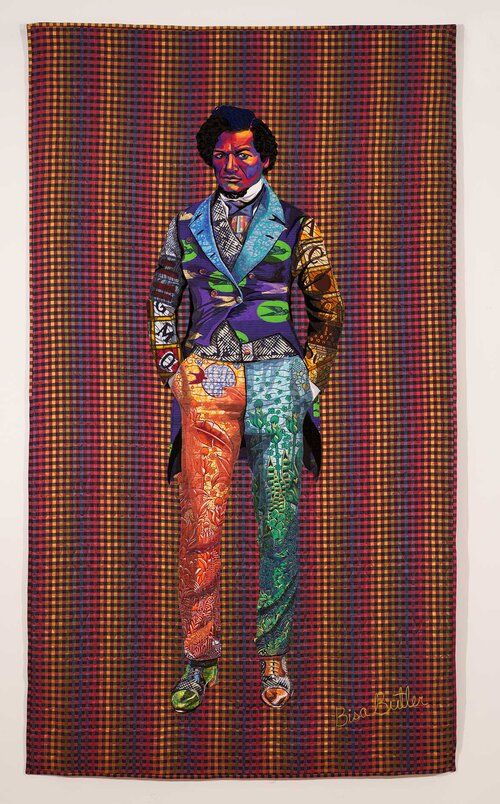 Bisa Butler has had solo exhibitions in venues in New Jersey, where she still lives and creates. These include Essex County College in Newark; Astah's Fine Art Gallery in Maplewood; the Morristown Courthouse in Morristown; and Domareki Gallery of her alma mater, Columbia High School. Her solo exhibitions have also been held at Richard Beavers Art Gallery in the Brooklyn borough of New York City; The Lawrence Art Center in Lawrence, Kansas; and the Katonah Museum of Art in Katonah, New York.
A credit to her incredible art, she was a 2019 finalist for the Burke Prize by the Museum of Arts and Design in New York City. This honor is given to a contemporary artist under the age of forty-five whose medium is clay, fiber, glass, metal, and/or wood. The art of Bisa Butler is featured in Journey of Hope: Quilts Inspired by President Barack Obama (2010) and Collaborations: Two Decades of African American Art: Hearne Fine Art 1988-2008 (2008).
"I want to show the world who we really are; we are people of grace, of dignity, of pride, of love … We are beautiful, and we are human beings who not only deserve to live; we deserve honor. If people walk away with one thing when seeing my images, I want them to see a reflection of humanity and realize that this was always there – if you take the time to look."
~ Bisa Butler