"…Creating and directing new works that positively and artistically presented people of color in theater and art … her primary interest was giving voice to African Americans and other minority communities that have been culturally and artistically silenced."
~ James L. Conyers, Author and scholar
Vinnette Justine Carroll was born in New York City, New York to Edgar Edgerton and Florence (née Morris) Carroll on March 11, 1922. At the age of three years old, her family moved to Jamaica, where they spent much of her youth. Her parents were professionals, as her father was a dentist and her mother was an educator who also led the local dental auxiliary society. They, especially her father, strongly encouraged Vinnette and her two sisters to enter the field of medicine and become physicians.
The Carroll family returned to New York City, where Vinnette graduated from a racially-integrated Wadleigh High School, located in the Harlem community of the Manhattan borough. After graduation, she matriculated Long Island University, earning a Bachelor of Arts in 1944. Following, Carroll earned a Master of Arts degree from New York University in 1946. While Vinnette was greatly interested in working in the field of theatre arts, the Carroll parents advocated that becoming a doctor was more stable, especially in a field that was discriminatory to Black women. However, the sight of blood made Vinnette ill so as a compromise, she decided to pursue being a doctor who dealt with the mind.
Vinnette Carroll completed her doctoral studies in psychology, which included clinical psychology and industrial psychology, at Columbia University in the City of New York. Although she was a PhD candidate, she elected not to engage in that field long-term because she wanted to pursue a career in theatre. It should be noted that her doctoral work was not in vain; Carroll found her studies in psychology invaluable because it supported her working with others, especially in acting.
While working as a clinical psychologist with the New York City Bureau of Child Guidance, Vinnette Carroll began studying theatre at the New School for Social Research. In furthering her post-graduate work, she had been awarded a scholarship to attend the Erwin Piscator's Dramatic Workshop in 1948. While at the New School, Carroll studied with drama teaching legends including Stella Adler, Susan Steele and Lee Strasberg. She performed in the school's productions, including as Clytemnestra in Agamemnon and the Duchess in Alice in Wonderland.
In 1948, Vinnette Carroll made her professional debut as a Christian at the Falmouth Playhouse in Falmouth, Massachusetts; she also appeared in a summer stock production of George Bernard Shaw's Androcles and the Lion. Over the next several years, however, she experienced racial discrimination, even being barred from entering theatres in which she was to perform, that led to a scarcity of roles.
Not to be deterred, in 1953, Carroll attained a position as a drama instructor at the High School for the Performing Arts (presently known as Fiorello H. LaGuardia High School, this school was made famous as the setting in the musical and accompanying films, Fame). Teaching theatre arts and directing productions, she remained on staff until 1964.
During the late 1950s, Vinnette Carroll developed a one-woman show and toured the United States, the Caribbean and England. The show, which featured monologues, poetry and other works written by Black authors and White authors, was well-received. In 1957, Carroll made her first appearance on Broadway in a revival of Tennessee Williams', A Streetcar Named Desire. That same year, Vinnette Carroll produced an all-Black production of Dark of the Moon. Opening at the Harlem branch of the Young Men's Christian Association (YMCA) on 135th Street, her interpretation of the Howard Richardson and William Berney play launched the careers of African-American actors such as James Earl Jones and Harold Scott.
The following year, she debuted at the Royal Court Theatre in London, England in 1958; she portrayed Sophia Adams in Errol John's Moon on a Rainbow Shawl. John was a Trinidadian-born actor and playwright who won The Observer's prize for "Best New Playwright" in 1957 and a Guggenheim fellowship in 1958 for writing Moon on a Rainbow Shawl. Returning to the United States, Carroll acted again in John's play, for which she was awarded, in 1962, an Obie Award for her performance in Moon on a Rainbow Shawl.
She continued to create in the theatre, performing as the Narrator in Black Nativity at the Piccadilly Theatre in London, England and writing her first musical revue, Trumpets of the Lord, both done in 1963. The latter was a gospel music-infused production that premiered at the Astor Place Theatre. It was based upon the poetic sermons of God's Trombone written by James Weldon Johnson. As she continued to develop professionally, Carroll allowed her personal experiences to inform her direction and growth. From the mid-1960s to the mid-1990s, she acted in films, such as Up the Down Staircase (1967) and The Last Home Run (1996) and television, including in Beyond the Blues, for which she won an Emmy Award in 1964.
To support arts education and performers, in 1967, Vinnette Carroll founded the Urban Arts Corps. A theatre company with content grounded in Black culture, it was renamed the Urban Arts Theater in 1980. Its purpose was to actively engage members of minority groups who had been historically limited and/or barred from participating in the various and many aspects of theatre arts. Although Black theatre was not readily appreciated or celebrated by many Whites in the theatre world, including directors, writers and critics, Carroll did not subscribe to the discrimination. She created works that often featured a diverse cast, inspiring other theatre companies throughout the world.
Vinnette Carroll provided these new and multi-tiered opportunities via development and direction of productions, including the gospel revue, Don't Bother Me, I Can't Cope. She also adapted theatrical pieces, such as But Never Jam Today, which was an African-American version of Alice in Wonderland, and non-theatrical works, Your Arms Too Short to Box with God, which was based upon The Gospel According to Matthew.
Created by Carroll, Don't Bother Me, I Can't Cope contained music and lyrics by Micki Grant. Opening at the Playhouse Theatre on Broadway in 1972, the revue earned four Tony Award nominations. However, Vinnette Carroll made history, as she became the first African-American woman to direct a production, Don't Bother Me, I Can't Cope, on Broadway!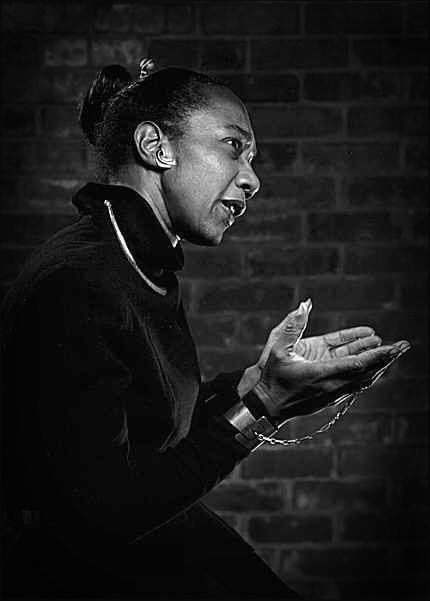 Carroll and Grant, who had worked together previously on Croesus and the Witch in 1972 and on The Ups and Downs of Theophilus Maitland, which opened several weeks before Don't Bother Me, I Can't Cope, continued their collaboration.Carroll and Grant, along with gospel singer, composer and arranger Alex Bradford, developed Your Arms Too Short to Box with God. In 1976, their revue premiered on Broadway and received three Tony Award nominations.
During the 1980s, Vinnette Carroll relocated to Fort Lauderdale, Florida and founded the Vinnette Carroll Repertory Company. She served as the company's artistic director and producer until she developed health complications that led her to retire in 2001.
On November 5, 2002, Vinnette Carroll passed away from diabetes and heart disease; she was eighty years old.
Throughout her life, she was honored with many awards and accolades. A member of the Actors Equity Association and the Screen Actors Guild, Vinnette Carroll was inducted into the Black Filmmakers Hall of Fame in 1979.
In recent times, aspects of her work have become obscured. However, Carroll, an African-American actress and woman director, was indeed a pioneer in the field of theatre arts. Her accomplishments as an artist and playwright laid the foundation for many others, including Ntozake Shange, Charles Fuller, August Wilson, Tyler Perry, Susan-Lori Parks and Lynn Nottage.
Additionally, in Black Lives: Essays in African American Biography. Vol. 23, No. 4, author James L. Conyers wrote on Carroll's contributions, including development of "gospel song-play", a new form of theatre. In his commentary on her and her development of this novel and unique form, Conyers exclaimed that she sought "to capture the richness and variety of life through music, theater and dance. However, she is known for the reinvention of song-play, which was revitalized in many of her theater works. The expression of identity through gospel music in the African-American theater experience is clearly delineated in the development of song-play."
The gifts that Vinnette Carroll offered continue to richly inspire others. In 2018, Tony Award-winning choreographer Savion Glover revived Don't Bother Me, I Can't Cope. Its premiere at New York City Center was wonderfully received.
"We feel the need for input from other peoples and from other groups … if we can all get to be part of a more universal experience, we will get to see our similarities more than we see our differences."
~ Vinnette Carroll
For greater enlightenment...