This vast private collection of Africa Diaspora, especially African-American, culture curated by husband-and-wife, Bernard and Shirley (née Pooler) Kinsey is critical to better understanding the innumerable contributions that persons of African descent made to the world. Containing more than seven hundred items, including art, books, manuscripts and primary documents, The Kinsey Collection of African-American Art & History spans from the 16th century to the present.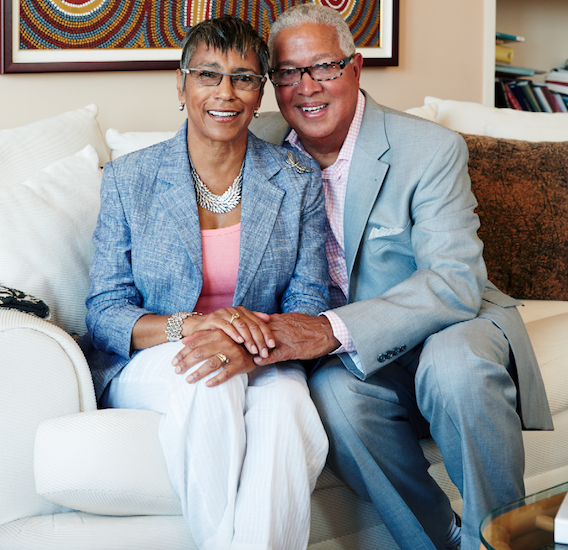 Known as "The Kinsey Collection", its mission, as per its website, is "unique in that it is where art and history intersect, telling the often-untold stories of African American achievement and contribution through primary source historical objects starting from 1595, as well as 2 and 3 dimensional artworks from the 19th, 20th, and 21st century. The collection has been cited in 3 national awards, including the President's National Award for Museum and Library Services".
The impetus for its creation was sparked from insights of two instances. The first was gleaned from their intent formed as a young couple, married in 1967. Bernard, a member of Omega Psi Phi fraternity, and Shirley, a member of Delta Sigma Theta sorority, met on the campus of Florida Agriculture and Mechanical University (FAMU). Located in Tallahassee, Bernard is a legacy of FAMU and Shirley was a first-generation university student.
Education and activism were stressed in both of their families. In fact, Bernard's father, Ulysses B. Kinsey, was one of the first African-American principals in Palm Beach. Since, a school at which he served as an administrator has been named "U.B. Kinsey Elementary School of the Arts" in his honor.
Bernard's parents, graduates of FAMU, met on the university's campus in 1939. Twenty-four years later, he, a native of West Palm, and Shirley, who is of St. Augustine, became acquainted. This occurred after both were among more than two hundred and fifty FAMU students who had been arrested on campus in 1963 for civil disobedience in a civil rights demonstration. Shirley was reared by her paternal grandmother, Mrs. Susie Plummer Pooler, who she considers pivotal in influencing her life.
A goal that they had as a young married couple was to visit one-hundred different countries. As they traveled globally, they began to collect mementos, including art, of their travels. As the Kinsey couple began to learn more about other cultures, it inspired them to learn more about their own African-American heritage.
This first insight was reinforced by a second instance in the mid-1980s when their son, Khalil, was in the fourth grade. He was given an assignment centered upon his family heritage. Bernard, a successful business executive, and Shirley, an enlightened educator, discovered that they could really only trace their lineage within the United States and not too many generations back.
These two insights were a bit epiphanous in that they realized just how little they knew and they were culturally active and formally educated. One can only imagine the plight of others who did not have the type of access the Kinsey family enjoyed. Wanting to correct this type of omission, the couple became highly purposeful in their collecting, creating what would be known as "The Kinsey Collection".
It should be noted that the unawareness of the Kinsey family is typical. All too often, the true history, especially accomplishments, of African-Americans have purposely been obscured and/or omitted due to the global systemic and structural racism and discrimination against Blacks for centuries. Bernard spoke to this insidious practice in "The Kinsey Family is Using Art to Put the African-American Story Back in the Narrative" by Vaibhavi Hemasundar. In the article that was featured in Connecting Collin County: Local Profile, he emphasized, "[Before the collection], I didn't know as much of this as I should've known … [But] most of these stories were not designed for us to know about. You really have to dig to find these remarkable people because a lot of time, if they did something of note, they weren't called African-American, so you assumed that they were White. Or a lot of times, you'd be reading about someone, and in fact, you're reading about an African-American, but you have to read another book to [find out that] the person you were reading about [initially] was in fact African-American."
As the Kinsey couple grew in their careers, they also grew in their outreach to educate others in the Black community and on Black culture. His path included working at Humble Oil Company of the Exxon Corporation and the Xerox Corporation, of which he became vice-president within a decade of his hire. The first African-American to become the CEO of Xerox, his accomplishments from his twenty-year tenure there included co-founding the Black Employees Association. Kinsey's work within this organization led to the increase hiring, training and promotion of qualified Blacks from 121 in 1971 to more than 14,000 in 1991.
Bernard Kinsey also founded KBK Enterprises, Inc. A management consulting firm, his work allowed him and his wife to travel the world. In the Hemasundar article, he commented on the blessing to be able to incorporate their interest in learning other cultures during this time of their lives. In it, Kinsey praised, "We have the good fortune of having gone to 100 countries and six continents around the world. When you've traveled as much as we've traveled, both professionally and personally, you really do get a different perspective on how the world works. One of the big lessons that we've learned is that you can't carry a lot of prejudices around if you've traveled a lot. There's just so much in terms of opening your mind up to how other people live. You'll find that we're more similar than dissimilar."
In "Philanthropists, Historians, Educators, and Lovers of Our Community" in The Neighborhood News Online, author Renee Montgomery wrote of the incredible work that Shirley and Bernard Kinsey have undertaken and gifted to the Black community and throughout the world. In the article, she declared, "On the local level alone, the Kinseys have contributed greatly to the Mid-City area. As COO and Co-Chair of the post-riots Rebuild L.A., the organization attracted $400 million in capital including funds for five grocery stores in underserved areas. Citing just a few distinctions, the couple has sponsored the First AME's and West Angeles Church's televised Sunday Gospel Hour for a decade, sponsored youth programs at Crenshaw High, and … will be hosting an evening presentation on February 4th as a fundraiser for the Ebony Repertory Theatre … Other accomplishments are too many to cite but the couple alone has donated or raised $22 million for charitable and educational organizations across the nation, besides providing key service and leadership to dozens of private and public organizations."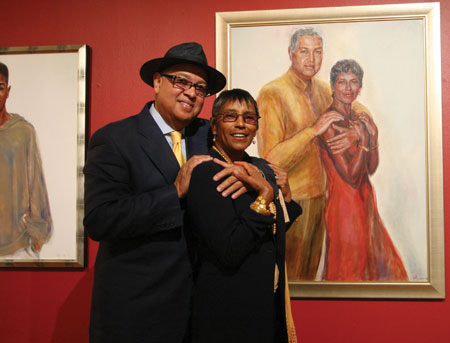 In the more than fifty years of their marriage, the Kinsey family has allowed pieces of their extensive collection to be exhibited to the public. Viewed by millions, The Kinsey Collection has been on national tour since 2007. It has been hosted by more than thirty institutions such as the California African-American Museum in Los Angeles, where it premiered in 2007; The DuSable Museum of African American History in Chicago, Illinois; The National Underground Railroad Freedom Center in Cincinnati, Ohio; and the Smithsonian National Museum of American History in Washington, D.C. It made its debut at Hong Kong University Museum and Gallery in 2016. Because of its international audiences, accordingly, the collection has been translated into Spanish and Chinese.
The profound opportunity of the collection to enlighten and inspire many on African-American culture was championed by Charmaine Jefferson, executive director of (CAAM). Saluting the Kinsey family's efforts, she heralded, "The story, the feeling, the sensation for African Americans about who we are and where we come from and what we don't know about ourselves, comes from being able to look at this collective work. And so this collection is powerful for that reason."
The Kinseys have truly personified the two mottos, "To live a life with no regrets" and "To whom much is given, much is required", they feel describe their experiences and vision for their lives. As such, the husband-and-wife continue to expand their collection's outreach. In 2008, they created The Bernard and Shirley Kinsey Foundation for the Arts and Education in order to teach, using the materials in their collection, others about the trials and triumphs of African-American people.
Their son, Khalil, proudly carries on his parents' rich and vibrant legacy. Also a graduate of FAMU, in 2009, he joined his parents to serve as the General Manager and Curator for The Kinsey African American Art & History Collection. In this role, he is responsible for coordinating The Kinsey Collection exhibitions and properties. He also acts as Vice President of his parents' foundation, a 501c3 nonprofit organization.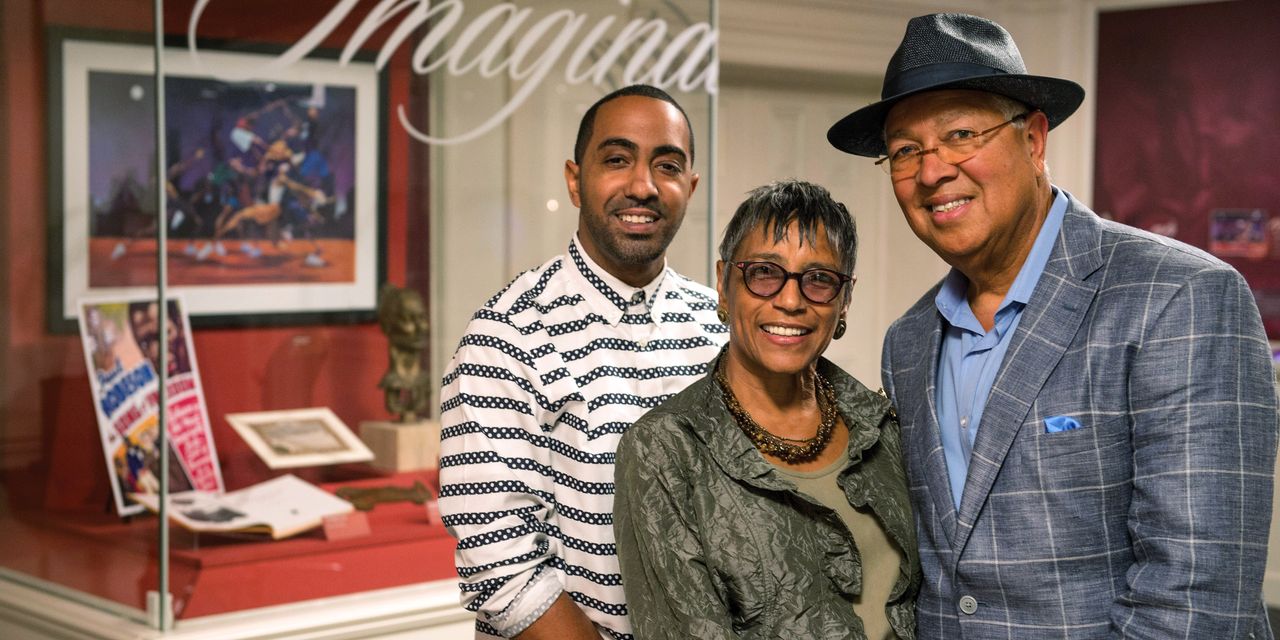 A catalogue, The Shared Treasures of Bernard and Shirley Kinsey – Where Art and History Intersect, was created to accompany the exhibit. Almost two-hundred pages, the coffee table book, as per the Montgomery article, contains "museum-worthy 19th-20th century paintings and sculptures by such noted artists as Romare Bearden, Jacob Lawrence, Henry O. Tanner and Charles White. Perhaps more important are rare historical documents, manuscripts and photographs documenting African-American history. Dating from 1632 to the present, the collection ranges from a Latin edition of Leo Africanus' Description of Africa (a rare account of pre-slavery Africa by a black) to a 1963 letter from Malcolm X to Alex Haley. Other treasures include artifacts from slaves and slave-owners, Frederick Douglass, Banneker, Phyllis Wheatley, the Civil War, Marcus Garvey, Martin Luther King, and Zora Neale Hurston, to name a few."
The couple also developed The Kinsey Collection Curriculum. Adopted by the State Department of Education in both Florida and California, it educates approximately three million students. The Kinseys hope to have it adopted by school districts in Plano and Dallas, Texas as it is anticipated that the prestigious art collection will be hosted by the Dallas African American Museum. Numerous persons and celebrities, including award-winning actress Angela Bassett, acclaimed actor Morgan Freeman and renown newswoman Diane Sawyer, have supported the critical work of the Kinsey family.