The Reginald F. Lewis Museum of Maryland African American History & Culture is, according to its website, "the authentic voice of African American art, history and culture in Maryland … (it) celebrates the significant accomplishments and struggles of African Americans throughout 400 years of Maryland's history. Through our groundbreaking exhibitions, permanent collection and timely programs and events, we are bridging the gap between the past and present."
Situated in Inner Harbor at 830 E. Pratt Street in Baltimore, Maryland, the 82,000 square foot facility is one of the largest African American museums on the East coast. Its stated mission is "to collect, preserve, interpret, document, and exhibit the rich contributions of African American Marylanders using its collection of over 11,000 documents and objects and resources drawn from across the country." An affiliate of the Smithsonian Institution, the museum presents African American history and culture, in general, and Maryland's African American community, in particular.
This institution is named in honor of the late Reginald F. Lewis (1942-1993), the first African-American to develop a billion-dollar company, TLC Beatrice International Holdings. At the time of his passing from brain cancer, Forbes listed Lewis among the America's wealthiest, having a net worth estimated at $400 million (equivalent to approximately $710 million dollars in 2019). A native of Baltimore, Lewis wanted to support the creation of an African American museum in his city of origin. The Reginald F. Lewis Museum of Maryland African American History & Culture, which opened in 2005, was made possible due to a five-million-dollar grant awarded by Lewis' foundation.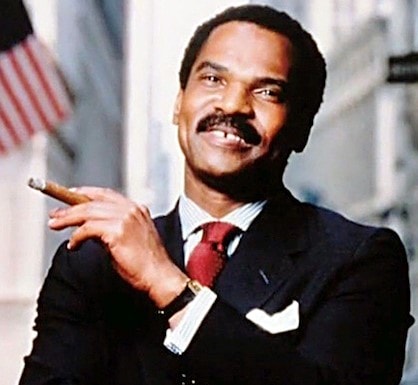 The museum holds special exhibitions on rotation as well as permanent exhibits. It contains several amenities including a 200-seat auditorium, interactive educational environments, a café, meeting rooms and a resource center. It even has a studio in which oral history may be recorded and heard. It provides programming and is available to rent for events such as fundraisers, galas, receptions, seminars and weddings.
The Reginald F. Lewis Museum of Maryland African American History & Culture also contains collections of art, documents, images and objects that are not presently on display. The span, dating from 1784 to contemporary times, of their collections begins with materials that African Americans of Maryland used during colonial times. Items in the museum's collections were either donated or acquired and a visitor may experience the collections personally or digitally, as objects are constantly posted online. The online collections of the Reginald F. Lewis Museum of Maryland African American History & Culture include the Robert L. Hall Button Collection; McMillan African Artifact Collection; Scipio Military Collection; The Stearns Family Collection of Slavery Documents; Louis G. and Shirley Hecht Jazz Archival Collection and Louis G. and Shirley Hecht Collection Catalogue of Jazz Records.
Permanent exhibits at the museum include Building Maryland, Building America and The Strength of the Mind and Reflections of Baltimore, an exhibit that features art, events and programs in support of new, Baltimore-based artists. The museum also presents special exhibits and those previously on display included Romare Bearden: Visionary Artist and Black Women: Image & Perception.
A recent special exhibit was Maryland Collects: Jacob Lawrence. One of the most significant artists of 20th century, Jacob Lawrence was, according to the promotional text of the museum, "a painter, storyteller and educator who is renowned for his portrayals of African American life, especially in Harlem. His prints reflect the vivid colors and simplicity of form seen in his earlier paintings." The first African-American to have a New York City gallery represent him (in 1941 when he was just twenty-four years old), his work pays homage to everyday life.
A lifelong artist, his career spans several periods, including social realism and the Harlem Renaissance. Referencing his style as "dynamic cubism", Jacob Lawrence is perhaps most famous for his Migration series, created 1940-41. A series of sixty panels, each painted on cardboard, this pioneering and pivotal series illustrates the Great Migration a 20th century mass-movement of African-Americans from the agrarian South to the urbanized North. This museum's Maryland Collects: Jacob Lawrence exhibit contains more than fifty prints of Lawrence curated from private collections in Maryland and surrounding areas.
The Reginald. F. Lewis Museum of Maryland African American History & Culture has active educational programming and outreach that details the African American experience; universal themes of their self-determination, strength, creativity, courage, ingenuity, perseverance and freedom are readily applicable to all. Providing data on its website in 2019 that "… 8477 number of students reached, 100 lesson plans offered and 109 educators trained", the museum "offers education programs that encourage students, educator and families to celebrate and think critically about African American history and culture in Maryland. The museum's collection explores the African American experience and tells the universal story of the struggle for liberty, equality and self-determination."
In order to meet their educational programming and outreach goals, the museum offers educational planning; joint, guided and self-guided tours; historical performances and resources for educators. Available is an option for a joint tour with the Jewish Museum of Maryland or the Flag House & Star-Spangled Banner Museum.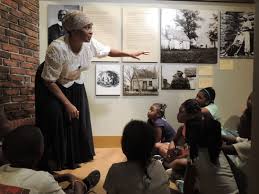 There are themed tours available for K-12 groups and their themes align with state curriculum standards; these tours are called "Heritage", "Paths to Freedom" and "The Fight for Justice". Additionally, school groups may also tour the latest special exhibits and engage in a studio art experience. It should be noted that if the group's school is covered under Title 1, tours and studios are complimentary. An example of a special exhibit is Linda Day Clark: Photography of Gee's Bend Quilts, where students and visitors will view the images and textile works of members from the acclaimed African American quilting bee. There is also a quilt art project that supplements themes of this special exhibit.
The museum provides professional development opportunities in which Maryland educators may earn a 1-hour credit to count towards recertification. The credit is earned by successfully passing coursework based upon the museum's curriculum, An African American Journey: A Resource for Learning the History of African Americans in Maryland and the United States developed by the Maryland State Department of Education. The course incorporates strategies and introduces lessons for successful teaching of African American history in the classroom.
To commemorate what is sure to be an amazing visit, the institution has a well-stocked museum shop where mementos may be purchased. Items, such as books for all ages, educational games, apparel and jewelry are available and their inventory is frequently updated.
The Reginald F. Lewis Museum of Maryland African American History & Culture is open Wednesday through Saturday, 10am to 5pm and on Sunday, 12pm to 5pm. It is ability-accessible and parking is available, including validation by the museum.