Paul Laurence Dunbar (1872-1906) is one of the greatest writers of America history and in African-American culture. He excelled as a poet as well as a librettist, an arts collaborator, a social commentator, an academy co-founder and author. The only African-American in his graduating Class of 1890 of Central High School in Dayton, Ohio, he overcame barriers, including racial discrimination and tuberculosis, to compose more than four-hundred poems, four novels, four collections of short stories, lyrics for both a one-act play and a musical in a span of thirteen years!
Located in Dayton, Ohio, the Paul Laurence Dunbar House is the eight-room brick Victorian that currently serves as a museum. Paul bought this house as a gift for his mother, Matilda Murphy Dunbar. Paul spent the last three years of his life living at the home of his mother. Severely ill with tuberculosis and suffering from alcoholism as a byproduct of attempting to alleviate the disease's symptoms, Paul and his wife, writer and activist Alice Ruth Moore Dunbar, had separated in 1902. His mother preserved the home, including the study and his bedroom, just as it was when Paul was alive. She also opened it to public every June 27th, in honor of Paul's birthday. Matilda Dunbar remained living there for thirty years until she passed away in 1934. Dunbar's widow, Alice, also preserved and protected Paul's legacy until her passing in 1935.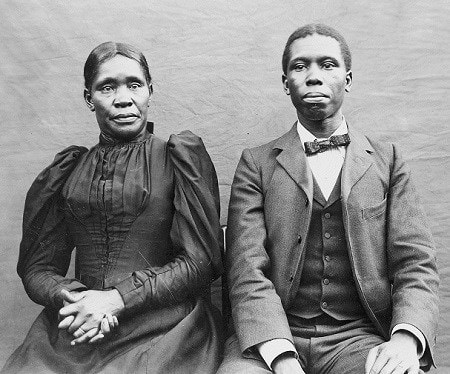 In 1936, the house became the first state memorial in Ohio when the Ohio General Assembly dedicated the house in memory of Paul Laurence Dunbar and in honor of African American history. The Paul Laurence Dunbar House was the first state memorial dedicated to an African-American. It was cared for by Ohio History Connection and opened to the public in 1938. Declared a National Historic Landmark in 1962, The Paul Laurence Dunbar House is presently part of the Dayton Aviation Heritage National Historical Park and the Dayton Aviation Trail of the National Park Service. The home is also an affiliate of the American Writers Museum.
It is apropos that a museum in honor of Paul Laurence Dunbar and his vast accomplishments would be located in Dayton, Ohio. Although his work allowed him to travel the world, Dunbar spent a majority of his life in Dayton. Because of racial discrimination, he was unable to attain a professional position that best utilized his skills and talents; as a result, he had to work as an elevator operator at the Callahan Bank Building in downtown Dayton. While working this menial position, he continued to write, which ultimately led to the publication of his first book, Oak and Ivy. It was a collection of poetry divided into two sections: Oak was written in traditional verse and Ivy was written in dialect.
Dunbar originally sought to publish of his book by his friend and Central High classmate, Orville Wright. Orville and his brother, Wilbur Wright (the future aviators) had originally published Dayton Tattler, a newspaper Dunbar had composed and edited. Geared towards the interests of the African-American community in Dayton, the newspaper ceased being published after only three issues. However, the Wright brothers did not publish books and Orville suggested that he seek publishing from United Brethren Publishing House. The house published 500 copies of Oak and Ivy on credit and Dunbar personally sold his book. He did so well that he sold all copies within 2 weeks!
The sales of his Oak and Ivy further sparked Dunbar to continue to write. Visitors to the home will see items, such as his typewriter, personal desk and family Bible, that helped him create. Guests will experience significant and sentimental details, including his private collection of books, a ceremonial sword awarded to him by President Theodore Roosevelt and a bicycle given to him by the Wright brothers, that immediately transports them to the early 20th century.
The two-story home, with a barn anchored in the back, is a testament to the wealth that the Dunbar family was able to enjoy. Luxuriously-appointed, the home's eight rooms include a formal parlor; a family parlor; a dining room that contains a sideboard with a Murphy bed; a modernized kitchen that contained a cistern pump, and a hot water heater; a "summer kitchen" that held the icebox and laundry facilities. Paul ensured to have access to city water, recalling the stories of his mother hauling water when she was enslaved. In the bathroom of the second story there was a sink, toilet and a built-in water heater for the bathtub. Located upstairs were two bedrooms; a sewing room and Paul's study, which he referred to as a "loafing holt", a term that the English used; he acquired this term during his visits to Britain. Excluding the kitchen, the walls and ceilings in every room of the house were covered in elaborately designed wallpaper.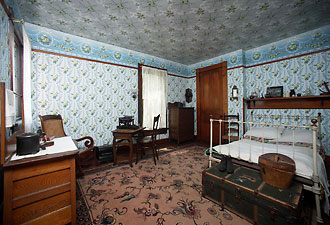 In 2003, a collaborative project renovated and restored The Paul Laurence Dunbar House to its appearance at the time when Paul Laurence Dunbar and his mother, Matilda, lived there. On-site is a visitor center, which contains a private space that may be utilized for readings, exhibits and community programs. In 2019, a private showing and discussion of Paul Laurence Dunbar: Beyond the Mask, an incredible documentary by Frederick Lewis, was held in the museum.
Managed locally by Dayton History, tours of The Paul Laurence Dunbar House are led by rangers of the National Park Service.