"Naomi was the first … She was the great ambassador for all Black people. She broke down all the social barriers.
~ Halston, couture designer
On March 30, 1948, in Oxford, Mississippi, Naomi Ruth Sims was born to John and Elizabeth Sims. She was the youngest of the couple's three daughters, who included firstborn, Doris, and middle daughter, Betty. Her parents divorced and John, who was said to have worked as a porter, left their family shortly after Naomi was born; sadly, she never knew him.
In order to improve their lives, Elizabeth moved her three daughters to Pittsburgh, Pennsylvania. When Naomi was approximately ten years old, her mother had fallen ill. Naomi was placed into foster care and initially spent time in a group home. She was later reared by a Black couple who lived in the working-class neighborhood of Homewood in Pittsburgh. Although she tried to adjust to her new housing accommodations, Naomi reflected in later years that she didn't feel welcomed or loved, especially compared to a younger foster daughter who had a fairer complexion. Greatly compounding the hurt felt from being separated from her family was that Elizabeth, who lived less than a mile away, continued to rear Doris and Betty.
Despite this traumatic experience, Naomi was extremely close to her sisters. Upon graduating from Westinghouse High School, she accepted a scholarship to attend the Fashion Institute of Technology in New York City. In accepting the educational opportunity, in 1966, Naomi moved to New York and lived with her sister, Betty. At FIT, she studied merchandising and textile design; she also matriculated New York University, taking evening classes in psychology. Despite having a scholarship and being assisted by Betty, Naomi acknowledged she needed to supplement her living.
At eighteen years old, she decided to enter the world of modeling, especially as she admired style and fashion. Naomi, who was her full adult height of 5'10" by the time she was thirteen years old, was slim, with deep mahogany skin and prominent features. Although she had been encouraged by her loved ones, friends and a counselor to model, Naomi was hesitant, as there had yet to be a high fashion model who looked like her. Excluding Dorothea Towles Church, who modeled in houses of couture in Paris, France during the 1950s, and Donyale Luna, who was named "Model of the Year" by Vogue in 1966, very few Blacks had crossed the color line in modeling. None certainly had the hue and features of Naomi Sims.
However, she was resilient and despite rejections from established agencies due to racial prejudice, she continued to pursue a career in modeling. Very clever, Sims then created two ingenious approaches. The first approach was to directly contact fashion photographers for possible hire in their photo shoots. Gosta Peterson, who served as a photographer for The New York Times, was wowed by Sims' beauty, presence and moxie. Peterson utilized her in his photography shoot for the August 1967 fashion supplement, "Fashions of The Times", for the Times, placing her on the now-famous cover.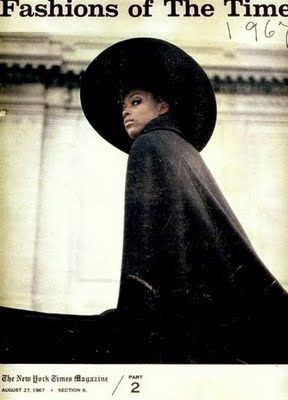 Despite the acclaim she received on being featured in The New York Times supplement, she still was not being sought to model. Sims' second approach was to contact Wilhelmina Cooper, a former model, who had just begun her own agency. They worked out a contract in which Sims sent copies of the "Fashions of The Times" supplement and Sims' contact information to 100 advertising agencies; if Sims was hired for any work, Cooper would receive a commission. If Sims was not hired, Cooper would not have wasted any time or energy on assisting Sims. The response to Sims was immediate and immense, prompting Cooper to represent Sims. By 1968, Sims was incredibly successful, earning approximately $1,000 ($7,500 in 2019) per week and was cast, clad in Bill Blass designer wear, to star in a national television campaign for AT & T.
Featured alongside a Caucasian and Asian model, the AT & T campaign provided Naomi Sims with national coverage. That coverage prompted viewers to want to learn more about her. Viewers included those in the fashion world and they now wanted to hire her. In the August 2009 Essence tribute, "Naomi Sims: 1948-2009", by writers Qianna Smith and Bridgette Bartlett, Bethann Hardison, former model and founder of the Bethann Management, exclaimed that "Naomi Sims came onto the scene right at the end of the Civil Rights Movement. It was at the time that the young advertising execs on Madison Avenue were trying to grab hold of the theme 'Black is Beautiful'."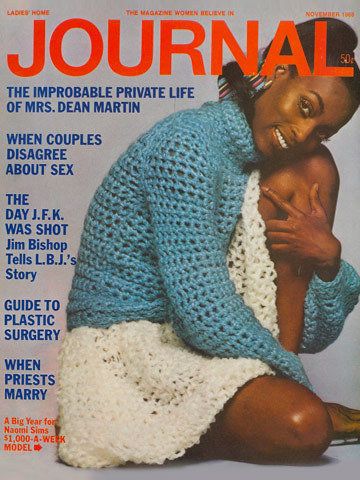 As the inaugural Black model on the November 1968 cover of Ladies' Home Journal, she would follow the next year with another modeling milestone. Featured on the cover of the October 17, 1969 issue of Life magazine, Naomi Sims was the first African-American model on the cover of the magazine.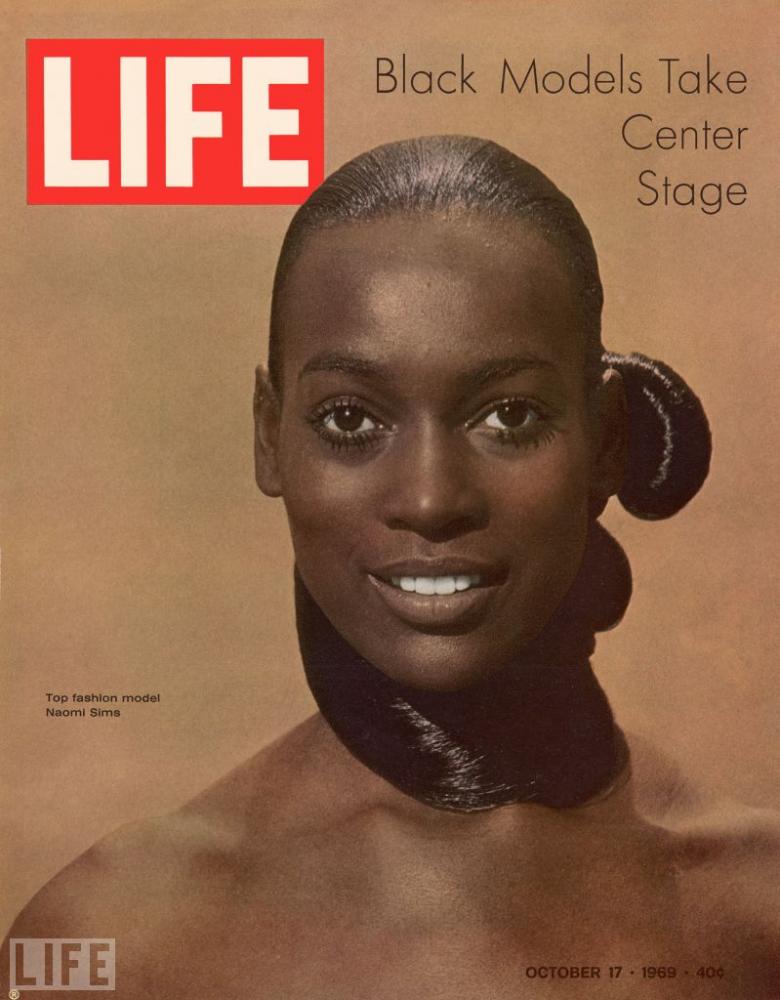 From 1968 to 1973, Naomi Sims became one of the most successful Black models worldwide. She modeled for major companies, such as Virginia Slims cigarettes, and was friends with greats, such as Salvador Dali, in the art world. She modeled for elite designers of luxury labels including Giorgio di Sant'Angelo and Halston, who, in the Essence tribute, cooed, "When she put on a garment, something just marvelous happened". Sims laid the foundation for Black models such as Pat Cleveland, Alva Chinn, Iman, Beverly Peele, Veronica Webb, Naomi Campbell, Roshumba Williams, Arlenis Sosa, Duckie Thot, Alek Wek and Imaan Hammam.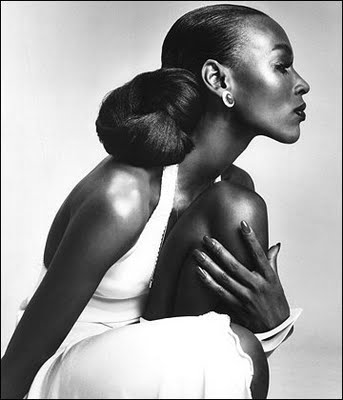 Although she could be seen at famed and exclusive spots such as Studio 54 and The Factory, which was owned by her friend, artist and recluse, Andy Warhol, she was known to be the quintessential professional. She honored her commitments and gave insight in order to get the best photos. She arrived on time for shoots, having done her own makeup and hair prior because many makeup artists had no skill in making up someone her complexion. In her 2009 reflection on Sims, Mikki Taylor, Beauty and Cover Director at Essence, shared, "Naomi Sims used the things that worked against her as a young girl, like her height, her chocolate skin, her smile, the short hair, and big laughter; they became her calling card and what made her what you would call a 'supermodel'."
The fashion industry was not the only one interested in Naomi Sims. In 1972, Hollywood came calling, and she was offered the lead role in the Blaxploitation film, Cleopatra Jones. Upon reviewing the script, Sims immediately rejected the film role because of its offensively racist portrayal of Blacks. The lead role would be played by another African-American model, Tamara Dobson.
In 1973, Naomi Sims married Michael Findlay, an art dealer; they would have only one child, Bob. Their marriage, which caused a bit of controversy because Sims was Black and Findlay was White, ended in 1991. When she was in her 30s, Sims was diagnosed with bipolar disorder. At times, she was hospitalized for her mania-depression and she often dealt with it by herself and with only a few loved ones because she did not disclose her condition with many of those around her. For several reasons, including not wanting to be taken advantage of or mistreated, Sims did not speak publicly about her mental condition.
In the 2009 article, "Naomi Sims: Cover Girl" of The New York Times, journalist Michael Sokolove reported an account of Sims' son, Bob, writing, "He remembers his mother once waking him up in the middle of the night when he was a child and the two of them walking for hours on the city streets. He thinks he was not quite 5: 'We walked all around Manhattan, and she just talked and talked. It felt like an amazing adventure with my mother, but looking back on it, I think it was more than that … Three months ago, as she knew she was dying, she told me, 'I'm ready to share it.'"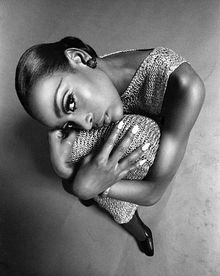 In 1973, the same year that she married, Sims retired from modeling after a highly successful, five-year career of modeling; she was only 24 years old. She decided to become an entrepreneur to meet the beauty needs of Black women. Becoming a business woman appealed to Sims, as modeling was never her ultimate career goal; however, she felt fortunate that her first career would lead her into a new one.
All too often, she had to dress her own hair and complete her own makeup due to stylists' refusal or inexperience in working with darker-skinned women. To boot, Black hair, in its natural state, was not considered by many in mainstream society as beautiful or acceptable. As such, wigs, made to have a Caucasian texture, were promoted as essential for Black women. Black women comprised an estimated 40% of women purchasing wigs.
The issue of hair inspired the first venture of Sims, as she often had to look different for each of her model shoots; her hair was no exception. In 1974, she created her own line of wigs whose texture was that of straightened Black hair. She achieved this texture by experimenting with her own wigs, baking them in her oven in order to create the various textures of Black hair. She ultimately partnered with Metropa Company, an import-export company that already manufactured wigs for Black women. The hair firm invested in Sims' business plan and also made available its laboratories to her. Before long, a hair fiber was created that could hold its own curl and was neither too straight or frizzy. The fiber, trademarked under the name "Presselle", was utilized to create the Naomi Sims Collection.
In a March 1989 interview with Black Enterprise, Naomi Sims, in explaining her success of her wig line, stated, "Basically, we duplicated the styles that were popular – what Black women in the street were wearing – and combined that with my fashion sense." The sales of her wigs earned $5 million within its first year. Her wigs were sold in more than 2, 000 wig boutiques and department stores in the United States and Canada as well as throughout the Caribbean and Africa.
Naomi Sims expanded beyond her wig collection in 1981 to launch her signature fragrance, Naomi. It was followed by the creation of a cosmetics line, Naomi Sims Beauty Products, Ltd. in 1985. A skin-care products line, for which she was the model, was developed in 1987. Sims also owned beauty salons which utilized, sold and promoted her products. Within five years, Naomi Sims Beauty Products Ltd. garnered annual sales of $5 million globally.
However, her multi-million-dollar empire extended beyond the physical, as she was concerned with health and personal advancement. She authored books on these topics, including All About Health and Beauty for the Black Woman and All About Success for the Black Woman; she also advised young girls in her own column for Right On! magazine.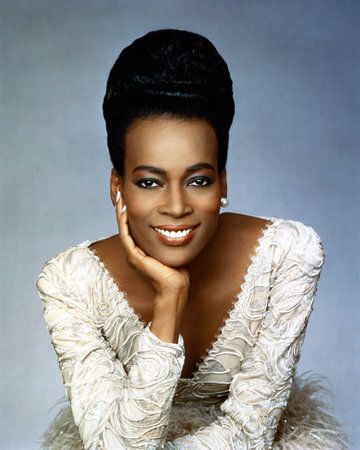 Over the next several decades, Sims also experienced several trials such as competition from larger, White-owned beauty firms for Black customers, financial setbacks, and issues for control of her companies. She also had been diagnosed with breast cancer.
In 2005, Naomi Sims was one of 25 Black women pioneers honored by Oprah Winfrey at her "Legends Ball". By then, Sims had been living a very private life in Newark, New Jersey.
On August 1, 2009, in Newark, Naomi Sims would succumb to breast cancer; she was 61 years old. Her legacy, as a model and entrepreneur are incredible. As celebrity makeup artist, Sam Fine praised in the Essence tribute, "Naomi Sims was a pioneer in the world of modeling. Her look redefined 'beauty' in the American market and provided inspiration to millions of Black women around the world. However, her legacy as an astute businesswoman was solidified when she put her name on wigs and cosmetic products that catered to a long-overlooked section of the population."
Supermodel Naomi Campbell shared Fine's admiration, stating in her tribute for Essence, "Naomi Sims was an incredibly beautiful and strong woman. She broke through the glass ceiling to lead the way for those models and businesswomen of color, who followed in her footsteps … with many firsts accomplished in her career as the first Black model on the covers of New York Times' 'Fashion of the Times' supplement and Life magazine, Naomi was an inspiration to me. She had great style, beauty, grace and an air of mystery. Her elegance will not be forgotten."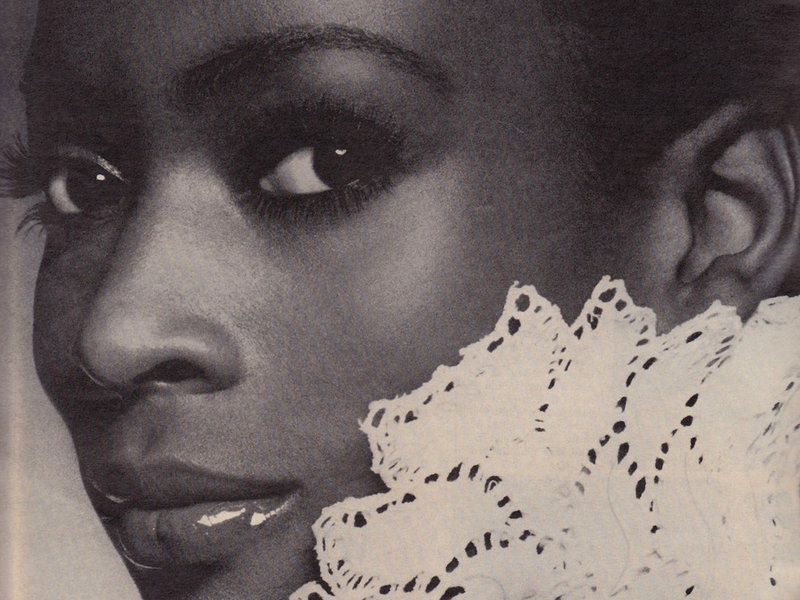 In the exhibit, The Model as Muse, held at the Metropolitan Museum of Art, two of the most iconic images of Naomi Sims were featured. The first image was from the cover of "Fashion of the Times" of The New York Times supplement and the second image was from the cover of Life. In the exhibit's accompanying catalog, curators Harold Koda and Kohle Yohannan honored Naomi Sims with the following words, "The beautifully contoured symmetry of Sims's face and the lithe suppleness of her body presented on the once-exclusionary pages of high-fashion journals were evidence of the wider societal movement of Black Pride and the full expression of 'Black is Beautiful'."
I believe a Black woman must have three qualities in her life in order to be at her best: good health, worthwhile employment and emotional satisfaction … I would be nowhere if it weren't Black women."
~ Naomi Sims
For greater enlightenment...