The Muhammad Ali Center is a multicultural center created in honor of Muhammad Ali, one of the greatest athletes of the 20th century. The center is located at 144 N. 6th Street in Louisville, Kentucky, the home city of the boxing legend, social activist, philanthropist and humanitarian. Inside the center is an award-winning museum that is exclusively dedicated to the life and legacy of Ali. The vision of the center and museum are sourced from Ali's life, including the six core principles of confidence, conviction, dedication, giving, respect and spirituality that shaped and influenced him.
Muhammad Ali, born as Cassius Marcellus Clay, Jr. on January 17, 1942, won a gold medal in boxing at the 1960 Olympics in Rome, Italy and became the heavyweight champion of the world in 1964. He defended the heavyweight championship nineteen times and was the first fighter to win the heavyweight championship on three separate occasions: 1964, 1974 and 1978. As of 2019, Muhammad Ali remains the only three-time lineal world heavyweight champion.
While these accomplishments in boxing supported his claims of being "The Greatest", it would be his work outside of sports that has rendered him to be a true champion. His refusal, based on his religious beliefs, of military service came at the cost of his career and the threat of imprisonment. However, his faith and sticking to his principles would become, for many, highly inspirational.
In his lifetime, Muhammad Ali helped countless individuals around the world, including delivering food and medical supplies to those in hospitals, orphanages and communities in need. He assisted organizations, such as Make-A-Wish Foundation, the Special Olympics organization and Best Buddies, that performed charity and outreach. Ali was the recipient of numerous awards and accolades, including the Lifetime Achievement Award by Amnesty International and the Presidential Medal of Freedom, as well as was named a "Messenger of Peace" by the United Nations. He advocated protection of those who were vulnerable and promoted acceptance and understanding of others.
In 1984, Muhammad Ali was diagnosed with Parkinson's disease, a neurodegenerative disorder of the central nervous system that affects movement. However, he did not allow the condition to cease his service and guidance. His dream in bettering the world includes the manifestation of the Muhammad Ali Center.
On June 3, 2016, Muhammad Ali passed away from septic shock after being hospitalized the previous day for respiratory illness; he was seventy-four years old.
The Muhammad Ali Center, as per its website, "… appeals to the heart, spirit and imagination. It inspires both children and adults to form new commitments in their lives in areas of personal growth, integrity and respect for others and it gives them the tools to makes these commitments happen."
Integral to the vision of Muhammad Ali and the Center are six core principles which visitors may be motivated to include for their lives. They are, as stated at the site:
| | |
| --- | --- |
| Confidence | Belief in oneself, one's abilities, and one's future. |
| Conviction | A firm belief that gives one the courage to stand behind that belief, despite pressure to do otherwise. |
| Dedication | The act of devoting all of one's energy, effort, and abilities to a certain task. |
| Giving | To present voluntarily without expecting something in return. |
| Respect | Esteem for, or a sense of the worth or excellence of, oneself and others. |
| Spirituality | A sense of awe, reverence, and inner peace inspired by a connection to all of creation and/or that which is greater than oneself. |
At the Muhammad Ali Center, there is much to experience, from exhibits to community involvement. In its permanent exhibits, there are opportunities to be interactive as well as a great deal of visual content, including video, images and multimedia, in which to engage. Temporary exhibits have included its annual international photography contest and exhibition, Shining a Light. Launched in 2013, this exhibit highlights gender equality, human rights and social justice issues on a global level. Regarding gender equality, a component, and accompanying educational programming, Shining a Light centers upon a theme that supports International Women's Day.
The 2019 Shining a Light exhibition is called "(The) Many Faces of Homeless Women" and it focused on these women and the daily challenges they faced. Photographers, amateur and professional, throughout the world were requested, as the center's website states, "…to look around them, in their cities or on their travels, to aim their lens at an issue that is in our own backyards. Answering this call were nearly 300 submissions from countries all over the world: Baku, Turkey, Poland, Brazil, Germany, Canada, Belgium, Australia, Spain, Britain, Nigeria, and America. Each photograph chosen for exhibition has a unique story to tell."
The community outreach programs in which the Muhammad Ali Center are involved are diverse. The Center provides the space to screen and discuss films and supports athletes, scholars, advocates and policymakers who wish to utilize their skills to empower athletes to enact social change. It offers professional development and encourages the sharing of a "Red Bike Moment", a positive triumph over an adverse experience that drastically impacts one's life. In the instance of Muhammad Ali, it was the theft of his new, red Schwinn bicycle when he was only twelve years old. In reporting it to Sergeant Joe Martin, he comments on his desire to "whup" the person who stole his bike. Martin, who trained boxers, encouraged Ali to learn how to box first. The next day, Ali began his training with Martin, who would coach him for the next six years. The rest has become history.
The Center has an extensive educational programming, including those for youth and character education. It has global programming and deals with sports diplomacy. It also created the Generation Ali international program whose mission is, as per its statement, "Inspired by the principles and the legacy of Muhammad Ali … (it) represents a series of initiatives grounded in an interconnected social platform that encourages young and young at heart to find their personal 'greatness' through service to others."
At the Muhammad Ali Center, one can undertake research in their archives and collections. The facility, which is ADA compliant, has several venues, such as the auditorium, multipurpose rooms, the LeRoy Neiman Gallery and the Brown-Forman Pavilion onsite that may be rented. These spaces may be rented for meetings, professional conferences and special occasions, such as anniversaries, birthdays, fundraisers, holiday parties, proms, receptions and reunions.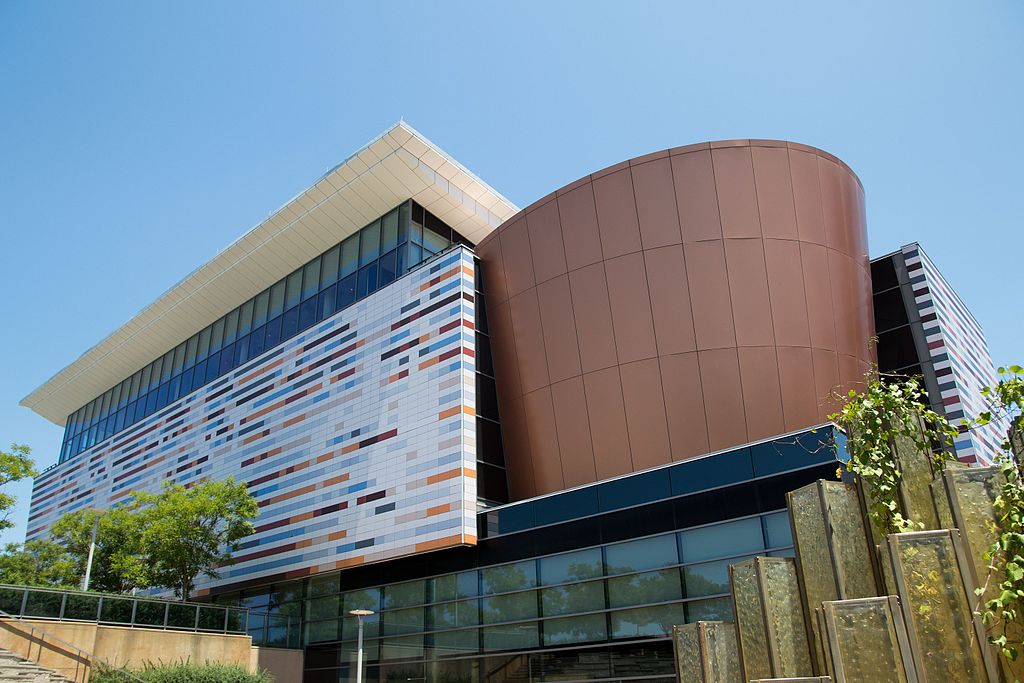 Also, on site is a gift store where mementos may be purchased to commemorate your visit to the Muhammad Ali Center. Visitors may purchase books, a pair of boxing gloves, posters, an item of apparel, accessories, magnets, coasters, beverage holders and/or keychains. Whether your souvenir may be a staff-suggested purchase, a limited-edition item or locally-created piece, there is something for every person to attain in order to celebrate the life and accomplishments of Muhammad Ali, as "The Greatest", inside and outside the boxing ring.