Starring: Leroy "Nicky" Barnes, David Breitbart, Walter Cronkite and Joseph Hayden
Rated: R Documentary, Crime
Mr. Untouchable is a cinematic compilation of news footage and interviews, including with its titular lead, Leroy "Nicky" Barnes.  In the 1970s, Barnes was an African-American kingpin who reigned supreme over the trafficking of heroin in Harlem.  His rise was partially due to his connection with gangsters "Crazy" Joe Gallo, a member of the Colombo crime family, and Matthew Madonna, a heroin dealer for the Lucchese crime family.  Barnes became connected with them when he was convicted of dealing in 1965.
By 1972, Nicky Barnes created a coalition of seven African-American gangsters in Harlem. This coalition was known as "The Council" and its members were Barnes, Joseph "Jazz" Hayden, Ishmael Muhammad, Frank James, Wallace Rice, Thomas "Gaps" Foreman and Guy Fisher. It was developed to streamline the organization's international trafficking and all that it comprised.
Initially, immense success is experienced by many employed by Barnes and The Council and by 1976, Barnes possessed a fortune worth $50 million (approximately $220 million USD in 2019). Considered to have been the most powerful Black druglord in the history of New York City, Barnes gained national notoriety in 1977 when he was prominently featured on the front page of the June 5th edition of The New York Times.
The headline on the newspaper's cover captioned, "'Mister Untouchable: This Is Nicky Barnes. The Police Say He May Be Harlem's Biggest Drug Dealer. But Can They Prove It?" He earned the moniker, "Mr. Untouchable", after eluding conviction in two separate state drug cases. Sporting an azure suit that his wife, Thelma, selected, he is seen unrepentant regarding the damage he had brought upon his people and community. It captured the attention of President Jimmy Carter, who unleashed the forces of the U.S. Department of Justice to convict Barnes on the federal charges he was also facing.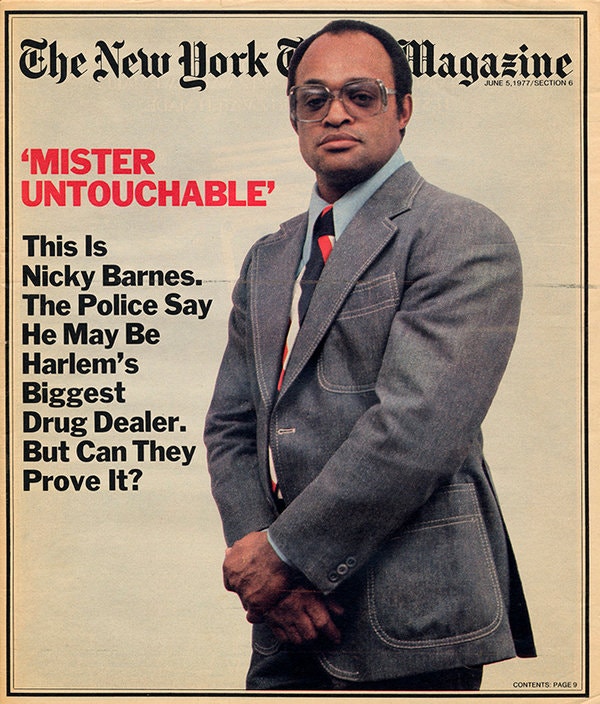 In the documentary, Nicky Barnes detailed his selection of his tie, which was red, white and blue. It represented how crime was truly American, historically, sociologically and economically. His development into a kingpin was, on so many levels, a product of the United States government. His sentiment echoed what was written in his autobiography of the same title. Co-authored with Tom Folsom, Mr. Untouchable was also released in February 2007.
Nicky Barnes has influenced urban popular culture. He was portrayed by Sean "Puffy" Combs in Carlito's Way: Rise to Power, released in 2005, and Cuba Gooding, Jr. in American Gangster, released also in 2007. His influence is, perhaps, greatest represented in the urban crime drama classic, New Jack City.
Premiering in theatres in 1991, its plot mirrors the life of "Mr. Untouchable", including the leader, Nino Brown (Wesley Snipes), bearing the same initials as Nicky Barnes; betrayal by his right-hand man, G-Money (Allen Payne)/Guy Fisher over a mistress, Uniqua (Tracy Camilla Johns)/Beverly "Shamecca" Ash. The film even contains Nino's creation of Cash Money Brothers (CMB), an elite organization of Black mobsters with their own saying to boost and reinforce loyalty. Nino utilized the Bible verse, Genesis 4:9, "Am I my brother's keeper? Yes, I am." Long before this film was made, Barnes had created a mantra for The Council: "Treat my brother as I treat myself." It contained seven words, one for each member.
A controversial documentary, Mr. Untouchable, enjoyed a limited-run that was successful. It is a film that details the construction and destruction of a contemporary, urban empire based on business principles, discipline, ruthlessness, love, jealousy, avarice, greed, betrayal and vengeance.
For greater enlightenment...