"Matty has wonderful instincts, and that's not a slight, that's a compliment (to) someone who doesn't have the breadth of experience or even the training …"
~ Paris Qualles, Screenwriter
Born on November 26, 1971 in the Brooklyn borough of New York City, Matthew "Matty" Statisfield was reared in the Red Hook Houses, one of the city's largest housing projects. He would later be known as "Matty Rich." The son of a Vietnam veteran, Matty wrote film shorts as a young teen, including what would be the basis of Straight Out of Brooklyn.
This film was expanded from an 8-minute short that Rich completed when he was seventeen years old. It was financed by credit cards; monies from family members and friends; and $77,000 (USD) in donations from listeners after appearing on a WBLS radio show during drive time. He also was on WLIB, another popular station in New York City. Those casted to star believed so much in the project that they worked for free.
Inspired by persons, events and observations in his young life, the father and mother were based on Rich's great-uncle and great-aunt. The primary character is based upon a cousin of Matty's.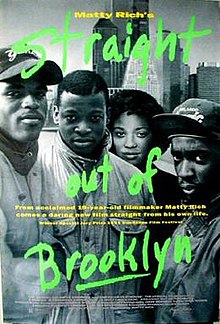 Straight Out of Brooklyn is about three friends, Dennis Brown (Larry Gilliard, Jr.), Kevin (Mark Malone) and "Larry Love" (Matty Rich) but primarily centered on Dennis. Living in the projects, Dennis is frustrated with the bleakness of his family life and the lack of opportunities for personal advancement. The Brown family is "led" by Ray (George T. Odom) who is chronically underemployed, alcoholic and abusive. Dennis' optimistic, hardworking mother, Frankie (Ann D. Sanders), and his high-achieving sister, Carolyn (Barbara Sanon) round out the household. In order to escape his doomed existence, Dennis plots to lead his friends in robbing a local, ruthless drug dealer, Luther (Ali Shahid Abdul Wahhab).
With a budget of $450,000 (USD) and taking two years to create, Straight Out of Brooklyn was released in 1991. As an independent film, it garnered critical acclaim and was a box office hit, grossing almost $3 million. It was awarded the "Special Jury Prize" at the 1991 Sundance Film Festival. Among the numerous accolades it was given, notable was an Image Award of the NAACP, a Nova Award and those of 1992 Independent Spirit Desk Awards. George T. Odom was nominated for its "Best Supporting Male Actor" and Drama Desk Award-winning composer Harold Wheeler, who created all original music for the movie, was nominated for its "Best Film Music". Matty Rich won the Independent Spirit Desk Award for "Best First Feature". He also received the "Most Promising Film Producer" award by The Producer's Guild.
These accomplishments were incredible, especially considering Matty Rich, as writer, director and producer, was just nineteen years old when Straight Out of Brooklyn was released!
This had to be an even more proud moment for Rich, who dropped out of the film studies program at the prestigious Tisch School of the Arts at New York University. He left the university after attending only one month due to his stance that the faculty was racist.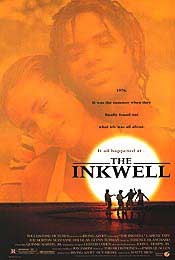 In 1994, Matty Rich released his second film, The Inkwell. Set in the summer of 1976, this African-American coming-of-age film centers around Drew Tate (Larenz Tate), a shy teenager. He is the only child of his parents, Kenny (Joe Morton, Jr.), a Black militant schoolteacher, and Brenda (Suzzanne Douglass), who is more moderate. Because of Drew's perceived personal issues, the family visits Brenda's affluent kin for two weeks at the exclusive Martha's Vineyard. Often Drew is found to be on the beach; there, other African-Americans spend much of their time. Because of the congregation of Blacks, historically due to segregation, this area was originally and derisively coined "The Inkwell". What follows in the film is Drew's and the family's growing understanding of and appreciation for each other.
Although critics did not receive it well, The Inkwell was a summer box office hit and beloved by many viewers, especially African-Americans. Filmed on a $4 million dollar budget, it also starred Morris Chestnut, Jada Pinkett, Adrienne-Joi Johnson, Duane Martin, Vanessa Bell Calloway and Glynn Turman.
After The Inkwell, Matty Rich continued to write, develop, produce and direct in both film and television. His work ranges from Sunset Park and Red Hook to the Tommy Morris vs. Ray Mercer documentary and Free At Last. He has worked with companies including Buena Vista/Disney, HBO, Showtime and Warner Brothers.
In 2005, he acted as a writer and director for the video game, 187 Ride or Die. After meeting Yves Guillemot, who ran the gaming division of Ubisoft, Rich moved to Paris to lead the company's gaming division. Overseeing more than 200 artists for their 187 Ride or Die, he also managed teams in Hong Kong Special Administrative Region of the People's Republic of China and Seoul, Korea.
He started his own mobile gaming company, Matty Rich Games, which is based in Los Angeles. As CEO, he has targeted his family-oriented and Christian-themed video games towards African-Americans.
In 2008, Matty Rich married Leah Reid Johnson, a publicist.
In 2016, Rich returned to his "guerilla" platform when he wrote, acted, directed and produced a new film short, C+U+R+E. In a 2020 interview, "Director Matty Rich on Hoping Short Film C+U+R+E Gets Expanded Feature Film or TV Series" with Wilson Morales at BLACKFILM.COM, Rich discussed his short. He stated, "I wanted to come up with the idea of what if there was a kid that lived in an inner city, kid of color, who possessed the gift that literally could heal the world. And he was a descendant of a man back in the A.D. world who wasn't a God but possess the gift of healing from God. So what if you had an unlikely person that you would never think of that possess this spiritual gift that could heal everything that's plaguing the world right now? Unfortunately, even Corona, COVID-19."
Seeing the values in developing C+U+R+E in either film or limited-edition television series, Rich hopes to resume development when production can be undertaken more safely.
His optimism extends to his film project, Caller 100, which is slated to star the award-winning rapper, designer and actor, Clifford "T.I." Harris. In 2019, The Hollywood Reporter first shared the news about the thriller. In the magazine's announcement, this suspenseful motion picture "centers on a popular radio personality whose chance encounter with a female listener turns his life upside down. Caller 100 has been described as a relationship thriller in the vein of Play Misty for Me, the 1971 thriller starring and directed by Clint Eastwood which told of a radio DJ stalked by an obsessive fan."
"The best way to learn how to make a movie is to just go do it."
~ Matty Rich
For greater enlightenment...