"For Dr. Marta Moreno Vega, a Black woman of Puerto Rican descent, born and reared in El Barrio, the current rise of a global movement for Black lives and collective liberation aligns with her unwavering vision for a better world. Her steadfast commitment throughout her long career – creating new spaces, opportunities, and possibilities for our communities to see themselves in an empowering light while challenging oppression – is her legacy.
~ Neyda Martinez and Nestor David Pastor, Latino, USA
Marta Moreno Vega was born to Flora Marcano Cruz Moreno and Clemente Moreno in the East Harlem community of the Manhattan borough of New York City in 1942. Her parents were from Puerto Rico; her mother hailed from Caguas and her father was of Loiza. The youngest of three children, Vega recalls in her beautiful memoir, When the Spirits Dance Mambo, the gratitude expressed by her paternal grandmother (abuela) Luisa for the wonderful unexpectedness of Marta's birth eight years after her sister, Socorro, and nine years after her brother, Alberto.
Marta was reared in the neighborhood known as El Barrio, which was primarily comprised of persons who immigrated from the Caribbean, including the Dominican Republic; Cuba and Mexico. Many of the women either were homemakers, like Marta's mother, or worked outside the home, performing duties in either factories or domestic households. Many of the men performed blue collar labor work. In her memoir, she shared that the men "toiled as janitors, factory workers, doormen, on the docks or as merchant seamen … Others worked as messengers, sold furniture door to door, or hustled as number runners. My own father worked in an auto body shop."
A person who was incredibly influential in her life was her abuela, who emphasized the immense significance of their African heritage, notably Yoruba origin. From her, she learned more of her cultural, historic and spiritual ties to the Mother Continent. Marta also inherited her African features, including her darker complexion and thicker, coiled hair, from her grandmother. As such, Marta Moreno Vega describes herself as Afro-Puerto Rican.
Her close relationship with her grandmother, who lived nearby in her own small apartment, would later prove to be enlightening and inspiring, professionally and personally. In the biography sketch on Marta Moreno Vega at Enyclopedia.com, it states, "Vega came to embrace her African lineage with increasing strength. She learned that much of the Puerto Rican culture she grew up with had African roots, including the rhythms of the Caribbean dance music she loved. Another key African influence on Vega's upbringing was Santería, a religion that is widespread in the Afro-Caribbean world, and common in the United States among populations from Haiti, Cuba, Puerto Rico, and other landing points of the African Diaspora. Also known as Lukumi and Regla de Ocha, Santería first emerged among African slaves in Cuba, growing out of a combination of traditional Yoruban beliefs and the worship of Catholic saints. Some of Moreno Vega's fondest childhood memories are of times spent in the apartment of her grandmother, who kept a sacred room that featured a huge mural of St. Michael wielding a sword over the head of a cowering fallen angel. The room, which had the pleasant smell of sandalwood incense, also contained small statues of many important Santería figures and an altar for making offerings to the saints." Although she was reared around Santería, she would not become active in it until adulthood.
Passionate about her African and Latinx heritage as well as the arts, she entered the field of education to teach these topics. Moreno Vega, ultimately, earned a Bachelor of Arts and a Master of Arts, both in Education, from New York University and a PhD in African Studies from Temple University in Philadelphia, Pennsylvania. She initially taught history and arts education to secondary students in New York City schools.
Concurrently, she became more active in the Hispanic arts community. In 1971, she even led the El Museo del Barrio, which was created in 1969. Serving as its director until 1975, she continued the work of its founder, Rafael Montañez Ortiz. The mission of El Museo del Barrio is centered upon educating the public about Caribbean, especially Puerto Rican, and Latin American cultures and communities. In 1975, she co-founded the Association of Hispanic Arts, a non-profit organization that supports the development of Hispanic artists. It also promotes arts and education advocacy and development.
Continuing to be proactive, in 1976, she founded what is presently known as the Frank H. Williams Caribbean Cultural Center African Diaspora Institute (CCCADI). This global, nonprofit center promotes and links communities of African descent. Moreno Vega started it when she acknowledged the dearth of information or complete omission of African and Indigenous cultures' influences on Caribbean and Latin American cultures and nations.
Its mission, according to its website, is its work as an "arts, culture, education and media organization that advances cultural equity, racial and social justice for African descendant communities." The CCCADI, has as its vision "a global landscape where African descendants achieve cultural equity, racial and social justice."
Marta Moreno Vega served as the Executive Director of the CCCADI until 1995. She then transitioned to act as President of its Board of Directors and in 2018, she scaled down to become an advisor to the Board. During these years, her active involvement and wise guidance were pivotal in advancing the mission and vision of the CCCADI. This work includes her leadership in numerous activities, including raising funds to purchase and renovate the historic firehouse at 120 East 125th Street, the recent home of the Frank H. Williams Caribbean Cultural Center African Diaspora Institute.
In 1981, an experience of paramount significance occurred. Moreno Vega had long been reflecting upon and researching her own religious and spiritual self. This led her to visit Havana, Cuba, where she ultimately was initiated as a Yoruba priestess into Santería.
Moreno Vega has taught African Diaspora cultural studies at Baruch College of City University and Hunter College, both in New York City. It is at Hunter where, in 2000, she co-founded the Global Afro-Latino and Caribbean Initiative. This collaboration between the CCCADI and the Latin American and Caribbean Studies Department at Hunter College was dedicated, according to Encyclopedia.com, to "correcting the persisting inequities that have had a devastating impact on the lives of African descendants in the Americas — a direct result of more than four hundred years of the enslavement that brought more than 15 million Africans forcibly to the Americas."
Marta Moreno Vega was the Distinguished Visiting Gildersleeve Professor at Barnard College in New York City. She has also taught at New York University as well as internationally at El Centro de Estudios Avanzados Puertorriquenos de Puerto Rico y El Caribe and Interamerican University of Puerto Rico, both located in San Juan.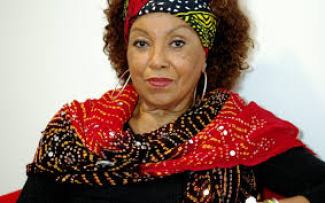 In 2000, details of her spiritual journey were published in her first book, The Altar of My Soul: The Living Traditions of Santería. In it, Moreno Vega shares vignettes about her family, including her paternal grandmother, and two sons, Sergio and Omar; her epiphanies and following life-altering work.
In the opening in the dust jacket, it reads, "As an Afro-Puerto Rican child in the New York barrio, Marta paid little heed to the storefront botanicas full of spiritual paraphernalia or to the Catholic-style images her parents turned to in times of trouble. Yet she often wondered why her grandmother prayed to those saints by other names: Yemaya, Ellegua, Shango. She became fascinated by her grandmother's ancestral table with its rose petals, candles, perfumed water and figurines – among them one of a magnificent African woman. These memories comforted her in the trials she faced later in life as a minority student and teacher and as a divorced mother and when a rift tore apart her once-close family. But in the deepest sense, Marta was living rootless. Her activist work for the community, where things African were mostly shunned, still left an emptiness inside her. In search of a religion that would reflect her racial and cultural heritage, Marta was led to Cuba by the spirits of her ancestors, where at last she awoke to the centuries-old West African Yoruba-based Santería tradition – the Way of the Saints."
Two years later, her documentary, When the Spirits Dance Mambo, premiered in Havana. This ninety-minute film was shot in Cuba. It examines the massive and pervasive influences of Africa upon Cuba and their dissemination into Caribbean-American communities, pre-slavery to contemporary times. The film debuted in New York City in 2003.
In 2004, Marta Moreno Vega published a second book, her personal memoir. It was titled, When the Spirits Dance Mambo, the same as her documentary. It was updated and re-printed in 2018 as When the Spirits Dance Mambo: Growing Up Nuyorican in El Barrio.
Marta Moreno Vega continues to remain active in educating, creating and promoting the incredible global interconnectedness, significantly African, that tie so many together. She is involved with Amigos del Museo del Barrio, Inc, which she founded to support El Museo del Barrio; the Creative Justice Initiative, which she started; TEDxHarlem; or even being profiled in the media for her community activism and spiritual outreach.
The recipient of many accolades, she has been honored with the Crystal Stairs Award by the Association of American Cultures and the Mosaic Award by the Multicultural Council of New York City. Writer and artist Edgardo Miranda- Rodríguez paid tribute to Moreno Vega by creating a character, Abuela Estela, who was inspired by her. She appears in Guardians of Infinity #3. Miranda-Rodríguez, who has known Moreno Vega since he was nineteen years old, created her because of the immense influence she has had on him. In 2020, Marta Moreno Vega was honored by Latino Justice as "Latina Trailblazers Pionera".
"The honoring of those that are now spirit is essential as is honoring their work to assure that their work continues to be expanded upon generation after generation."
~ Marta Moreno Vega