"With brightly hand-colored papers, fabric and objects, Denmark creates compositions that go beyond the superficial and transitory and focuses, instead, on what is eternal and universal."
~ RoGallery Artist Biography
James Denmark was born on March 23, 1936 in Winter Haven, Florida. He would be reared in a family of artists and this type of upbringing greatly influenced his life, including culturally and artistically. In the biography of James Denmark in "Arts in Embassies" of the U.S. Department of State website, it's shared that his mother was "gifted with an intuitive feeling for design and fastidiousness for detail which she expressed in all aspects of her daily life". His grandfather, who labored as a bricklayer, was celebrated for his design molds that were custom created. His grandmother was an exceptional artist, sculpting wire and creating quilts from diverse textiles.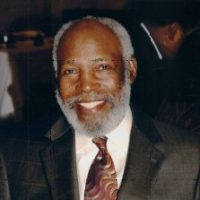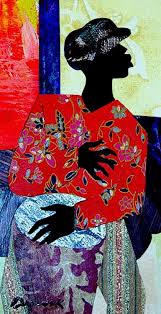 From a young age, he was encouraged to create and considers his grandparents as his earliest inspirations. Aspects of African-American life is emphasized in his work and while Black women are significant in his art, so are Black men. In "James Denmark: Artists Vibes from Low Country" posted by Sylvia Wong Lewis on the Narrative Network website, he sourced the males, including more than thirty male first cousins, in his family as being integral to his being grounded and balanced. In the article, Denmark asserted, "As boys, we were held to a task in the Southern tradition where manhood was stressed. When you reached 12, you were considered a man. Each of us had to mind our manners, excel in school, be responsible, develop skills and talents in a lot of things."
Upon graduating from high school, James Denmark matriculated Florida Agriculture and Mechanical University (FAMU), a historically Black university in Tallahassee, Florida. While he attended FAMU on an athletic scholarship, he pursued a degree in fine arts. Denmark felt privileged to experience being able to learn from accomplished and acclaimed African-American art professionals. In the Wong Lewis article, he remarked, "I was mentored by Black professors at FAMU (Florida Agricultural & Mechanical University, Tallahassee, Fla.) where I was admitted on a sports scholarship. I became an apprentice to noted art historian Dr. Samella Lewis. FAMU at that time had the best, brightest and largest number of Black art faculty in the world. All of them had PhDs and advanced degrees in fine arts, architecture, engineering. As I was an honor student, they each mentored me by making me their apprentice – in drawing, painting, design, graphics, sculpture, ceramics and most importantly, the African-American art movement. I taught classes as their assistant while still an undergrad student."
After graduating from Florida Agriculture and Mechanical University, James Denmark moved north to live in the Brooklyn borough of New York City. There, he began a career of teaching art in the public schools of the New York City Department of Education.
At this time there were very few opportunities for Black artists to exhibit their work. These artists, however, continued to create because they believed in the incredible value of their unique Black experiences. Often, these dedicated artists would unify and serve as their own support system. Denmark had the immense fortune to be mentored by and build with several of the greatest Black artists who ever lived; these artists included Ernest Crichlow, Hale Woodruff, Jacob Lawrence and Romare Bearden. In the interview featured on Narrative Network, Denmark discussed the advice Bearden gave him in being true to his passion, accentuating, "Romey said when you can work or create art to express what you experienced, the viewer will be drawn in to hear or see what you heard in your unharnessed artistic expression of ideas of the music, prayer or your surroundings as it was put to you – that's what an artist's job is about."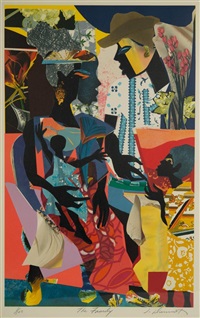 In 1973, James Denmark entered Pratt Institute of Fine Arts, where Lawrence was an instructor, to earn his graduate degree. The institute's location in New York City greater exposed him to other abstract expressionist legends such as William DeKooning, Clifford Still and Jackson Pollack. His experience at Pratt allowed him to expand his learning from the aforementioned Black masters, as these abstract greats also nurtured Denmark's talents and interests. It is at this period in his life that he expands his creative repertoire of charcoal and watercolors art to include collage.
After earning his Master of Fine Arts degree from Pratt Institute of Fine Arts in 1976, James Denmark continued to create. However, he found a new area in which art could positively influence life. Selecting fine arts as well as art therapy as his fields of concentration, he was able to earn his credentials in special education. As an educator and art therapist, Denmark strongly believes in the ability of art education to discover and inform your true self. From an art education vantage, creating artistic expressions can significantly assist educators, therapists and health professionals in better understanding a person.
For the next several decades, James Denmark created beautiful art, ranging from watercolors to woodcuts, that pay homage to the African-American experience. He created in various environments, including at 15 Green Street in the Soho neighborhood of the Manhattan borough and his studio on Washington Avenue, near Brooklyn Navy Yard, of the Brooklyn borough.
After working for thirty-four years as an arts educator with the New York public school system, James Denmark retired. In 2001, he and his wife, Ethel, returned to the south, settling in the rural community of Yemassee, South Carolina. Located in the Low Country, he readily felt welcomed by the Gullah people, who are indigenous to the region. The system of slavery practiced and enforced in the United States attempted to destroy many aspects of African culture. However, due to the geographic location of the Gullah, and the Geechee people, they have been able to retain vestiges, such as spirituality, the importance of family and fictive kin, generational regard, dialect, dress, cooking traditions and sweetgrass basket weaving, unique to their cultures. These vestiges have thrived and continue to inspire many, significantly, Denmark, as he feels that he, too, is inspired and led by Our Ancestral Spirits.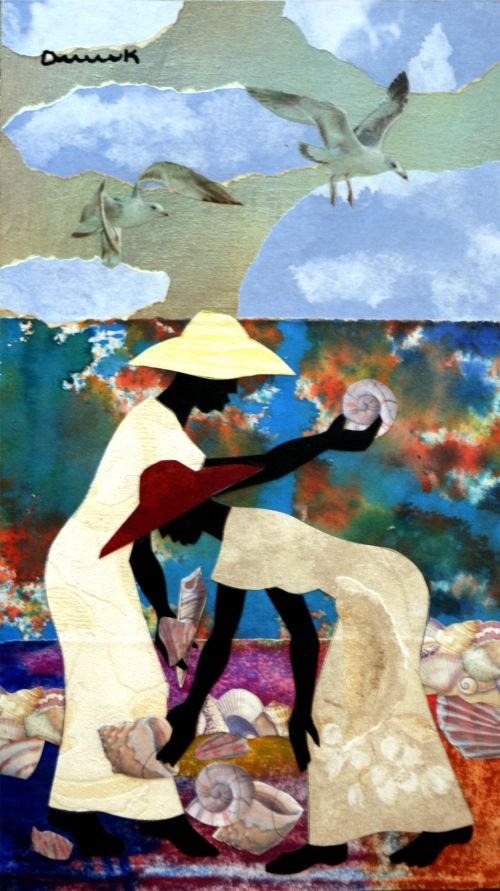 The art of James Denmark remains in high demand and may be viewed in public galleries and private corporations. It can be found in private collections in prestigious institutions such as the Boston Museum of Fine Arts; the Adam Clayton Powell, Jr. State Building in New York City; the Metropolitan Museum of Art in New York City; the Orozco Chapel in Guadalajara, Mexico; San Francisco Museum of Art; High Museum of Art in Atlanta, Georgia; and Cousens Gallery at Martha's Vineyard.
A participant in numerous group shows, James Denmark has had more than sixty one-man exhibitions. His work has exhibited throughout the United States as well as in Japan and Mexico and on the continents of Africa and Europe. He is the recipient of numerous awards including the Living Legends Award of the National Urban League (1980) and the 39th Annual Printing Industry Award of the Schomburg Center for Research in Black Culture (1987).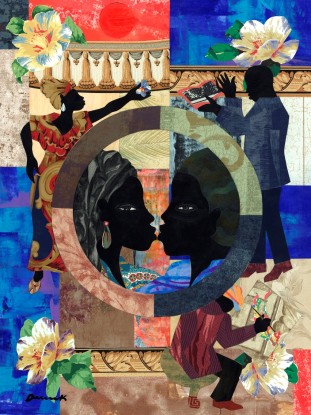 While awards are lovely to receive, perhaps one of the greatest honors that James Denmark experienced was the opportunity to exhibit, in 2012, alongside his grandson, Demetric Denmark. The Denmark men presented in the exhibit, Generations, which was held at the Beaufort Arts Council Gallery in Beaufort, South Carolina. Commenting on such an auspicious occasion, James Denmark shared with Wong Lewis the value of legacy, praising, "That should be our purpose in life – to pass on the knowledge about our culture and history to the next generation. I am so proud that my grandson is following in my footsteps."
Presently, James Denmark continues to create his masterpieces while his wife, Ethel, manages The Denmark Gallery, which is located in their home.
"I always felt that if I could create art – painting, ceramic, glass or collage – and you looked at it and could feel like you were in that church, witnessing that event, in that city or out in those marshes, then I had done my job as an artist. That is still my goal."
~ James Denmark
For greater enlightenment...