"Although her life was short, Prosser was instrumental in assisting many Black students in obtaining funds for college and for graduate study."
~ American Psychological Association
Though the exact location and year of her birth is unknown, it is generally accepted that Inez Beverly was born in the South Central region of Texas on December 30, 1895. Her father, Samuel Andrew Beverly, worked as a waiter and her mother, Viola Beverly (nee Hamilton) was a homemaker. In order to gain a more stable life that offered greater educational opportunities for their eleven children, Samuel and Viola relocated their family several times throughout Texas during Inez's youth. The Beverly children attended segregated schools in various towns such as Yoakum and Corpus Christie. A stellar student, Inez graduated valedictorian of Yoakum Colored School in 1910.
Following her graduation, she matriculated Prairie View Normal and Industrial Institute (known as Prairie View A & M University) in Prairie View, Texas. Two years later, she, again as valedictorian, graduated with her certificate in teaching.
After graduating in 1912, Inez Beverly began teaching English in "Colored" elementary and secondary schools in areas of Austin, Texas. Although she taught in Yoakum and acted as an assistant principal at Clayton Industrial School in Manor, she primarily taught at Anderson High School. There, she also coached students and their involvement with the Interscholastic League, which hosted events for Black students throughout Texas. She worked in these capacities until 1927. It was during this period that she met and fell in love with Allen Rufus Prosser. He worked as an elevator operator, considered a prestigious position for African-American men at that time, in an Austin department store. Allen and Inez married in 1916.
Prosser was passionate about education, as she viewed it as a means of self-development, independence and advancement of others. Although her parents initially sought to send her older brother, Leon, to college, he convinced them that their investment and hopes would be better served by Inez. Her ultimate success as an educator allowed her to academically and financially assist all ten of her siblings to complete high school and five of the Beverly children to graduate from college!
Due to segregation and racial discrimination, Inez Beverly Prosser was unable to earn a graduate degree in Texas. Undeterred, she sought educational opportunities outside Texas. She enrolled at the University of Colorado, which had just awarded its first degree to an African-American woman in 1924. Because she only had a teacher's certificate, she had to take undergraduate courses through correspondence and during the summers that she did not teach. In 1927, Inez Beverly Prosser was graduated from the University of Colorado, earning a Master of Arts degree in education.
While studying for this graduate degree, she took several courses in psychology. Her completion of these courses, according to the biography on Prosser at Psychology's Feminist Voices website, discussed "psychological topics including mental tests, measurement, and research methods. Her thesis project, titled 'The Comparative Reliability of Objective Tests in English Grammar,' examined the reliability of four different English grammar tests that Prosser created herself. These tests included true-false, multiple choice, completion, and matching-type questions. Prosser administered the tests to 303 students of Anderson High School. The statistical analysis led Prosser to conclude that her battery of tests were beneficial in assessing English grammar. She also suggested that the different types of tests may measure different skills."
Upon graduating from University of Colorado, Inez Beverly Prosser transitioned to teaching at historically Black institutions of higher learning. She worked at Tillotson College in Austin for three years and in 1930, Prosser transferred to Tougaloo College, near Jackson, Mississippi. At both institutions, she taught Education and Psychology as well as worked as the Dean and Registrar. While leading at Tougaloo, she also was the principal of Tougaloo High School.
Continuing to always learn in order to educationally advance herself and other Blacks, in 1931, Inez Beverly Prosser was awarded a fellowship by the General Education Board to support her dream of earning her doctoral degree. Seeking to earn this degree from the University of Cincinnati, the focus of her studies was to conduct research to improve teaching of Black children in elementary and secondary schools. Her selection of the University of Cincinnati was because it had a program that was centered upon Black children in diverse educational environments. The fellowship from the Board, which was created by John D. Rockefeller in 1902, awarded $1,000 towards her studies. That autumn, she entered the doctoral program, led by psychologist and dean, Louis Augustus Pechstein, in the College of Education.
At the University of Cincinnati, the theme of Inez Beverly Prosser's research was centered upon non-academic development of African-American children in segregated and integrated schools. It was created to accompany the 1931 dissertation of Mary Crowley that was focused on academic achievement of African-American children in both segregated and integrated schools. Crowley, the Assistant Superintendent of Schools for Hamilton County, assisted Prosser in gaining access to students to conduct her research.
Crowley's research concluded that there were no differences in students' academic achievement regardless of the type of schools they attended. Prosser's conclusions were different. She created a survey of seven questions on personality and character. They were:
What are the social and cultural backgrounds of the children in the two groups?
What are the occupational and activity interests of the two groups?
To what extent do Black children participate in after school activities?
What racial attitudes are each group exhibiting?
What are the emotional responses of the two groups towards being discriminated against?
What is the effect of the school type on the children's personality?
To what degree is aggressiveness and submission fostered in the two groups
She discovered, according to the site of Psychology's Feminist Voices, that "African American students did better in segregated schools. The students enrolled in racially mixed schools were found to be more introverted, struggle more with social maladjustment, and experience more dissatisfaction with family and teacher relationships, among other factors. Prosser's research was based on a small sample size, 32 matched pairs of students, and acknowledged in her dissertation that some of her conclusions were based on non-significant statistical results. She further concluded that different personality types may do better in mixed schools."
In 1932, Prosser returned working at Tougaloo College. There she continued her doctoral research. The following year, her dissertation, "Non-Academic Development of Negro Children in Mixed and Segregated Schools", was approved. When she graduated in 1933 from the University of Cincinnati, Inez Beverly Prosser became the first African-American woman in the United States to earn a doctoral degree in psychology.
In 1933 and 1934, she wrote seven articles that were published in the Mississippi Educational Journal, which was published by the Mississippi Association of Teachers in Colored Schools. The topics of this collection was centered upon teaching English to African-American children.
Very close with her family, she, her husband, Allen, and a sister were returning to Mississippi after visiting her kin in Texas. While traveling, they were struck by another automobile in a head-on collision. Inez was catapulted from the car through the windshield. She was taken to the Tri-State Sanitarium in Shreveport, Louisiana, where she passed from her injuries on September 5, 1934. She was approximately thirty-eight years old.
A member of the American Methodist Episcopal church and Alpha Kappa Alpha sorority, Inez Beverly Prosser was buried at Southern Memorial Park Cemetery in San Antonio, Texas. The magnificent loss of her and what she could have accomplished is reflected in the words engraved on her tombstone: "How many hopes lie buried here."
Her research, including documents, and ephemera have been donated to the Archives of the History of American Psychology at the University of Akron in Ohio. It was considered controversial at times over the next two decades that led to the groundbreaking Brown v. Board of Education decision of the U.S. Supreme Court in 1954. Aspects of her research, according to the biography on Inez Beverly Prosser featured on the website of the American Psychological Association, was "supported by some prominent African-Americans such as Carter Woodson and W.E.B. DuBois, who reluctantly endorsed segregated schools until such time that prejudicial attitudes of White teachers would sufficiently change to offer a positive experience for Black children."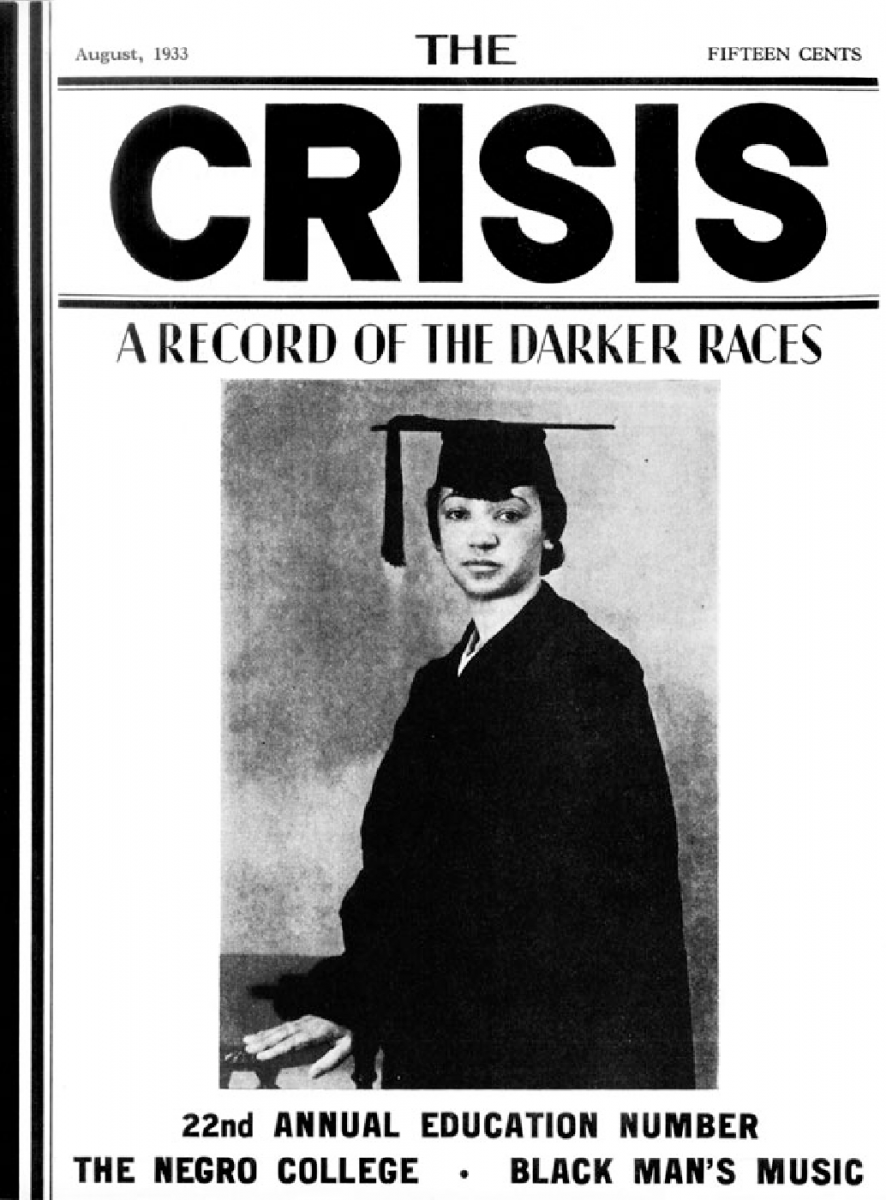 Although she died at such a young age, Inez Beverly Prosser has been honored by various organizations, such as the National Association for the Advancement of Colored People (NAACP) and institutions including her alma mater, the University of Cincinnati. For her historical accomplishment in attaining her doctoral degree, in 1933, she was featured on the cover of The Crisis, the monthly magazine of the NAACP. A symposium was held in tribute to the 75th anniversary of her earning her doctorate. In attendance were members of both the Beverly and Prosser families, including Bernice Beverly Arbor, the youngest of Inez's ten siblings.
For greater enlightenment...