"Hazel Johnson's accomplishments were diverse and noteworthy."
~ Mary T. Sarnecky, author, Army Women's Foundation
On October 10, 1927 in West Chester, Pennsylvania, a baby girl was born to Clarence L. and Garnett (née Henley) Johnson; they named her Hazel Winifred. As a family of farmers, she and her four brothers and two sisters assisted their parents. According to the biography of Hazel Johnson Brown by Mary T. Sarnecky at Army Women's Foundation site, "Discipline, diligence, unity, and the pursuit of education were important household values. All family members worked their acreage while holding down other jobs in the community. Johnson, for instance, cared for her siblings and cooked, cleaned, washed, and ironed at home."
Hazel excelled as a student at East Whiteland Elementary School. As a young girl inspired to study medicine and assist others, she set her aspirations on nursing. Upon graduating Tredyffrin-Easttown Junior Senior High School, she attempted to enter the West Chester School of Nursing and the nursing program at Chester County Hospital. However, she was excluded from admittance because of her race. A nurse, Elizabeth Fritz, who was White, had worked with the Johnson family. She was impressed with Hazel's intelligence, commitment, warm personality and determination. Fritz aided Hazel in applying to Harlem Hospital School of Nursing, where she was readily accepted. In 1950, Hazel Johnson graduated, earning her diploma in nursing.
Hazel Johnson spent the next three years working at Harlem Hospital before returning to Pennsylvania. She worked at the Philadelphia Veterans Administration (VA) Hospital, becoming head nurse of the medical cardiovascular ward within three months of her hire. As she worked this position, she began studying for an undergraduate degree at Villanova University. Her expertise and guidance impressed her colleagues, who proffered that she could benefit from joining the military.
Always interested in personal and career advancement, she became interested in professional opportunities and exploring the world that the U.S. military could provide. This had to be exciting, as President Harry S. Truman, in 1948, banned segregation and ordered for the desegregation of the U.S. armed forces. In the Visionary Leader biography on Hazel Johnson on the website of the National Visionary Leadership Project, it references her initial experience, stating, "After one meeting with a recruiter, she enlisted for what she thought would be a two-year tour. Instead, she swiftly rose through the ranks, enjoying a remarkable military career that spanned almost three decades."
In 1955, Hazel Johnson enlisted to serve in the U.S. Army Nurse Corps. She first served on the female medical-surgical ward at Walter Reed Army Medical Center in Bethesda, Maryland. This was followed by an assignment on an obstetrical unit at 8169th Hospital at Camp Zama, a United States Army post located in the cities of Zama and Sagamihara, in the Kanagawa Prefecture of Japan.
Two years later, she completed her tour of duty and returned to working at the VA and studying for her degree. In 1958, she entered the Army Nurse Corps' Registered Nurse Student Program, as it offered monies for those with a nursing diploma who were pursuing a degree in exchange for military service. In 1959, Johnson earned her Bachelor of Science degree in Nursing and returned to working within the U.S. Army.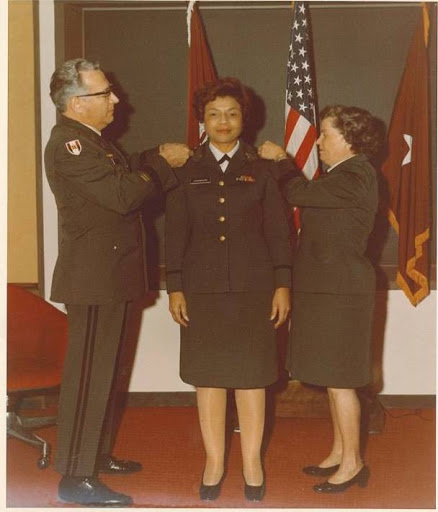 Over the next several years, Hazel Johnson, as an operating room nurse, was sent to Madigan General Hospital, located on Joint Base Lewis-McChord just outside Lakewood, Washington; Letterman General Hospital in San Francisco, California and back at Walter Reed. Continuing to work in agreement with the Army Nurse Corps' support, she earned a Master of Science degree in Nursing Education from Teachers College at Columbia University in the City of New York in 1963.
She put her new graduate degree to use, teaching operating procedures to students at Letterman. Her following positions included acting as an administrator of central materials services, first nurse, and director of the Field Sterilization Equipment Development Project. In 1973, Johnson initiated attaining her doctorate in nursing at Catholic University. Just as with her previous degrees, she was encouraged by the U.S. Army Nurse Corps.
Three years later, Hazel Johnson accepted the offer to act as the director and assistant dean of the Walter Reed Army Institute of Nursing. In 1978, she simultaneously oversaw the closing of the nursing school while researching and defending her dissertation. She was then sent to Seoul, Korea, where she served as chief nurse of the 121st Evacuation Hospital.
After ending her 1-year assignment, in 1979, Dr. Hazel Johnson became the 16th Chief of the Army Nurse Corps, commanding more than 7,000 nurses in the Army National Guard and Army Reserves. With this honor was also an accompanying promotion to Brigadier General. Upon receiving these promotions, Johnson, according to her biography on the African American Registry, affirmed, "Race is an incidence of birth … I hope the criterion for selection didn't include race but competence."
With these two positions, Hazel Johnson made history as the first Black woman U.S. Army general; the third female general in the Army and the first Army Nurse Corps Chief with an earned doctorate in the Department of Defense!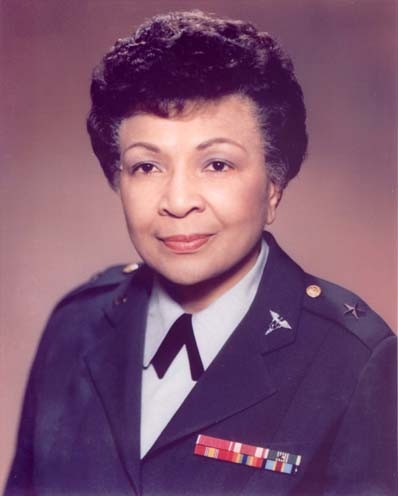 In her new positions, Dr. Johnson, according to her Visionary Leader biography, researched, wrote and "set policy and oversaw operations in eight Army medical centers, fifty-six community hospitals and one hundred and forty-three freestanding clinics in the United States, Japan, Korea, Germany, Italy and Panama."
Sarnecky provided even greater insight in her article, detailing the comprehensive and progressive work of Johnson. Among her numerous accomplishments and advancements, Dr. Hazel Johnson "fostered the opening of access to academic scholarships for Reserve Officer Training Corps (ROTC) nursing students and established a clinical nursing summer camp for ROTC cadets. She published the first Standards of Practice for the Army Nurse Corps. She encouraged further development and implementation of quality assurance measures in treatment facilities. She arranged the first Phyllis Verhonick Nursing Research Symposium and encouraged Army nurses to implement research, write, and publish their findings. She generated the initial blueprint for the first Strategic Planning Conference that vested representatives of the rank and file of Army nurses with shared responsibility for planning the immediate future of the Corps. She promoted the movement to replace Army Nurse Corps-based specialty courses with graduate education in civilian academic institutions. She laid the foundation for expanded involvement of Reserve and National Guard nurses in top management positions."
In 1981, Hazel Johnson married David Brown. Though their marriage was short-lived, she retained his surname.
In 1983, Hazel Johnson Brown retired from the Army Nurse Corps. However, in her civilian life, she continued to engage, educate and lead others in nursing. That year, she began teaching as a professor at Georgetown University School of Nursing in Washington, D.C., followed by a professor position in the School of Nursing at George Mason University in Virginia. It was at George Mason University where she was integral in founding its Center for Health Policy; she also served as its director.
Additionally, with the American Nurses Association, Hazel Johnson Brown was an administrative consultant and, later, Director in their Office of Governmental Affairs, leading its government relations unit. In 1990, she volunteered to work in the surgical suite at Fort Belvoir Community Hospital to assist those who served during Operation Desert Storm. Located in Fort Belvoir, Virginia, this site is a military treatment facility operated by the Department of Defense.
After retiring from teaching in 1997, she continued to serve on various boards of health administration organizations and academic institutions.
Sadly, she was diagnosed with Alzheimer's disease and moved to Wilmington, Delaware, where she lived with her sister, Gloria Smith. On August 5, 2011, Hazel Johnson Brown passed away; she was 83 years old.
The incredible legacy of Brigadier General Dr. Hazel Johnson Brown is immeasurable. Among her many accolades is the Candace Award from the National Coalition of 100 Black Women. She also was the recipient of the Distinguished Service Medal, the Legion of Merit, the Meritorious Service Medal and the Army Commendation Medal, all awarded by the U.S. Army.
"Positive progress towards excellence, that's what we want … if you stand still and settle for the status quo, that's exactly what you will have."
~ Hazel Johnson Brown
For greater enlightenment...