Located at 2301 Orleans Avenue in the Tremé community of New Orleans, Louisiana, Dooky Chase is a wonderful dining establishment that has proudly serviced its patrons for four generations!
Founded by Edgar "Dooky" Chase, Sr. and Emily Chase (née Tenette), it began in 1939 as a stand where they sold lottery tickets and sold homemade po'boy sandwiches. In 1941, the Chase couple opened its doors at a site located on a corner of Orleans Avenue and North Miro Street, where it, according to the restaurant's website, "blossomed into a thriving bar and later a respected family restaurant … (that) soon became the meeting place for music, entertainment, civil rights and culture in New Orleans."
In 1944, sixteen-year old Edgar "Dooky" Chase, Jr. was already becoming prominent as a trumpeter and leading his own sixteen-piece band. Playing be-bop, jazz and swing, he featured his sister, Doris, as its vocalist. Having led his band, that was "at one time, the 'most progressive in the South' … he promoted the first racially integrated concert at the Municipal Auditorium", per its website.
In between his music and activism, he met and courted Leah Lange. Born in New Orleans and reared in nearby Madisonville, she returned to live in New Orleans in 1941, seeking better opportunities. Because many men were enlisted for military service, women were able to work in positions of nontraditional employment from which they were all too often barred.
Lange was able to greatly benefit from this dearth. According to the website of the National Visionary Leadership Project, she "had a colorful work history including managing two amateur boxers and becoming the first woman to mark the racehorse board for a local bookie. Her favorite job, though, was waiting tables in the French Quarter. It was here that she developed her love for food and feeding others." Her work at the Colonial Restaurant and The Coffee Pot eatery was perfect training for her next life step. In "Leah Chase, 'A Legend' Whose Restaurant Dooky Chase's Helped Change New Orleans, Dies at 96" written by Ian McNulty that was featured at NOLA.com, Leah exclaimed, "I saw just how wonderful the restaurant business was, how you could sit down and enjoy a meal and have someone serve you … Oh, I thought, that was the most beautiful thing I'd ever seen."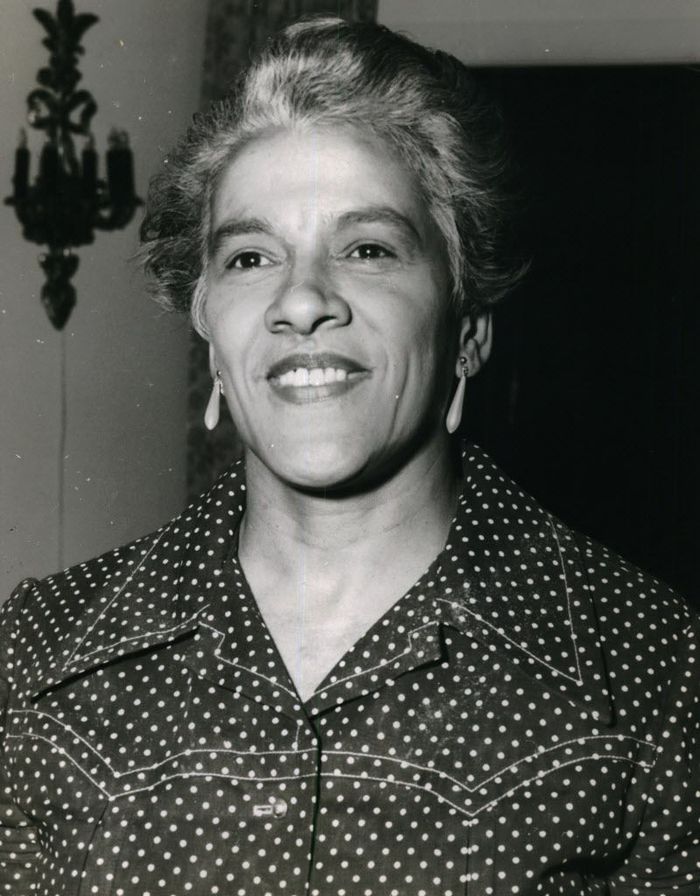 In 1946, Edgar Jr. and Leah married; they were blessed with four children. Leah, initially, worked in any capacity that her in-laws needed at their establishment. One of those needs would be cooking. Before long, she found her own niche, creating in the kitchen.
As time passed, she and her husband assumed proprietorship. They, ultimately, converted it from being a tavern built in a double shotgun building to a sit-down establishment and called it "Dooky Chase's Restaurant". Leah incorporated her own family's Creole dishes as well as those often served in upscale eateries that barred Blacks. The delicious fare and welcoming atmosphere at Dooky Chase's Restaurant soon endeared it to many, prompting it to become a favorite place to dine in New Orleans.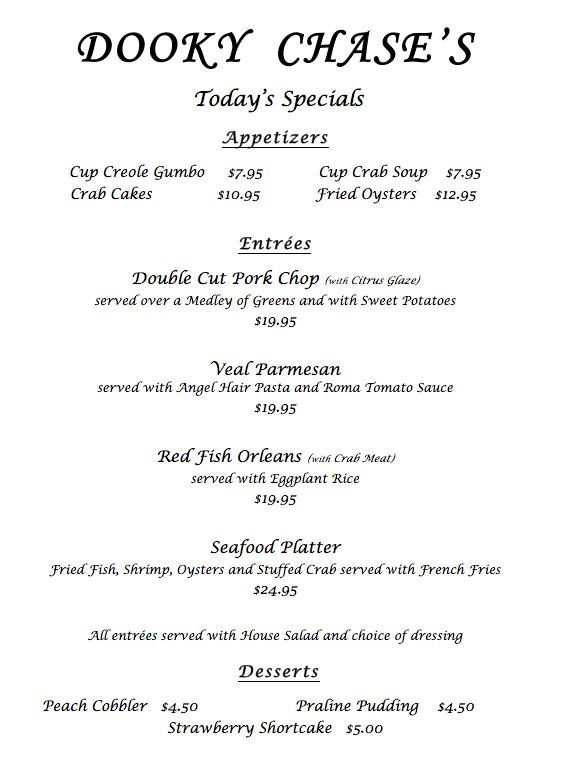 By the time of the Civil Rights Movement, Dooky Chase, as it was called for short, became more significant than simply a dining destination. An institution for the New Orleans Black community, it became one of the few places in the city where African Americans could discuss political business and organization. This business involved activities such as strategy meetings and voter registration.
The Chase couple hosted and fed everyday citizens; members of organizations like The Freedom Riders and the National Association for the Advancement of Colored People (NAACP); and civic figures including Rev. Dr. Martin Luther King, Jr. and New Orleans' own reverend Avery Alexander, Virginia Durr, Alexander Pierre "A.P." Tureaud, Ernest "Dutch" Morial and Rudy Lombard. Lombard, a civil rights activist, healthcare advocate and New Orleans culture aficionado, would co-author with Nathaniel Burton Creole Feast: 15 Master Chefs of New Orleans Reveal Their Secrets (1978). One of these master chefs featured was Leah Chase.
Because of the nature of these civil rights meetings, they were clandestine. Held in the dining room on the second floor at Dooky Chase, Leach Chase served her signature gumbo and fried chicken to the activists. It was here in the later years of the Movement that King, Jr. and others learned more about bus boycotts due to the success of the Baton Rouge Boycott in 1953. The Louisiana boycott would inspire the Montgomery bus boycott.
Also adding to their great significance was the Chases honored the checks of many Blacks because there were no Black-owned banks in their communities. A majority of them worked blue-collar professions alongside the Mississippi River and found it practically impossible to be treated ethically by White financial institutions. At Dooky Chase, they were treated with dignity, could dine and enjoy culture, which included live musical performances and beautiful art.
Many famous people also felt at home at Dooky Chase's Restaurant. These diners include Hank Aaron, James Baldwin, Beyoncé and Jay-Z, Bill and Camille Cosby, Keith David, Duke Ellington, Ernest Gaines, Lena Horne and President George W. Bush and President Barack H. Obama. Ray Charles, a red beans and rice fan, even sang about the restaurant in "Early Morning Blues". He crooned, "I went to Dooky Chase's to get something to eat/The waitress looked at me and said, Ray, you sure look beat.'"
Leah Chase actively supported Black artists and promoted Black art. She catered gallery openings for upcoming and established artists; collected art created by African-American artists such as Ron Bechet, John T. Biggers, Elizabeth Catlett, David Driskell, Lois Mailou Jones, Chase Kamata, Jacob Lawrence, Samella Lewis, Sue Jane Mitchell Smock, Mose Tolliver and Clifton Webb; and displayed her beautiful pieces inside Dooky Chase.
In 2005, Hurricane Katrina devastated New Orleans and the Chase restaurant was not exempt. Fortunately, a grandson was able to save all the artwork, later storing it for preservation. For a year, Leah and Dooky lived in his-and-hers trailers across the street from their establishment. In 2006, a fundraiser garnered more than $40,000 to assist in rebuilding and renovating Dooky Chase's Restaurant.
In 2007, Dooky Chase's Restaurant opened its doors again and installed inside was Leah's treasured art collection.
In 2013, the Chase couple also developed the Edgar L. "Dooky" Jr. and Leah Chase Family Foundation whose mission, according to their website, is to "cultivate and support historically disenfranchised organizations by making significant contributions to education, creative and culinary arts, and social justice." Many local businesses, including Entergy New Orleans and Liberty Bank, have supported the vision of the Chases.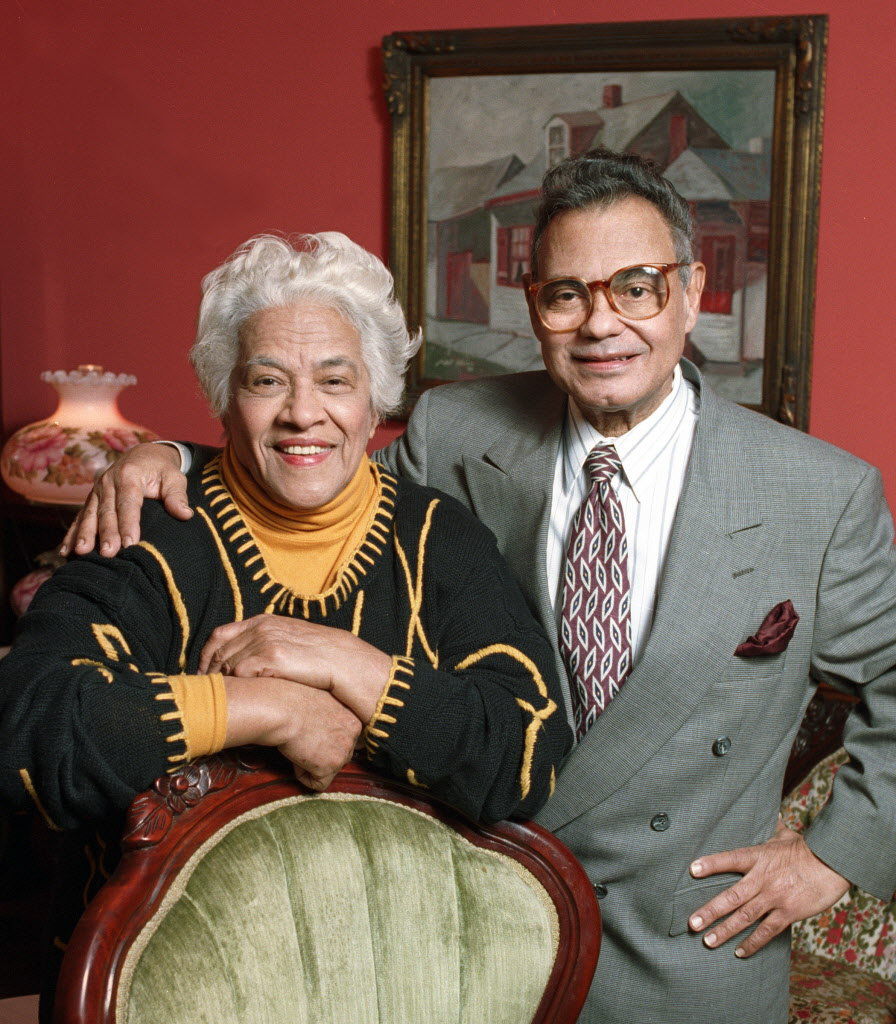 Sadly, Edgar L. "Dooky" Jr. died in 2016 and Leah Chase, affectionately known as the "Queen of Creole Cuisine", passed away in 2019. Their descendants are great custodians of their vibrant legacy, which includes Dooky Chase's Restaurant.
It is open for lunch, Tuesday through Friday, from 11am to 3pm and only for dinner on Fridays from 5:30pm to 9:30pm. On the menu, their website shares it offers a "… delicious lunch buffet that changes daily. You can always find New Orleans' staples such as red beans and rice and hot sausage on the buffet. On Fridays we offer shrimp and lima beans instead of the red beans. You may also order Creole favorites such as Gumbo, Poor Boys, Shrimp Clemenceau, and Stuffed Shrimp". On Friday evenings, dinner is comprised of "Our 'regular' menu features … Dooky Chase favorites like Fried Chicken, Shrimp Clemenceau, Chicken Creole, and Stuffed Shrimp."
The acclaimed Food & Wine honored Dooky Chase's Restaurant in 2018 by ranking it as one of the "40 Most Important Restaurants of the Past 40 Years"! Because of their immense popularity, reservations are to be made and can be arranged by telephone or email.