"No one has a story like Dapper Dan. His evolution from hustler to fashion icon is the stuff of legend."
~ Janelle Okwodu, journalist, Vogue
On August 8, 1944 a baby boy was born in the Harlem community of the Manhattan borough to Robert and Lily Day. They named him Daniel and he would be one of the couple's seven children. His father worked as a civil servant while his mother was a homemaker. A bright and industrious child, he grew to be a street-savvy, young adult. Daniel, now known as "Dapper Dan" had become involved in the trappings, including alcohol, drugs and gambling, of an urban lifestyle.
In his early twenties, he worked at a Black newspaper, Forty Acres and a Mule, while living typical of a hustler in the bustling metropolis of New York City. Day was active in a collaboration of Columbia University in the City of New York and the local branch of the Urban League. His engagement led to his touring of Africa from 1968 until 1974.
Upon re-settling in Harlem after his return home to the United States, he resumed his habits as a hustler. Active in the streets, Day even sold stolen goods from his car and gambled. Deciding to enter the business of style, he initially sought to be a clothing wholesaler. However, in attempting to purchase higher-end textiles and luxury pieces, including exotic hides and furs, he constantly faced obstacles of racial and community discrimination.
An autodidact, his efforts were undeterred, as he remained confident in his vision. He taught himself to design, including how to sew and screen print. Daniel Day then used profits from his gambling to open his first store. Premiering in 1982, "Dapper Dan's Boutique" was located at 35 E. 125th Street, between Madison Avenue and Fifth Avenue, in Harlem. His boutique carried the lavish items he created. His designs instantly became a hit to Harlemites, who are known for the elite and keen sense of style and fashion.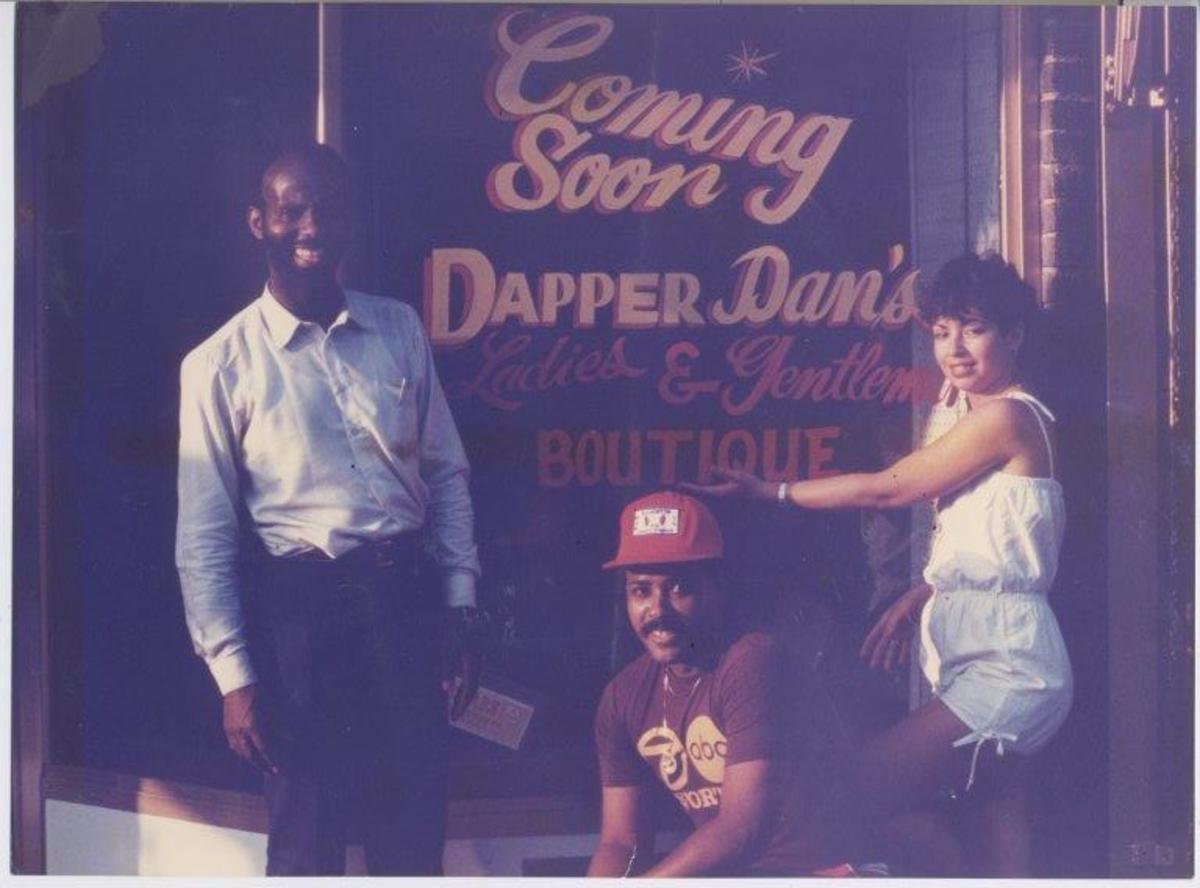 An integral part of his designs were "bootlegged", or illegal use, of textiles that featured the design logos of famous European luxury houses, notably Fendi, Louis Vuitton and Gucci. The textiles of Day were actually created by him, screen printing the established designers' logos on his textiles. His reasons for their use were twofold: the logos were instantly recognizable as well as the logos represented opulence and wealth. As such, they were constantly in demand. The extreme remoteness of accessibility and attainment for many consumers in urban communities, like Harlem, but also in suburban areas had already led to the creation of a new industry, bootlegging luxury wares of designers.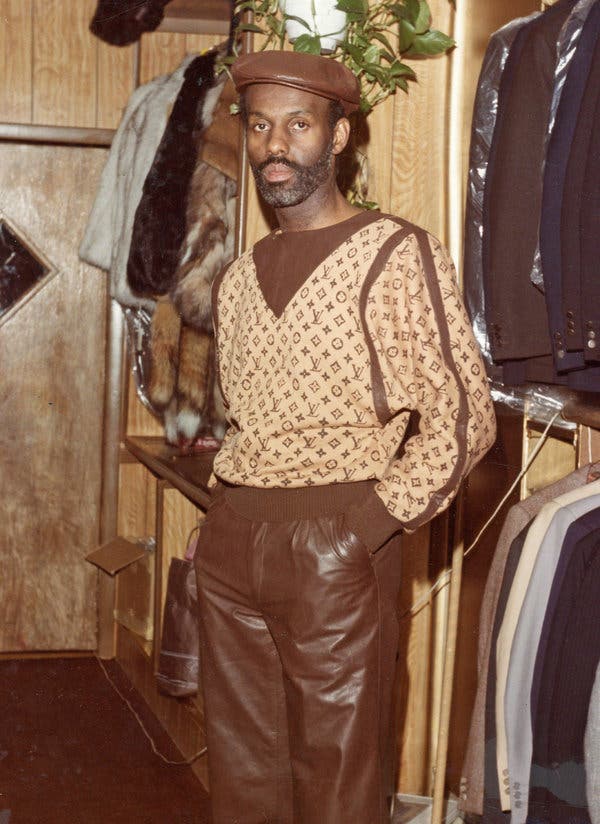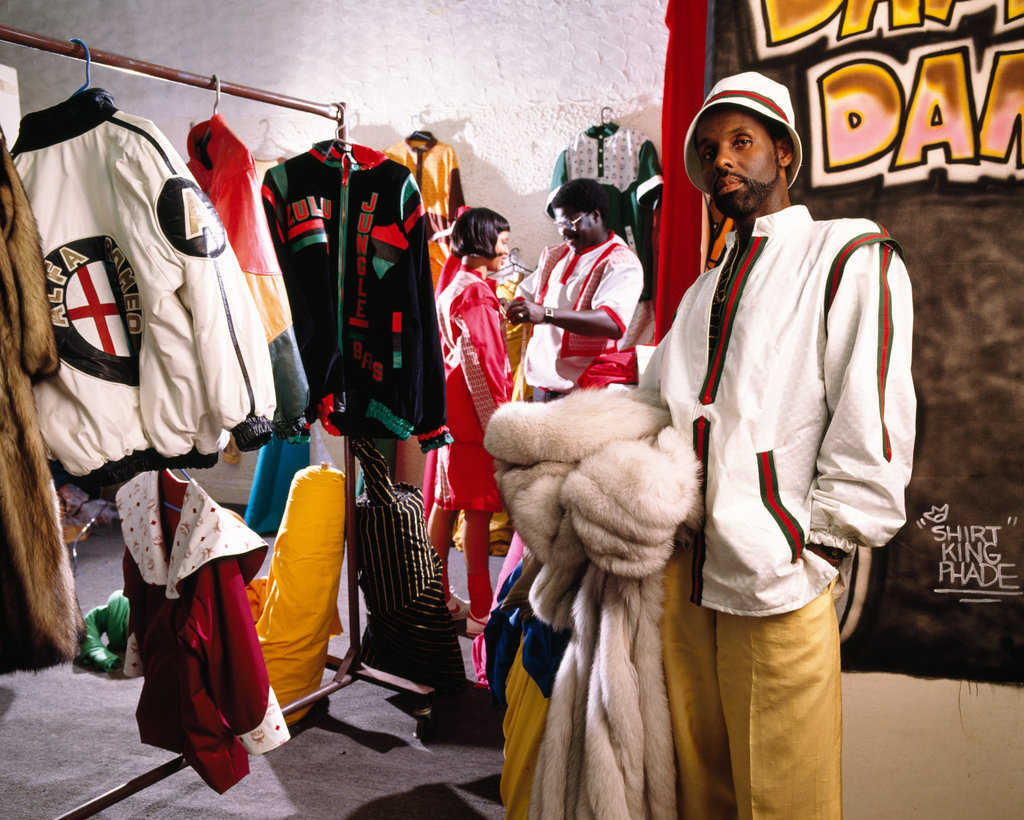 Day's brilliant designs only added to the proliferation of the illegal industry. However, clients of Day were, overall, unconcerned. Many of these persons were quickly gaining monies due to two phenomena, creation of crack cocaine and the growth of hip-hop culture, that would drastically impact the Black community for decades to come.
The demand for his designs soon made history, as street legends of Harlem and other urban communities as well as icons of the Golden Era of hip-hop culture became his clients. These consumers include hustlers such as druglord Alpo Martinez. Martinez was the basis of "Rico", as portrayed by Harlemite hip-hop legend, Cam'ron, in the 2002 underground cult classic, Paid in Full.
The title of the film, Paid in Full, is inspired from the 1987 inaugural platinum hit and LP, Paid in Full, by Eric B. and Rakim. This album forever changed the cultural landscape of hip-hop. Not only had the content and delivery of lyrics of Rakim and the music mixed by Eric B. ever been experienced by listeners but many viewers had never before seen the designs of their clothing. Exquisitely created by Dapper Dan, the rap duo's clothing was customized, featuring "Gucci"-emblazoned, suede and leather clothing!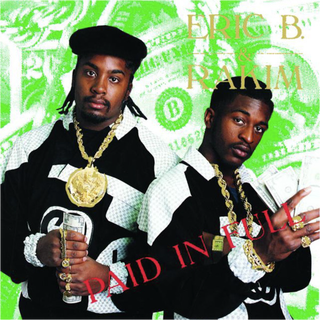 Daniel Day continued working with the award-winning duo and his designs are seen on Follow the Leader.  On the back of Eric B.'s jacket is the Gucci symbol.  On Rakim's jacket, Day placed the emblem, a stylized sun, of the Five Percenters, also known as the Nation of Gods and Earths.  The pioneering lyricist is a member of the Five-Percent Nation, a religious organization that branched out from the Nation of Islam.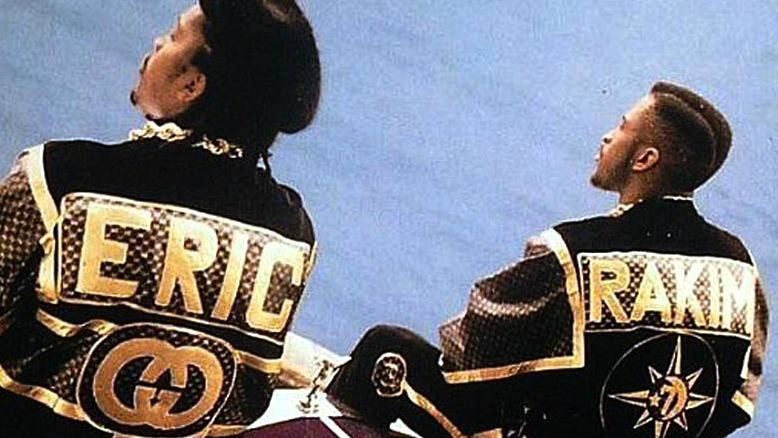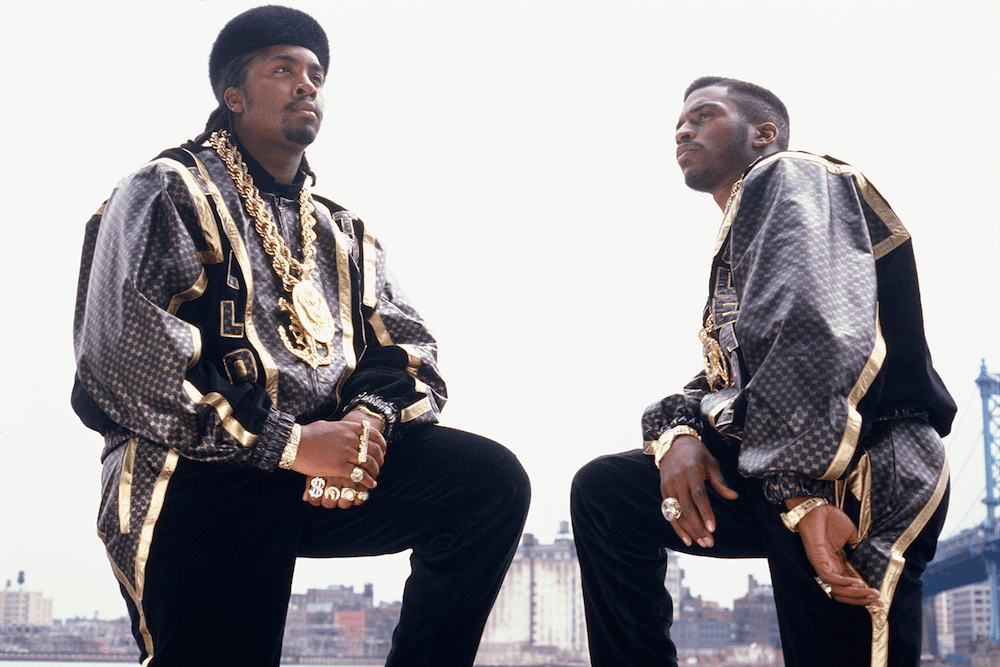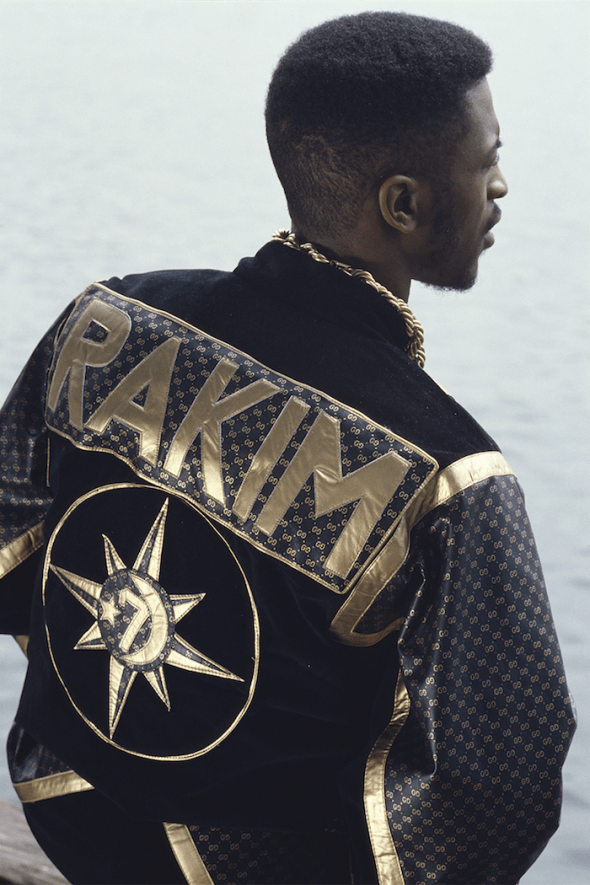 Dapper Dan's designs would soon be worn by numerous figures who wanted to be seen as cutting edge in fashion. He actually styled rapper LL Cool J first, in 1985, prior to Eric B. and Rakim. Other customers included hip-hop artists Salt-n-Pepa, Big Daddy Kane and The Fat Boys; R&B singers, like Bobby Brown; and champion athletes, such as boxers Mike Tyson and Floyd Mayweather. His work was wanted so much that Dapper Dan's boutique was, at times, open 24 hours per day, seven days per week!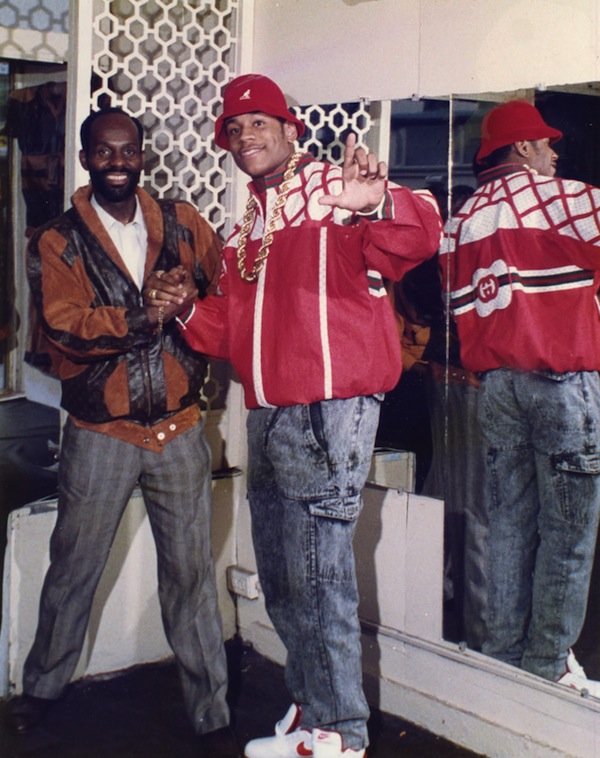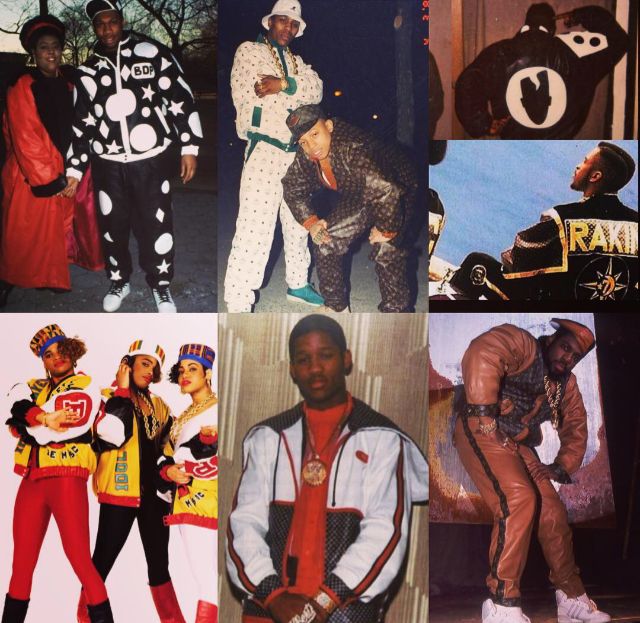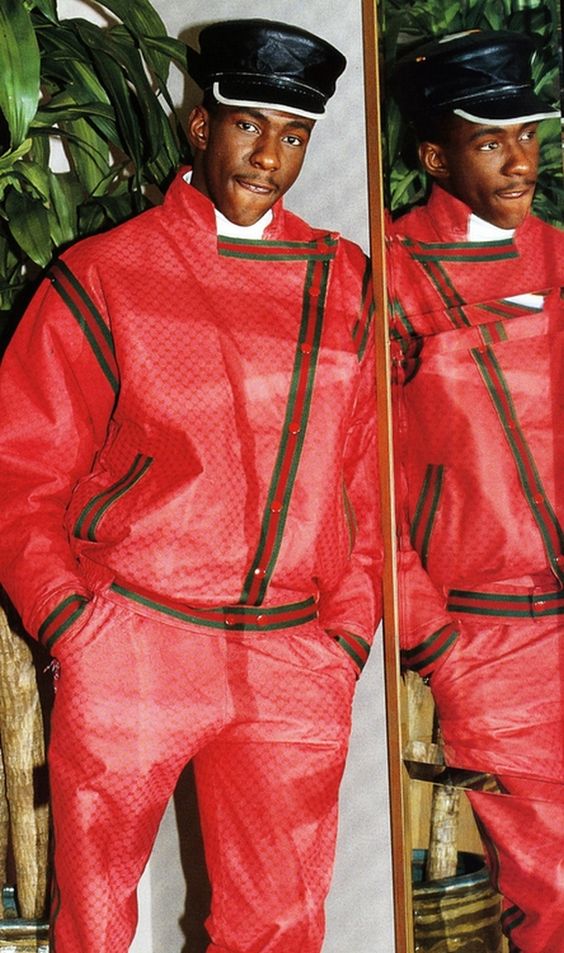 Before long, his designs caught the attention of the luxury houses he was counterfeiting. In the wee hours of an August morning in 1988, a brawl broke out between Tyson and boxer Mitch Green outside Day's store. Green, who sought a rematch with Tyson, heard that Tyson and several of his friends were shopping at the exclusive establishment. This street fight captured the attention of mainstream media. Of significance was the activities of Day and Tyson even wearing a jacket that prominently featured fraudulent Fendi designs.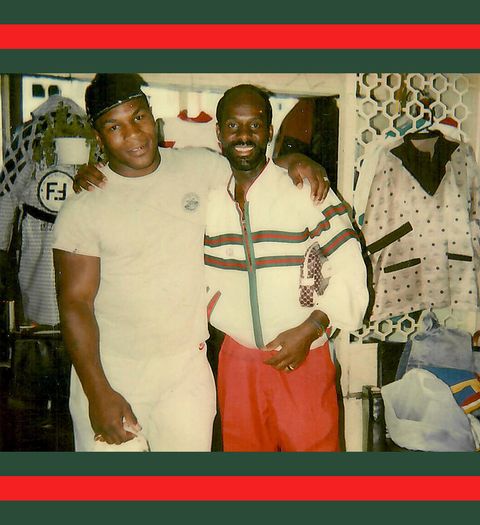 Accordingly, raids led to lawsuits and, ultimately, the closure of his Harlem boutique. Ironically, one of the persons present at a 1992 raid and in prosecuting him was future U.S. Supreme Court Justice Sonia Sotomayor. In an interview, "Behind the Moment: Dapper Dan's Ascent From Hustler to Fashion Innovator", with Vogue by Janelle Okwodu, Day exclaimed, she "… at that time … was working for Fendi, and she came on a raid … I had a coat hanging there [that] I had just finished for Big Daddy Kane. She looked at that coat and said, 'Wow, this guy belongs downtown.' She paid me a compliment, and then raided the store. Took everything."
Dapper Dan was summarily blackballed and excluded from the world of design for more than two decades. However, he still continued to work, guerilla-style, for several of the same celebrities, including Mayweather, he originally styled.
Yet, time has an ironic sense. In 2017, Alessandro Michele, the creative director for Gucci, premiered a design that echoed one of Day's. It was of leather, featuring the logo of Gucci and was lined with fur; most notable, was its balloon sleeves. However, this new design was a copy of a piece originally designed for African-American track star and Olympian, Diane Dixon. She posted herself in the original Dapper Dan bomber side-by-side to a picture of the Michele design, condemning Gucci for not giving credit to Day.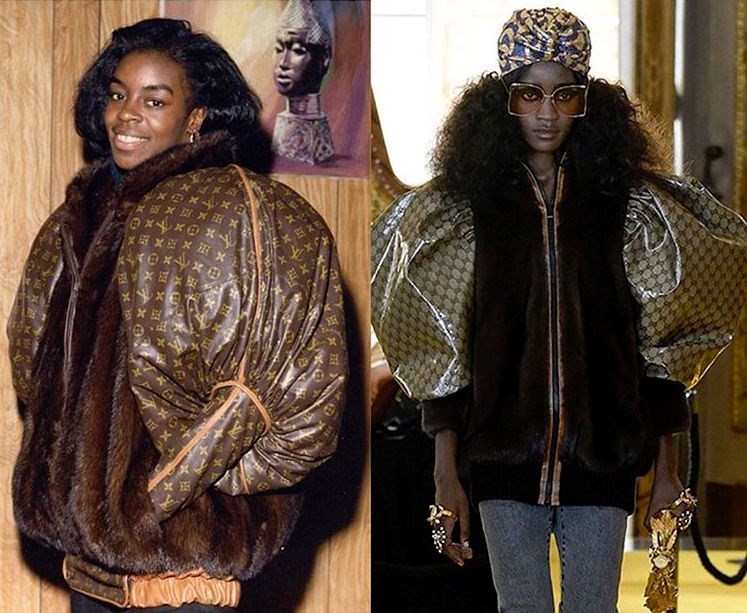 Social media exploded about the blatant hypocrisy and racism of Gucci. These were just another instance of work of Black designers being stolen and/or co-opted. It immediately gained Dapper Dan's attention, which he described in the Vogue article, ""Let's talk about how this really went down … I went from re-fashioning fashion to having fashion re-fashion me."
Fortunately, Gucci corrected themselves, attributing Day, and even developed a collaboration with the avant-garde designer. Okwodu shared in her article, "After years of brands taking "inspiration" from creators of color without giving them credit, netizens weren't going to let things slide. The situation led to one of the most fruitful collaborations in recent memory, a rare moment where online outrage blossomed into a mutually beneficial partnership between Gucci and Dap that has pushed fashion forward."
Respecting his race, culture, talent, skills and creativity as well as the collective struggle and his community, he ensured that work from their collaboration would be housed in his beloved Harlem. Day shared in the Vogue interview, "I told my son that if they were serious [about collaboration,] tell them to come to Harlem; they did … I grew up in the '60s, and what I learned from the civil rights movement is that the most important thing that a person of color can do is have a seat at the table."
Since, Dapper Dan and Gucci have worked together in creating a menswear line. Their collaboration also include the opening of an atelier at 122nd Street and Lenox Avenue. Open by appointment only, it is the first luxury house situated in Harlem. The brownstone in which it is located is impeccably designed and in it includes fabrics, hardware, prints and textiles available for customized designs for their clients. In "Gucci and Dapper Dan Open New Studio Atelier in Harlem" of Fashion Network, the author raves, "The new studio atelier opens twenty-five years after the closing of Dapper Dan's Boutique. The 4,700-square-foot space combines both Michele and Dan's respective aesthetics, featuring velvet partitions, red boiserie wall panels, leather and wood pieces and vintage furniture, and Persian rugs, as well as historic details like crown moldings, decorative millwork and pocket doors that have been left intact from when the space was first designed by A.B. Van Dusen. In addition, archival photos from Dapper Dan's hang throughout the space to provide historical relevance."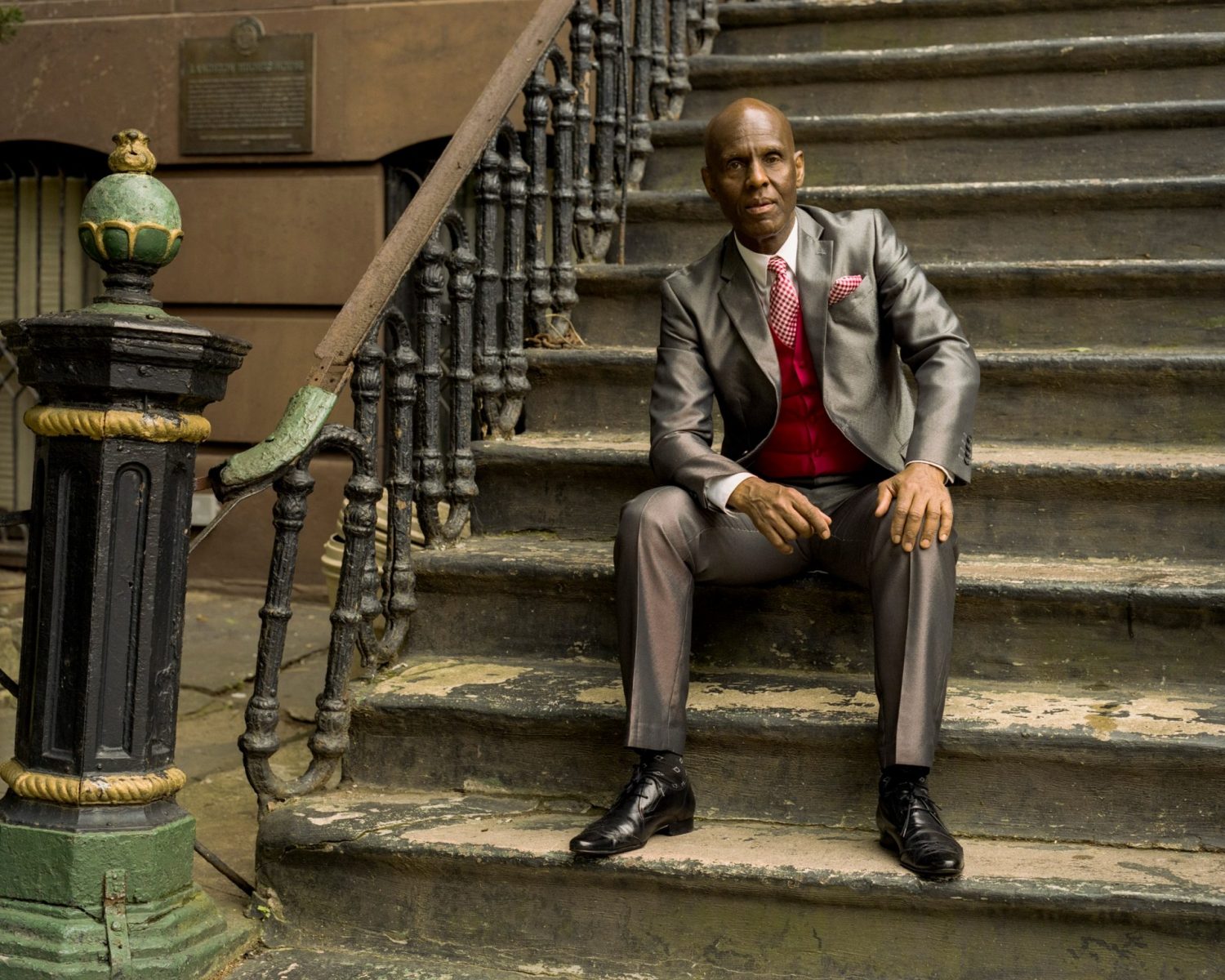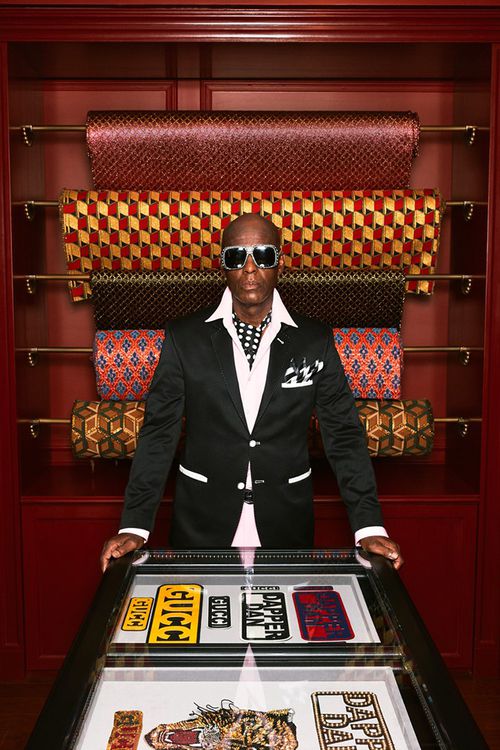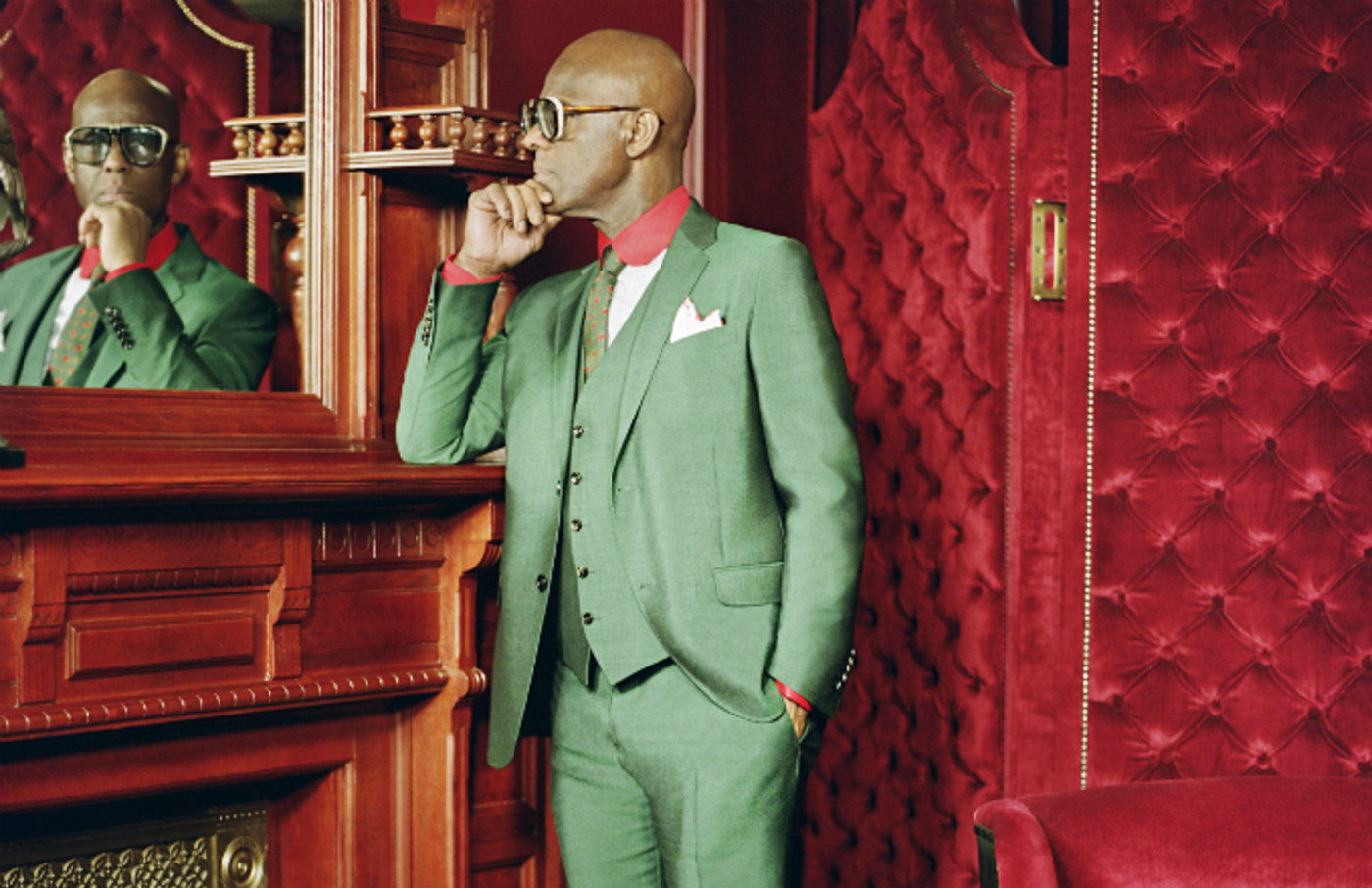 He has been referenced in hip-hop lyrics by greats such as Jay-Z and appeared on television talk shows and the series, Luke Cage. The Business of Fashion also cites in their brief biography on Dapper Dan that he was a "part of the MOMA's Items: Is Fashion Modern? exhibit, and he starred in AT&T's short film chronicling street style history alongside A$AP Rocky", another Harlemite.
In 2019, Day released his Dapper Dan, Made in Harlem: a Memoir. A New York Times bestseller, it has been critically-acclaimed. It has been praised by persons such as Ava DuVernay, award-winning director of Middle of Nowhere, I Will Follow, Selma, 13th and A Wrinkle in Time. She proclaimed, "Dapper Dan is a legend, an icon, a beacon of inspiration to many in the Black community. His story isn't just about fashion. It's about tenacity, curiosity, artistry, hustle, love, and a singular determination to live our dreams out loud."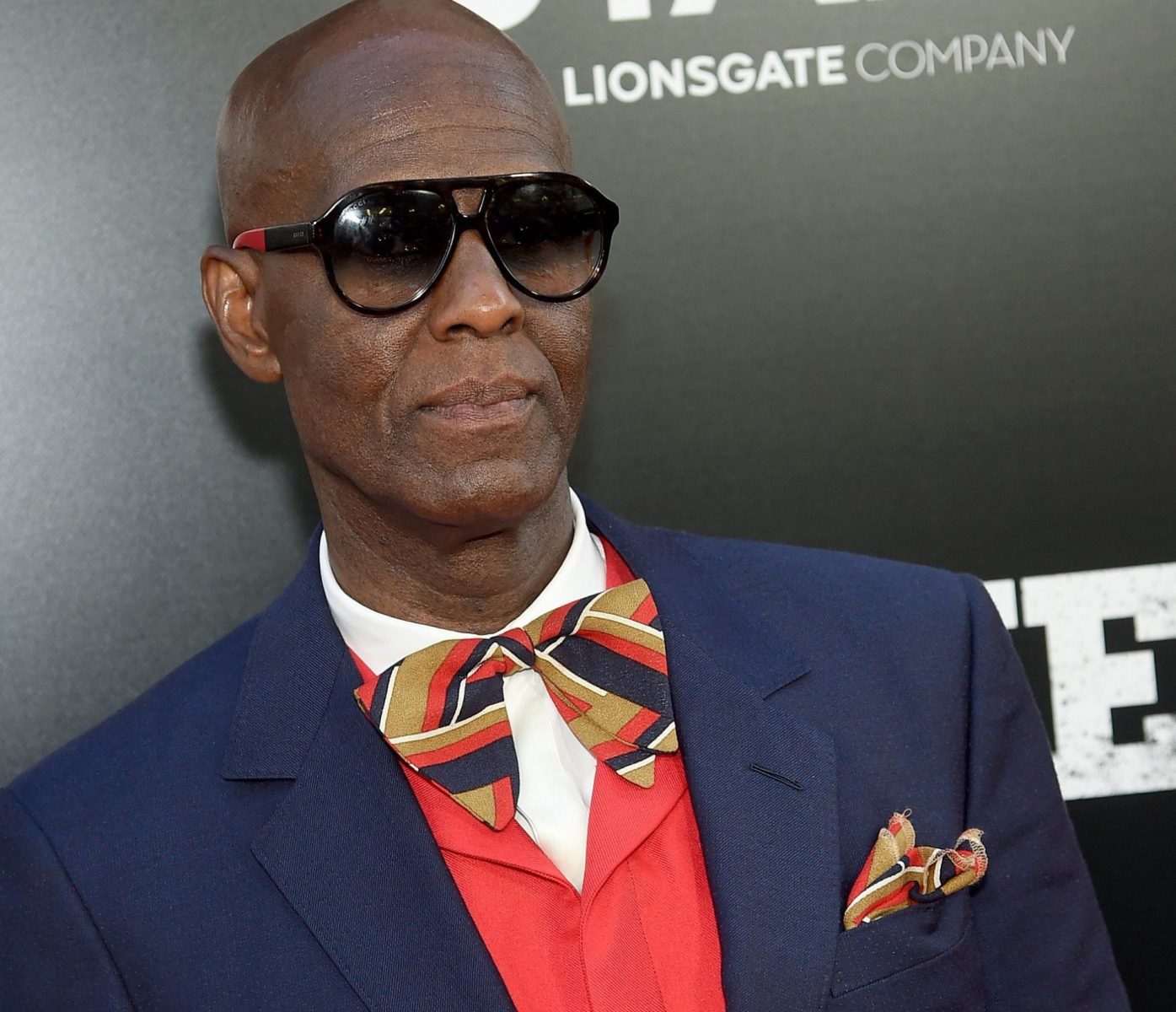 Sony Pictures has purchased the rights to adapt Daniel Day's memoir to the big screen and he will serve as the executive producer. Dapper Dan continues to be a formidable force in style and more, a brilliant example of Black genius!
"What I do [is] translate culture, make it possible for our culture to continue to have a significant impact on global fashion … America has the ability to bring us all together, and I want my legacy to be that I did something to make that happen."
~ Dapper Dan
For greater enlightenment...