California … land of golden sunrises, azure waters and days that seem to go on forever. Hopefully, Black culture comes to mind and the California African American Museum (CAAM) has been working diligently to this end.
Presently located in Exposition Park of Los Angeles, the California African American Museum was founded in 1977. The 44, 000 square foot space was designed by African-American architects Jack Haywood and Vincent Proby. Its mission, according to its statement, is "… to research, collect, preserve, and interpret for public enrichment the history, art, and culture of African Americans with an emphasis on California and the western United States."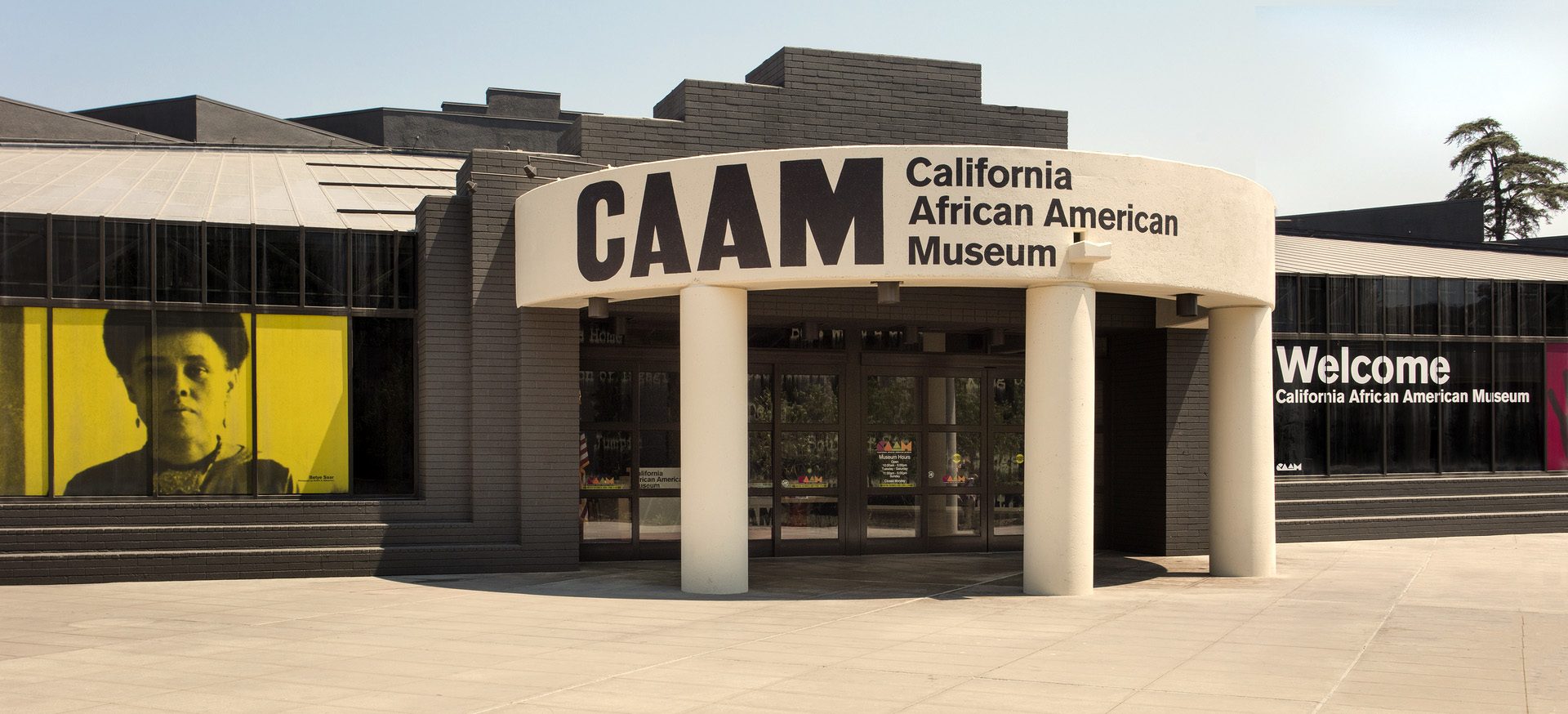 Accessible by automobile (there is a fee for parking), bus, and the Metro rail line, CAAM is the first African American museum to be completely supported by a state government. Because the Museum receives support from the State of California, all of the exhibitions, programs, and events are always free and open to the public. This oustanding support illustrates that the State respects the innumerable contributions African Americans have made to California, the American West and the global community!
In 1981, the Museum moved into its temporary housing, with Aurelia Brooks as its first coordinator. The first acquisition into its permanent collection was a bronze bust of Mary McLeod Bethune sculpted by Harlem Renaissance great, Richmond Barthé. Bethune was an African-American woman of great accomplishment, including serving as president of the National Council of Negro Women; being the only female member of President Franklin D. Roosevelt's informal "Black Cabinet"; starting Bethune-Cookman College and co-founding the United Negro College Fund.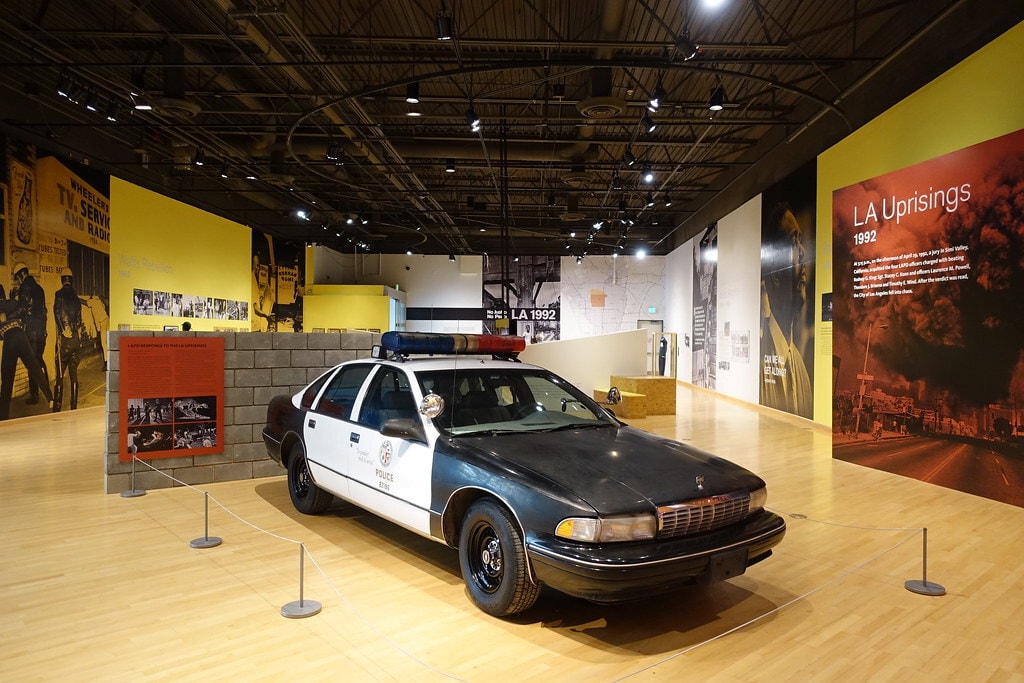 The CAAM held its first exhibition, The Black Olympians, 1904-1984, three years later, when it moved to its current site. This inaugural showing was appropriate, as Los Angeles was the host of the XXXIII Olympics, held in 1984. The Museum contains over 4,000 objects, including portraits, artifacts, contemporary art and mixed-media in its permanent collection. It constantly curates showings and creates programming that engages the community and visitors to interrogate and further investigate Africa Diaspora culture. Showcasing artists of color, the Museum also is highly supportive of African American artists whose work contributes further to understanding American culture and society as a whole.
At the California African American Museum, you may view exhibits that center upon everyday life of Black Californians in the early 20th century. You might choose to experience the erasure techniques of New York-born artist Gary Simmons, whose art addresses societal factors, such as race and class, that impact and are influenced by reality and time. The erasure technique is created by his use of white chalk on slate-painted panels and/or walls; he purposely smudges his designs to create a more spectral effect. Simmons' exhibits have been featured in institutions such as the Museum of Modern Art and the Whitney Museum of American Art, both of New York City; Museum Vila Stuck in Munich and the Museum of Contemporary Art in Chicago. Currently his exhibit, Fade to Black, is his first museum exhibition in Los Angeles. According to CAAM's website, the space utilized by Simmons in which to create "… will be the five, large 440-square-foot walls in CAAM's grand lobby, where he is creating a site-specific painting that includes titles of vintage silent films that feature all–African American casts." The Museum created a video featuring Simmons discussing the Fade to Black exhibit with Deputy Director and Chief Curator Naima J. Keith and provided it on their site … below is the YouTube link:
The CAAM has excellent programming to engage the community and that programming includes workshops, performances, concerts and film screenings. Performances range from an art poetry marathon to a presentation on African-American artist, activist and educator, Charles White. This presentation was by Marc Anthony Thompson and by Obie Award-winning actor Roger Guenveur Smith (Do the Right Thing, Deep Cover, King of New York, Malcolm X, eve's Bayou, The Birth of a Nation and Marshall). Smith and Thompson also collaborated on A Huey P. Newton Story and Rodney King. You may listen to a retrospective on African American artist Ernie Barnes by Bridget R. Cooks, Associate Professor of African American Studies and Art History at the University of California at Irvine. Barnes is perhaps best known for his image, The Sugar Shack (1976), which was featured in the closing credits of the '70s Black sitcom, Good Times.
Finally, on siteis a library where research on African American art, culture, history and literature may be conducted. Open to the public, it contains books, magazines and recordings. It has a special collections department that includes a first edition of the novel, Black Boy, authored by Richard Wright; The DreamKeeper and Other Poems, a collection of works signed by writer Langston Hughes; and an almost complete collection of Ebony and Jet periodicals, dating from the 1940s, published by Johnson Publishing Company of Chicago.
The CAAM offers incredible art, programming, resources and community outreach that centers upon Africa Diaspora culture within and beyond the West Coast. It is a sure bet that after visiting this site, when you next think of The Golden State, the California African American Museum will be among the first of your thoughts!