Launched by the Taste of Heritage Foundation in 1993, the African American Chefs Hall of Fame is a program that honors the past and celebrates the present of African Americans who have made extraordinary gifts to culinary arts and society. By sharing these persons and their work, the Hall seeks to protect, model, motivate and celebrate Black excellence, via diverse programming, for contemporary and future generations.
On their website is its mission, "Showcasing great African American Chefs … who have Inspired us all!", simply stated. It's shared that these dedicated chefs "as custodians of African American history … have an inherent responsibility to preserve and promote African American chefs and their contributions through various programs, thus maintaining a perpetual foundation that keeps the Hall engaged with inductees both now and the future."
Another primary reason for the creation of the African American Chefs Hall of Fame was to correct the omission of African Americans and their pivotal role in creating and enhancing American culture. All too often, they have been disregarded, overlooked or diminished due to racism, discrimination and/or simple ignorance.
However, the African Americans Chef Hall of Fame seeks to redress this onerous omission in history. As it's emphasized, "We must push ourselves to tell our story better than it has ever been told before. We will focus on celebrating the great African American chefs in the Hall of Fame through firsthand stories of their trials and tribulations. Memorable lessons they learned and unforgettable obstacles they encountered."
African Americans' contributions to culinary arts in the United States have been great in building and feeding the nation. For centuries, African Americans have worked in food service, from growing crops and raising animals to preparing fare for consumption and elevating it to fine dining.
Passionate about properly paying tribute to the African Americans professionally involved in culinary arts, the inaugural class of honorees were inducted into the African American Chefs Hall of Fame in 1993. The inductees as of 2020 are Leah Chase, Patrick Clark, Darryl Evans, Stanley Jackson, Robert W. Lee, Edna Lewis, Joe Randall, Daryl L. Shular, CMC (Certified Master Chef); Leon West and Clifton Williams.
Online, guests may make donations to the African American Chef Hall of Fame. Also available are recipes. These include Beef Tenderloin Soup, Corned Beef & Cabbage, Lobster Newburg, Pan Roasted Grouper, Oyster and Shrimp Purloo, Roast Prime Rib of Beef with Au Jus & Popovers, Roasted Leg of Lamb with Natural Gravy, Assorted Berry Shortcake, Crème Brulee with Fresh Raspberries and Key Lime Cheesecake.
The African American Chefs Hall of Fame has existed for years on the internet.  However, in 2017, Chef Joe Randall proudly announced that his cooking school would act as the African American Chefs Hall of Fame.  Jan Skutch wrote in "Savannah Chef Joe Randall to Keep Cooking School Open as Hall of Fame to Black Heritage" for Savannah Now, that the purpose of the Hall of Fame is "to recognize the history and impact of Black chefs on American cuisine and for periodic cooking classes.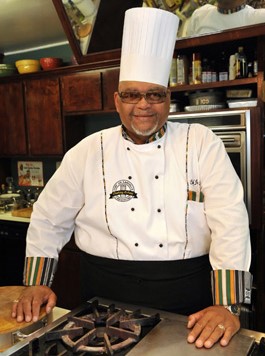 He opened Chef Joe Randall's Cooking School at 5409 Waters Avenue in 2000. Hailed as the "Dean of Southern Cuisine", Joe Randall's vision was to spread "the gospel of authentic Southern cuisine to all comers", according to his profile at the website of Southern Foodways.
An acclaimed chef and author, Randall is a founding board member of the Southern Food Alliance and the Chair of The Edna Lewis Foundation.  An inductee of the African American Chefs Hall of Fame, he has several affiliations including with the American Academy of Chefs and the American Culinary Federation. 
Randall felt that an actual building would greater guarantee the mission of the African American Chefs Hall of Fame. He wants it to house material such as artifacts, films, portraits, recipes and other primary documents. In "Savannah's Chef Joe Randall is Transforming His Famous Cooking School to Honor His African-American Mentors and Peers" featured on the St. Joseph/Candler website, the Dean advised, "This kind of physical building is needed to document the history … Otherwise, it's too easy for it to get forgotten about."